Throughout the off-season, there are always changes to watch out for with drivers and crew chiefs switching drivers and organizations. It seems this past season was no different, as there was news for fans to watch out for on a weekly basis. Here is the first part of our look at how things shake out for the upcoming season, with the changes marked in red.  Be sure to stay tuned for the second half of the article later on this week.
Car #: 1
Driver: Jamie McMurray 
Crew Chief: Matt McCall
Team: Chip Ganassi Racing with Felix Sabates
Car #: 2
Driver: Brad Keselowski
Crew Chief: Paul Wolfe
Team: Penske Racing
Car #: 3
Driver: Austin Dillon
Crew Chief: Slugger Labbe
Team: Richard Childress Racing
Car #: 4
Driver: Kevin Harvick
Crew Chief: Rodney Childers
Team: Stewart-Haas Racing
Car #: 5
Driver: Kasey Kahne
Crew Chief: Keith Rodden
Team: Hendrick Motorsports
Car #: 6
Driver: Trevor Bayne
Crew Chief: Matt Puccia
Team: Roush Fenway
This will mark the first season that Bayne will be partnered with Puccia. Puccia has been with the organization since 2004, spending the last five seasons with Greg Biffle in the Sprint Cup Series. The pair has qualified for the Chase in three of the past five seasons. Bayne finished 29th in points in his first full season in the Sprint Cup Series working with Bob Osborne.
Osborne left Roush Fenway at the end of the season, joining Front Row Motorsports to work with Chris Buescher.
Car #: 7
Driver: Regan Smith
Crew Chief: Tommy Baldwin Jr.
Team: Tommy Baldwin Racing
Regan Smith joins the organization after finishing fourth in the XFINITY Series points last season driving for JR Motorsports. Smith had spent the previous three seasons with JR Motorsports, finishing as high as second in points in 2014. Smith has previous Sprint Cup Series experience, having won the Southern 500 for Furniture Row Motorsports in 2011.
Smith will be replaced at JR Motorsports by Justin Allgaier. Alex Bowman drove for Baldwin last season and has yet to find a full-time for 2016, but will run nine XFINITY races for JR Motorsports as part of their all-star line-up car.
Car #: 10
Driver: Danica Patrick
Crew Chief: Billy Scott
Team: Stewart-Haas Racing
Billy Scott joins SHR to work with Patrick after spending the last several seasons at Michael Waltrip Racing as the crew chief of the No. 55 Toyota, working with Brian Vickers and David Ragan, before finishing out last season with Clint Bowyer.
Michael Waltrip Racing closed their doors at the end of the 2015 season as a result of lack of funding. Daniel Knost, who was Patrick's crew chief this past season, will remain with Stewart-Haas Racing in a senior leadership position, per the team press release in December.
Car #: 11
Driver: Denny Hamlin
Crew Chief: Mike Wheeler
Team: Joe Gibbs Racing
Mike Wheeler will return to the No. 11 Sprint Cup Series team, taking over the role of crew chief in 2016. Wheeler spent 10 years with Hamlin's organization, before crew chiefing for the No. 20 XFINITY Series team in 2015. Wheeler was able to lead the No. 20 team to four wins last year – three with Hamlin, and one with Erik Jones.
Dave Rogers will remain within Joe Gibbs Racing, partnering up with Carl Edwards in 2016.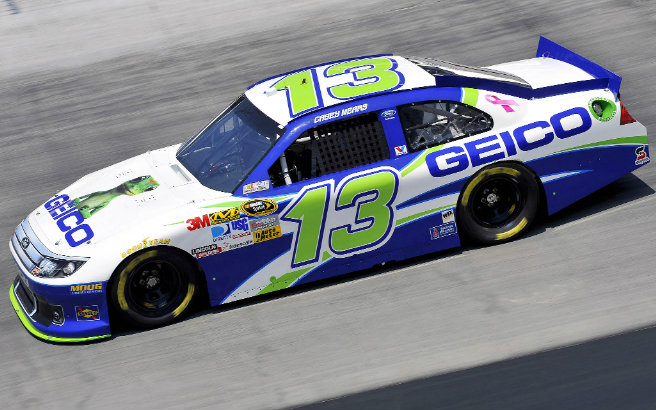 Car #: 13
Driver: Casey Mears
Crew Chief: Bootie Barker
Team: Germain Racing
Car #: 14
Driver: Tony Stewart
Crew Chief: Mike Bugarewicz
Team: Stewart-Haas Racing
Mike Bugarewicz will takes over as the crew chief after spending the past two years with Kevin Harvick's No. 4 team as race engineer. Before then, he spent eight years with Roush-Fenway Racing. Notably, the 2016 season will mark Tony Stewart's last year as a full Sprint Cup Series driver as he announced his retirement.
Chad Johnston, whom worked with Stewart in 2015, will be crew chiefing for Kyle Larson at Chip Ganassi Racing in 2016.
Car #: 15
Driver: Clint Bowyer
Crew Chief: 
Team: HScott Motorsports
As mentioned earlier, Michael Waltrip Racing shut it's door at the end of the 2015 season – which left Bowyer without a ride, but in reality, Bowyer had lined up everything before we learned about the future of MWR. Bowyer will head over to Stewart-Haas Racing in 2017 to replace Tony Stewart, once Stewart retires. He then announced a couple weeks later that he would spend the year in between – 2016 – with HScott Motorsports, which was probably put together virtue of both teams having an alliance through Hendrick Motorsports. As to whom will be Bowyer's crew chief, there has been nothing confirmed by HScott Motorsports on the matter. Steve Addington did crew chief for the team in 2015.
Justin Allgaier, whom drove for HScott Motorsports in 2015, will be driving for JR Motorsports in the XFINITY Series in 2016.
Car #: 16
Driver: Greg Biffle
Crew Chief: Brian Pattie
Team: Roush-Fenway Racing
Brian Pattie will become the crew chief for Greg Biffle after spending the last several years at Michael Waltrip Racing. MWR closed it's door at the end of the 2015.
Matt Puccia, whom worked with Biffle in 2015, remains with Roush-Fenway Racing, crew chieing for Trevor Bayne.
Car #: 17
Driver: Ricky Stenhouse Jr.
Crew Chief: Nick Sandler
Team: Roush-Fenway Racing
Car #: 18
Driver: Kyle Busch
Crew Chief: Adam Stevens
Team: Joe Gibbs Racing
Car #: 19
Driver: Carl Edwards
Crew Chief: Dave Rogers
Team: Joe Gibbs Racing
Dave Rogers will partner up with Carl Edwards after working with Edwards' teammate Denny Hamlin this past season.
Darian Grubb, whom worked with Edwards in 2015, joins Hendrick Motorsports in a newly created role of vehicle production director, where he will oversee every aspect of race car manufacturing for the organization. Before spending time with SHR and JGR, Grubb was with Hendrick Motorsports for six seasons.
Car #: 20
Driver: Matt Kenseth
Crew Chief: Jason Ratcliff
Team: Joe Gibbs Racing
Car #: 21
Driver: Ryan Blaney
Crew Chief: Jeremy Bullins
Team: Wood Brothers Racing
There are no changes in regards to personnel for this organization, but they will be switching from a partial schedule to a full-time schedule in 2016 as a result of an alliance with Team Penske and Ford Racing.
Car #: 22
Driver: Joey Logano
Crew Chief: Todd Gordon
Team: Penske Racing
Car #: 23
Driver: David Ragan
Crew Chief: Patrick Donahue
Team: BK Racing
Left without a ride after Michael Waltrip Racing closed their doors, David Ragan moves over to BK Racing to drive their No. 23 Toyota. The team will also have a new crew chief, as Patrick Donahue will take over the role previously held by Joe Williams.
J.J. Yeley, whom drove for BK Racing in 2015, has yet to announce any plans for this upcoming season.
Car #: 24
Driver: Chase Elliott
Crew Chief: Alan Gustafson
Team: Hendrick Motorsports
Chase Elliott makes the move up to the Sprint Cup Series after driving for JR Motorsports the past two seasons in the XFINITY Series, highlighted by a series championship in 2014. The change comes forth after Jeff Gordon retired from full-time Sprint Cup Series competition at the end of 2015.
Car #: 27
Driver: Paul Menard
Crew Chief: Justin Alexander
Team: Richard Childress Racing
Stay tuned for part two of the 2016 NASCAR Sprint Cup Series Driver/Team Line-up, which will be posted later this week.