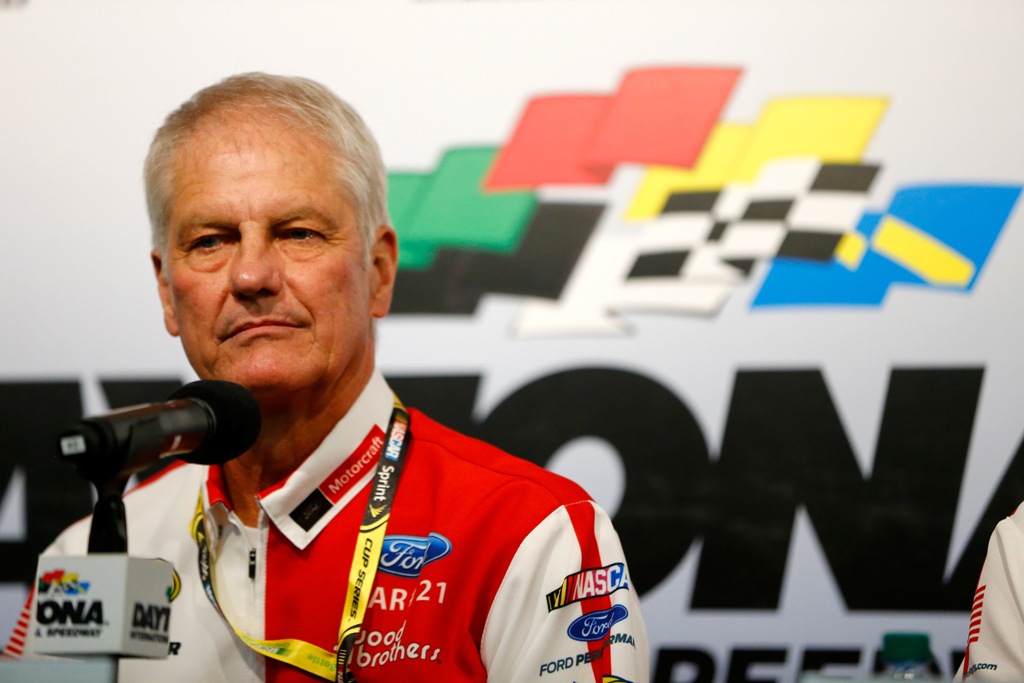 NASCAR's oldest team announced today that they have resigned from the Race Team Alliance after not receiving one of the new 36 charters.
The Charter System that was put in place by NASCAR and team owners had been in the works for a long-time, but when announced didn't include the Wood Brothers, a team that has run in the sport since the early 1950's. The rule said that in order to earn one of NASCAR's charters, a team had to have been running full-time in NASCAR's premier series for the last three seasons, and that was a criteria that the Wood Brothers did not meet since they have been part-time since 2008. The Wood Brothers did have the option of buying a charter off of Rob Kauffman. Kauffman owned two charters after Michael Waltrip Racing closed its doors at the end of the 2015 season, but those charters have since been sold to Joe Gibbs Racing and Stewart-Haas Racing.
"It was pretty evident that the two that Rob had were going to go to the 19 and 41," said Jon Wood, Director of Business Development for the Wood Brothers. "I didn't think I could out bid Gene Haas and Joe Gibbs."
Since 2008, the Wood Brothers have run only partial Sprint Cup schedules with a number of drivers, including Trevor Bayne, who won the 2011 Daytona 500 in No. 21 car, but 2016 ushers in a new era for the Wood family, as they return to full-time competition with Ryan Blaney. Blaney attempted 19 races with the team last year, missing out on three due to qualifying rainouts, but the No. 21 team had two top-10's and a best finish of fourth at Talladega. The team now knows they have to go out every week and compete for one of the four remaining spots in the field.
"The changes NASCAR made this year for qualifying are a lot better," said Eddie Wood, President of Wood Brothers Racing. "The changes NASCAR made are definitely a positive because it is really more about performance and that is what qualifying should be."
The racing world was shocked today when the Wood Brothers announced their resignation from the Race Team Alliance, but the team felt that their objectives didn't line up with the objectives of the RTA anymore.
"Once everything was finalized and we knew for sure that our objectives were not really aligned with theirs, out of respect for them and out of our sake we distanced ourselves from them and resigned from the RTA," said Jon Wood. "Ultimately we have to look out for what is best for us."
The bottom line as Eddie Wood said was that they want "to be a part of this thing and go race."
Despite not receiving a charter, the Wood Brothers understand how important of a change this is for NASCAR. The change is supposed to make racing in NASCAR tighter, and more financially stable for sponsors, owners and additional investors.
"If this change makes the sport better, then of course we are happy about that," said Jon Wood. "It is to make the overall sport better. You can't make everybody happy. We can't go back and change anything that we did. You can't look at it like that."
"If you come to race every week, charter or open car or whatever, in the end this is about making racing better to where it gets to where it is number one in the world," said Eddie Wood. "We are okay. I don't know how to say it any different. I think we are going to be fine."
Having to qualify in on time for races is nothing new for Wood Brothers Racing. It's not a brand new challenge for the team to take on, so you have to believe that Ryan Blaney and the entire No. 21 crew is ready to take on the 2016 season, charter or not.