Verizon IndyCar Series Silly Season Update (2/23/16)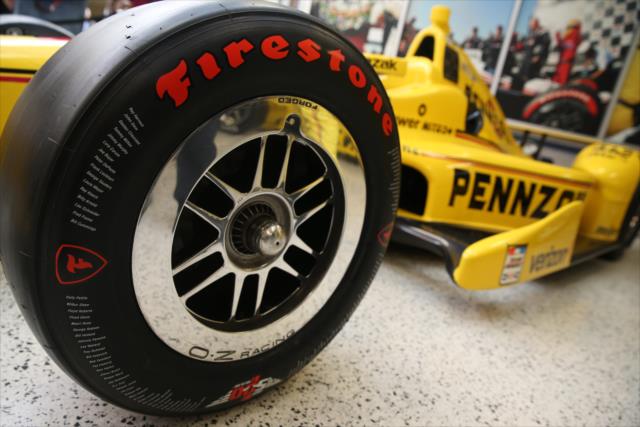 Well the hazy situation at what is now Bryan Herta-Andretti Autosport is now clear. Micheal Andretti's multi-car operation has taken the former driver turned team owner under his wing for the 2016 season in terms of providing cars, sponsorship, and support. Unfortunately, the services of Gabby Chaves will not part of the equation. Last year's Indianapolis 500 Rookie of the Year did not have the funding to maintain his place with BHAA for a second season and will be replaced by former Manor F1 test driver Alexander Rossi.
With the confirmation now finally set in stone for good, the focus shifts to the final full time space left on the grid, the second seat at Dale Coyne Racing. Reports this weekend suggested that former Ed Carpenter Racing road course ringer Luca Filippi was the top prospect for the role, but with Chaves now on the driver market, expect the Chicago-based runners to strongly consider adding the Colombian if the negotiations with the Italian fail to come to fruition.
So with those parameters on the table here's the current state of the Verizon IndyCar Series with the Grand Prix of St. Petersburg fast approaching.
FULL TOUR RUNNERS
Team Penske: (4 confirmations): Will Power, Juan Pablo Montoya, Helio Castroneves, and Simon Pagenaud
Despite a lackluster first year for the Captain, Simon Pagenaud has been given a second year to prove himself, but with other young candidates in potential waiting, results need to come if he is to stay for 2017. The other three drivers have been solid contributors, and all are championship contenders in 2016.
Chip Ganassi Racing: (4 confirmations): Scott Dixon, Tony Kanaan, Charlie Kimball, Max Chilton
With Karam focusing on the Indy 500 and a ride in the IMSA WeatherTech Sports Car Championship with Lexus, the team has chosen to go with the well-funded former Formula One pilot Max Chilton in their fourth full-time entry for 2016. Chilton had initially hinted at running another season in the Indy Lights Series before possibly moving to IndyCar in 2017 with Carlin Racing, but has bumped up the move to join a Ganassi team that already features three drivers who have either won or reached the podium in the Indianapolis 500.
Andretti Autosport: (3 confirmations): Marco Andretti, Ryan Hunter-Reay, Carlos Munoz
Expect a major bounce back from Andretti, if Honda produces a more competitive aero kit and engine as opposed to 2015. Munoz should be back despite a difficult 2015 tour that lacked high finishes. The team could offer a fourth or even fifth car for the Indy 500. Their full time driver in the FIA Formula E Series Simona de Silvestro is one candidate, as is the aforementioned Kurt Busch.
Ed Carpenter Racing: (2 confirmations): Josef Newgarden, Ed Carpenter (ovals only)
The rumor of Wink Hartman's pulling back of support has occurred a year early, after initial reports suggested he would continue to support the team for 2016 before pulling out. Nevertheless, the return to Ed Carpenter Racing has taken on Josef Newgarden for at least a full time effort in 2016. Beyond that, the jury is certainly out. Team boss Carpenter is expected to once again focus solely on oval track events starting with the circuit's return to Phoenix International Raceway. The team could still seek a driver to pilot the No. 20 for the non-oval events, but the likelihood for two ECR entries to be track side at St. Petersburg appears highly unlikely at this point.
AJ Foyt Racing: (2 confirmations): Takuma Sato, Jack Hawksworth
The lack of pace from the Honda engine and kit really hurt the Foyt team's progress in 2015, yet despite the backward steps that were taken both Sato and Hawksworth return. Good chance of a third car being entered at the Indy 500, with perhaps Alex Tagliani and Townsend Bell among the candidates.
Bryan Herta-Andretti Autosport: (1 confirmation): Alexander Rossi
So indeed things have not worked for Gabby Chaves here. Formula One hopeful Rossi will take the ride for 2016, with car and sponsor support from Michael Andretti. Herta is still hopeful of entering a second car at the Indianapolis 500, which could mean Andretti could be supporting up to six cars at the Brickyard for the 100th running of the May Classic.
Dale Coyne Racing: (3 confirmations, likely a fourth): Conor Daly (full-time), Bryan Clauson (Indy 500), Pippa Mann (Indy 500)
The persistence of Conor Daly has paid off in the form of a full time ride for the 2016 IndyCar Series season with the Windy City-based runners. A second full time entry is expected with recent suggesting that Luca Filippi is the lead candidate. Gabby Chaves, now a free agent could also be in consideration now for this open seat. Stay tuned.
KVSH Racing: (2 confirmations): Sebastien Bourdais (full-time), Matthew Brabham (Indy 500)
After running two cars full time the past several seasons, Kevin Kalkhoven and Jimmy Vasser have cut their operations to just one championship contending effort for Sebastien Bourdais. The squad however, has joined forces with Pirtek Team Murray to enter third-generation Australian driver Matthew Brabham in the 100th Indy 500.
Rahal Letterman Lanigan Racing: (2 confirmations): Graham Rahal (full-time), Spencer Pigot (part-time)
After enjoying their most productive season since 2005, the Ohio-based runners have much more security for this single full time effort for Graham Rahal. Sponsor Steak & Shake restaurants has increased its commitment in the team, while defending Indy Lights champion Spencer Pigot will join Rahal in the season opener at St. Petersburg, Florida and also for the two Indianapolis Motor Speedway events at least, although the team is working hard to find the backing necessary to allow Pigot to enter more events following the Indy 500.
Schmidt-Peterson Motorsports: (2 confirmations): James Hinchcliffe, Mikhail Aleshin
After both suffering adversity through serious crashes over the past two years, Canada's James Hinchcliffe and Russia's Mikhail Aleshin will fly the flag for Sam Schmidt and Ric Peterson in 2016. There is an outside possibility that the team will either back or enter a third car of their own for the Indy 500 to help ensure a 33-car field.
OTHER INDY 500 ONLY EFFORTS
Kingdom-Dreyer-Reinbold Racing: (1 confirmation): Sage Karam
Unable to secure a second year with Chip Ganassi, the 21-year old Pennsylvanian has returned to the same team with which he made his IndyCar debut at the Indy 500 two years ago for another one-off shot at the Greatest Spectacle in Racing. Although Dennis Reinbold has hinted at a potential future where the team returns to contest more races, 2016 will not be the year for that quite yet.
Grace Autosport: (1 confirmation): Katherine Legge
The ambitious largely female run and supported effort that was announced last May by former SRT Viper team manager Beth Paretta has continued their preparations for the 100th Indy 500. While the team stated that they would align with another team for their first effort at the Brickyard, the identity of that team has yet to be revealed. However, there is one almost one key cog now locked in, as reports suggest the team will utilize Chevrolet engines for their attempt at the Brickyard.
Lazier Partners Racing: (1 confirmation): Buddy Lazier
Despite failing to qualify for last year's race, expect the Lazier family backed mount to give it another go to make the 100th Indy 500 field.
Dick Simon Racing: (possible)
It was mentioned in December that long time IndyCar entrant in the 80s and 90s Dick Simon was looking to get back into the sport for an Indy 500 only entry, however not much progress has been made since that initial report.
Stay tuned to OnPitRoad.com for further updates on the Verizon IndyCar Series and the 100th Indianapolis 500, presented by PennGrade Motor Oil.