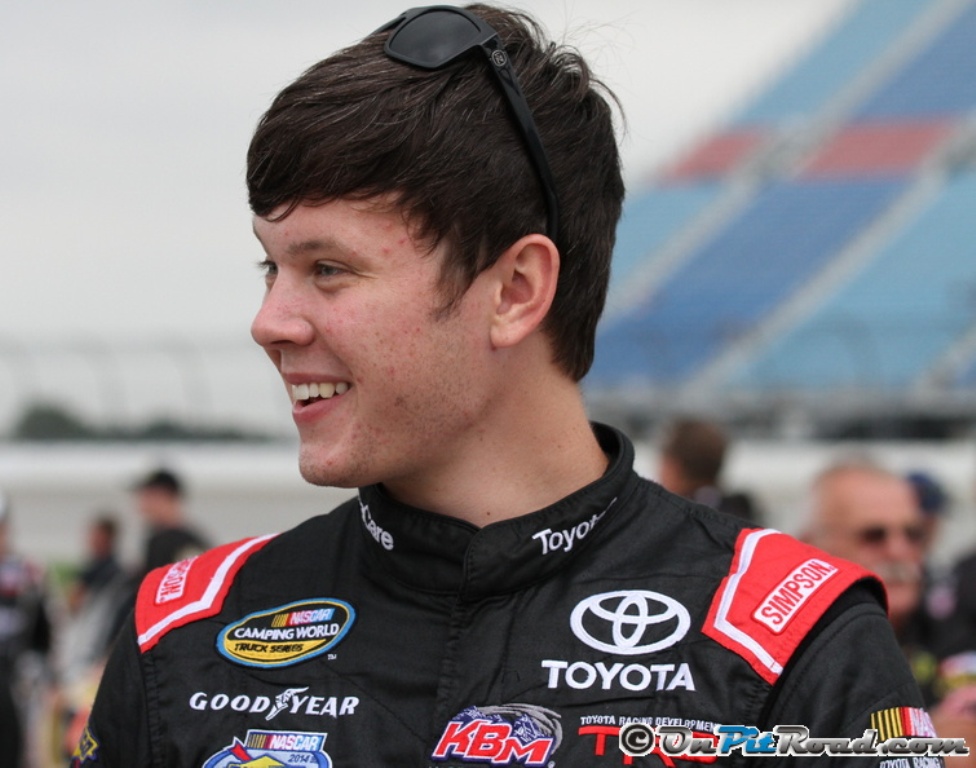 Cold temperatures during XFINITY Series practice have left many teams and drivers wondering where they sit, with the exception of Erik Jones who led the way in his No. 20 Hisense Toyota with a lap of 30.236 seconds.
Erik Jones was followed by Ryan Reed in second. Reed is working with a new crew chief in Phil Gould this year, and it seems to already be paying off for the youngster.
Blake Koch wound up third in practice after making headlines with a career-best finish of ninth at Daytona with his brand new team Kaulig Racing. Koch and Kaulig Racing enter this season in a technical alliance with Richard Childress Racing. If the race last weekend and early practice runs are any indication, this will be a career year for Koch.
Jeb Burton is another driver with a new team. Burton's deal with Richard Petty Motorsports didn't come together until a few weeks ago, but he put his No. 43 team led by Drew Blickensderfer to fourth on the board.
Ty Dillon, one of the championship favorites among many went to fifth on the board after a few practice runs. Dillon didn't show much speed after his first practice run of the morning, but steadily picked up the pace for a top-five effort.
Brad Keselowski is a 34-time XFINITY Series winner, but he's never gone to victory lane at Atlanta in any series. A sixth place practice run isn't what he and crew chief Brian Wilson wanted to see, but they know this first practice won't be an indication of what we see on raceday.
"We (No. 22 team) don't really want to practice," said Keselowski. "Up early in the cold, it's not really useful for anything but them."
Only 29 cars went out for a practice run, as a lot of teams recognized the temperatures would loosen up their cars and give them a false reading on how their cars would react. Among the drivers who did not make a lap included Kyle Busch in the No. 18 and Paul Menard's No. 2 car.
With only 40 cars in Atlanta, all 40 will race tomorrow.
| POS | DRIVER | LAPS | FAST SPEED | FAST TIME | BEHIND |
| --- | --- | --- | --- | --- | --- |
| 1 | #20 Erik Jones | 24 | 183.358 | 30.236 | Leader |
| 2 | #16 Ryan Reed | 8 | 182.880 | 30.315 | 0.079 |
| 3 | #11 Blake Koch | 4 | 182.507 | 30.377 | 0.141 |
| 4 | #43 Jeb Burton | 3 | 182.332 | 30.406 | 0.170 |
| 5 | #3 Ty Dillon | 4 | 182.213 | 30.426 | 0.190 |
| 6 | #22 Brad Keselowski | 3 | 181.806 | 30.494 | 0.258 |
| 7 | #42 Kyle Larson | 2 | 181.390 | 30.564 | 0.328 |
| 8 | #62 Brendan Gaughan | 8 | 181.271 | 30.584 | 0.348 |
| 9 | #88 Kevin Harvick | 2 | 181.029 | 30.625 | 0.389 |
| 10 | #6 Darrell Wallace Jr. | 5 | 181.023 | 30.626 | 0.390 |
| 11 | #39 Ryan Sieg | 1 | 180.922 | 30.643 | 0.407 |
| 12 | #33 Brandon Jones | 25 | 180.757 | 30.671 | 0.435 |
| 13 | #19 Daniel Suarez | 3 | 180.269 | 30.754 | 0.518 |
| 14 | #7 Justin Allgaier | 4 | 180.129 | 30.778 | 0.542 |
| 15 | #1 Elliott Sadler | 2 | 180.012 | 30.798 | 0.562 |
| 16 | #28 Dakoda Armstrong | 8 | 179.796 | 30.835 | 0.599 |
| 17 | #48 Brennan Poole | 9 | 179.012 | 30.970 | 0.734 |
| 18 | #14 J.J. Yeley | 6 | 177.658 | 31.206 | 0.970 |
| 19 | #24 Corey LaJoie | 16 | 176.983 | 31.325 | 1.089 |
| 20 | #1 Ryan Preece | 11 | 173.771 | 31.904 | 1.668 |
| 21 | #44 David Starr | 4 | 173.045 | 32.038 | 1.802 |
| 22 | #40 Carl Long | 7 | 172.393 | 32.159 | 1.923 |
| 23 | #0 Garrett Smithley | 3 | 172.345 | 32.168 | 1.932 |
| 24 | #52 Joey Gase | 4 | 170.490 | 32.518 | 2.282 |
| 25 | #70 Derrike Cope | 2 | 168.932 | 32.818 | 2.582 |
| 26 | #90 Mario Gosselin | 3 | 168.932 | 32.818 | 2.582 |
| 27 | #25 Chris Cockrum | 5 | 168.291 | 32.943 | 2.707 |
| 28 | #13 Josh Reaume | 3 | 165.760 | 33.446 | 3.210 |
| 29 | #7 Ray Black Jr. | 4 | 165.261 | 33.547 | 3.311 |
| 30 | #99 Todd Peck | 3 | 160.102 | 34.628 | 4.392 |
| 31 | #89 Morgan Shepherd | 1 | 143.252 | 38.701 | 8.465 |