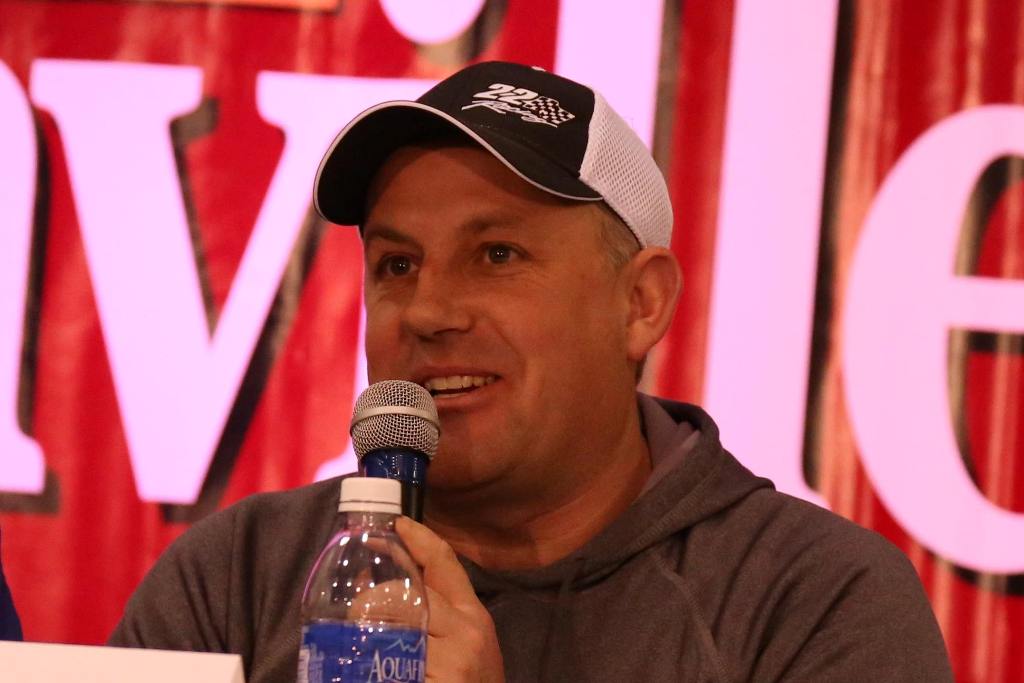 Four-time and 2015 NASCAR Pinty's Series champion Scott Steckly won't be adding a fifth driver's championship trophy to his collection this year, but the 44-year-old hopes he can bring an owner's championship home to Milverton, Ontario with multiple drivers piloting his flagship No. 22 car.
Steckly announced last Friday that he wouldn't be behind the wheel of his No. 22 Dodge at Canadian Tire Motorsport Park later this month. Steckly's car will be filled by young American Kaz Grala for both races this season at the road course. It'll be the first time Steckly has ever missed a Pinty's Series race.
"There comes a time when you got to get out of the car, so if this is the time, then I guess I just have to live with it," Steckly said. "I decided back in 2009 to turn this into more of a business, and I have to run it like a business, and the only way to do that is to have somebody else in my car right at this time."
Grala has plenty of past road course experience in the NASCAR K&N Pro Series East where he has three top-five finishes on road courses, including a second at Virginia International Raceway in 2015. Grala also competed in the Rolex 24 at Daytona International Speedway in January. Steckly believes that even though it will be his series debut, that Grala can win.
"I want to run the 22 car for an owners championship, and I wanna put people in the car that are capable of winning races, and Kaz has a very good road course track record," he said. "He's a good oval track racer as well, so for a young guy, he's a good choice to have in the car. We're definitely expecting good things out of him, and we're definitely going there to win the race."
Donald Theetge will be in Steckly's car for the second race of the season at Autodrome Chaudiere. Theetge is a veteran driver on the ovals, and is a two-time ACT Series Champion. Steckly knows that with Theetge's experience, the pairing should be a smooth fit when setting up the car.
"Donald Theetge has a lot of oval track experience, so I think it'll just be me and him working together to relate what he wants in the car, and hopefully we can go by my experience to know what to change in the car to help him out," he said.
In addition to fielding the No. 22 car, Steckly and his 22 Racing Team prepares cars for Alex Tagliani's No. 18, and newcomer Brett Taylor in the No. 46. Taylor will make his series debut at CTMP, and run three other road course races, while Tagliani will miss the first race of the season attempting to qualify for the Indianapolis 500. Steckly admits that setting up the cars doesn't vary too much driver to driver.
"We set our cars up pretty near the same all the time," said Steckly. "Tags has been here for two years, so we know a bit of stuff that he likes different from what I like. His setup might be slightly different, but not too far different. We pretty much go with a basic setup everywhere. Brett Taylor will be different just because he has so little experience in our series, but we're doing a lot of testing – we've tested once with him, and we're testing two more times before the first race, so it'll be different with Brett."
Steckly hopes to be on the track this year for a few of the oval races where he's had the most success. He's had 19 wins in the Pinty's Series with all of them coming on the ovals. Although he may never check off a road course win, he's come to terms with it.
"I've sort of accepted it," he said. "We've been close so many times. Three Rivers, twice we were second. The last time we raced at Toronto Indy in 2012, we were second to Andrew Ranger. At CTMP we were so close – we've been so close so many times, sure it'd be nice to do, but you just gotta start to forget about it and look at all the oval wins I've had, and look at the positives and just move on."
Steckly said scoring his fourth championship last year made it easier to move on and not race full-time this year.
"To be the only guy with three – and then the only guy with four – I feel I don't have anything to prove," he said. "I've done everything I could. I know I could still win races and win championships, but I'm just not at the point in my life or my career to go broke trying to do it, so I'm just trying to make my business profitable, and keep on racing."
Steckly calls the move not to continue racing full-time a "business decision," and it's one he's known he would have to make since he won the 2015 series championship.
"Last year after we won the championship I knew that if I couldn't get a pretty good primary sponsor that there was no way I was gonna be able to drive myself because this is the way I have my business structured," he said. "All the cars have to bring in their equal amount of money to operate, and it's really not fair to the other teams as far as Alex Tagliani and Brett Taylor, if I'm out there racing with not as much funding as they've brought to the table. It's not fair, and it's not a proper way to run a business.
"We've been searching for a sponsor for close to two years now, and we're not having much luck," he said. "I knew the day was coming, and we'll just have to go for an owner's championship."
Steckly isn't the only driver who's had to opt out of running for the Pinty's Series championship in the past few years. J.R. Fitzpatrick left the series to go run in OSCAAR, and Cayden Lapcevich is still looking for funding to compete for this year's championship. Despite all this, Steckly says that the series hasn't become any more expensive to run in recent years.
"I don't think it's becoming more expensive to run," Steckly said. "It's always been very expensive to run. The biggest thing is teams not being able to get money as easy as they used to – that's a bigger thing than the cost going up. It's a very hard thing to do in Canada right now to find companies that are willing to spend money on stock-car racing."
He doesn't have an early pick to win this year's driver's championship, but he does have a pick to win the owner's title.
"Either the 22 or the 18 will hopefully win the owner's championship."