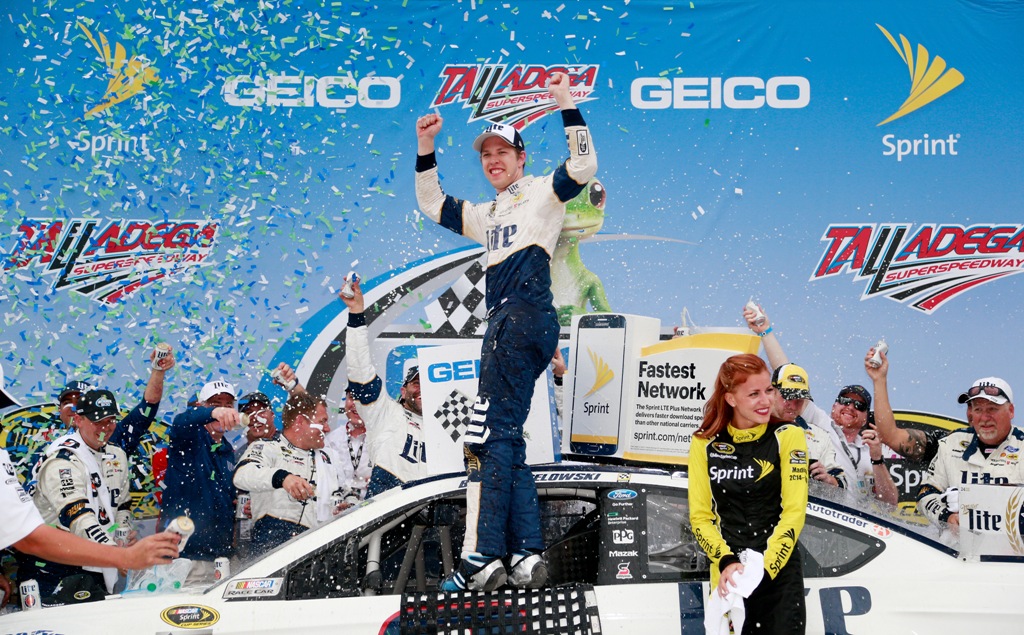 Brad Keselowski, driver of the No. 2 Miller Lite Ford, won the Geico 500 at Talladega Superspeedway. It was a wild and crazy race and Keselowski was able to make it through and win.
"What can you say?" Keselowski said. "Talladega has been good to me. It's great to be back on this podium as a race winner. Very, very proud and thrilled today. Never know what you're going to get here. Talladega has always been that way. It's always been very good to me. I'm, like I said, thankful for that. Crazy day. Somehow we managed to stay ahead of or out of all the chaos. A couple asked me about it. I didn't see it thankfully because I was in front of it. But that's how Talladega goes. Sometimes we run here and everybody kind of lines up against the wall, and sometimes we come here and it's crazy side‑by‑side, wreck 'em up, flip 'em.
"I think that's kind of the allure to coming here because you don't know what you're going to get. As a racer or driver, you have to be prepared either way to take advantage of the situation. We were able to do that today. Just an all‑around solid day. Nothing flashy today. Our execution was strong on pit road. We caught just a couple breaks there with getting the right pushes at the right time when we were side‑by‑side for the lead. All that added up to the victory we got today."
There were 40 cars that started the race and out of those 40 cars, 35 were involved in some kind of accident or issue. Keselowski was one of the few cars that weren't.
"I like racing," Keselowski said. "As far as not being in any of those accidents, we ran up front. None of the accidents today were at the front. That's your highest percentage shot, if you can run up front. It sounds real easy, it's not, otherwise everybody would do it. We were fortunate to be second, third or better in every one of those accidents. I hated to hear about cars flipping and doing all those things. Nobody wants that. But I think some accidents here and there, we might not like to cheer about it, but it is part of our sport and always has been part of automobile racing."
A few of the cars involved in accidents actually went airborne and flipped, which has raised concerns throughout the garage and with fans.
"I haven't seen a replay of accidents, in fairness, to be able to maybe have at least a preliminary thought," Keselowski said. "I don't know what could have caused it. Of course, it's not what we want to see. When cars get off the ground, bad things happen even more so. We kind of go beyond that acceptable risk factor. It's something we'll all have to look into and see what we can do better. Like I said, I haven't seen them to know what happened, if they were more of a wedge‑style flip where a car picks another car up, or aero flip, I don't know. My gut says the wedge‑style flips are just part of it, and the aero ones are the ones we can continue to science out and eliminate or reduce the risks of."
Keselowski says his strategy on the restarts was simple pick the outside lane because it was strong on the last couple of restarts.
"The strategy was pretty simple," Keselowski said. "The outside lane had won the battle on the last three or four restarts to get to the lead, kind of clear up front. That's so pivotal here. Unfortunately it didn't work for us on that last restart. We fell back to second or third. The key part, like I was talking about earlier, we got a push from the 1 car that helped me get a run to get up to the car of Kurt Busch. We were stalemate next to each other, pulling side drafts back and forth, back and forth, until eventually the 18 car came with a huge run, gave me the push we were looking for to clear and get up to the lead and kind of take ownership of that position. All those things kind of came together for us, but we put ourselves in position all day by running up front."
Throughout the race while managing to avoid all the trouble, he lead laps as he was aggressive, trying to block whomever got a run behind him.
"No, all the moves seemed to come together pretty well," Keselowski said. "We had good enough speed where we could make those moves. Part of this rules package, when we got rid of the tandem package, the only way we were able to do that was kind of create what the drivers all call the beach ball package, when the cars get close to each other, they squeeze a pocket of air. That makes blocking extremely successful because you can pull down in front of someone, hit that pocket of air, they beach ball push you away, for lack of a better term. That's part of the racing, it's what works here. It's our responsibility as drivers to figure that out. Today was a day where my spotter and I worked together very well and we were able to do just that."
Keselowski and his spotter Joey Meier have a great relationship as Keselowski thinks he is an all-star and credits him for his win at Dega.
"I mean, my spotter is definitely an all-star for sure," Keselowski said. "We did as good a job as we've ever done working together today. Really proud of that effort. Timing the runs here is so critical. His communication, his way of kind of verbalizing what he sees, is the key for me to be able to make the right moves on the racetrack. I don't know. That might be hard to explain. Obviously I'm still holding the steering wheel. The information turns itself into the old 'knowledge is power' equation. You can have all the knowledge in the world, if you don't do anything with it, it doesn't matter. It's a good 1‑2 punch. Proud of him for his efforts today. We'll keep rolling on. It's a good way to go. He's been part of three of the four Talladega wins, and I don't think that's a coincidence."
With his victory on Sunday that makes it four times that Keselowski has been to victory lane at Talladega Superspeedway.
"I like the weird races here," Keselowski said smiling.