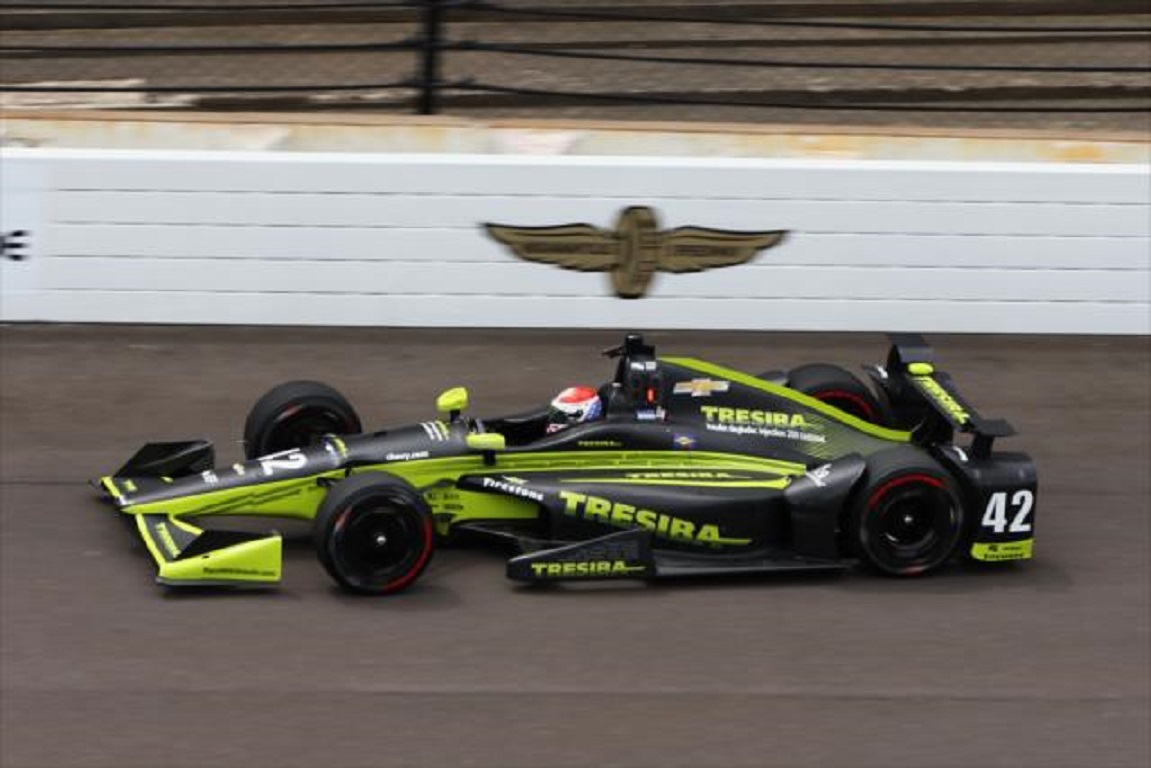 Since his debut in the Verizon IndyCar Series in 2011, Chip Ganassi Racing driver Charlie Kimball has utilized the same number in each of his first 84 races. The No. 83 Novo Nordisk Chevrolet has seen many good days on the track, including a victory at the Mid-Ohio Sports Car Course in 2013, a third in last year's Indianapolis 500-mile race, and three straight fifth place finishes in the Angie's List Grand Prix of Indianapolis, one of which was earned last Saturday. Normally it is rare that a driver changes numbers in racing, but when the green and black Tresiba machine took to the 2.5 mile oval at the Indianapolis Motor Speedway on Monday, the first full day of practice for the 100th Indy 500, a different number was featured on the front nose and on each of the rear wheel guards.
The entry Kimball will drive over the next two weeks will feature the No. 42 rather than the familiar No. 83, the former number having very important meaning to both Kimball's sponsor Tresiba and to Chip Ganassi and his business partner Felix Sabates, particularly in the sport of NASCAR Sprint Cup Series stock car racing. In terms of Tresiba, the newest injection available from Novo Nordisk to control diabetes, lasts for up to 42 hours after eight initial days of usage. It's a product used personally by the California-based driver who was diagnosed with Type I diabetes nine years ago.
"The partnership with Novo Nordisk, I use 'partnership' there as a key word, it's more than a sponsorship," explained Kimball during a break from on-track activity on Monday. "They make products and delivery devices I use every day to manage my diabetes, a big part of my daily lifestyle."
Kimball enters the Greatest Spetacle in Racing off his best five-race start to a Verizon IndyCar Series season to date. The CGR pilot has placed no worse than 12th in any of the first five events in 2016 and currently ranks seventh on the championship points table, with further points being up for grabs both during time trials weekend starting on Saturday and double points being offered for the Indy 500 itself on May 29.
As for the No. 42, the number has been a major part of NASCAR in terms of both longtime team boss Felix Sabates, his partner Ganassi, and also his initial driver in stock car racing Kyle Petty. The team debuted in 1989 and despite failing to qualify for its first ever race, managed to claim victories at Rockingham, Watkins Glen, Pocono, and Dover among others, and also claimed the pole position for the 1993 Daytona 500. Following Petty's decision to drive for his family-owned in 1997, Sabates featured a multitude of drivers including Indy 500 veteran Robby Gordon, who Sabates field an entry for in the 1997 Indy 500. In 2001, Sabates joined forces with Ganassi, a partnership that currently features Kyle Larson in the No. 42 Target Chevrolet. If good vibes can be handed over from Larson to Kimball, Larson's second place finish to Matt Kenseth at Dover, Delaware this past Sunday could be viewed as a good start.
"Would have liked to have been one slot better, but I'm more excited to be here (at Indy)," said Larson on Monday. "It's cool to be here and support Charlie and Novo, see him get to run the 42 car for the Indy 500. It's going to be such a special event with the hundredth running of it."
Larson has some ties to diabetes as he mentioned during the press conference that he has a cousin who like Kimball, deals with Type I Diabetes. To honor those battling the disease, Kimball's No. 42 Chevrolet will feature names of those who are battling the condition alongside him.
"It's a way to honor our relationship with Novo Nordisk with Chip Ganassi Racing." said Kimball. "We're going to honor the diabetes community with 42 names of influential people within the diabetes community on the car all month long."
Team boss Chip Ganassi's ties with the Kimball family do not just start and end with Charlie Kimball. When Ganassi himself competed as a driver in the 1983 Indy 500, won by Tom Sneva, Charlie's father Gordon, was the designer of the Pat Patrick Wildcat chassis he drove in that event.
"I think the important thing to remember about Charlie, all race drivers prepare for races one way or another," said Ganassi. "I think Charlie, with the added issue of Type I diabetes on his shoulders, I have to tell you, ladies and gentlemen, it's sort of seamless to me. If you wouldn't have told me that Charlie was a Type I diabetic on day one of the relationship, I don't think I would know."
Although the battles on track for Kimball are two-fold, half on getting around the track and half on taking care of himself at the same time, Ganassi does not believe it is a hindrance.
"I've never seen a performance issue." explained Ganassi. "I think that's a testament to Novo Nordisk and the type of products that are out there today for athletes and for people. That's certainly not the issue that it was maybe years ago certainly for athletes."
After Kimball's third place finish in the last year's Indianapolis 500 drew attention to the fight against diabetes, a win in the 100th edition of the event on May 29, could greatly further the cause against a disease that affects millions of citizens in the United States and the rest of the world.