VICS: Indy 500 Preview Part 2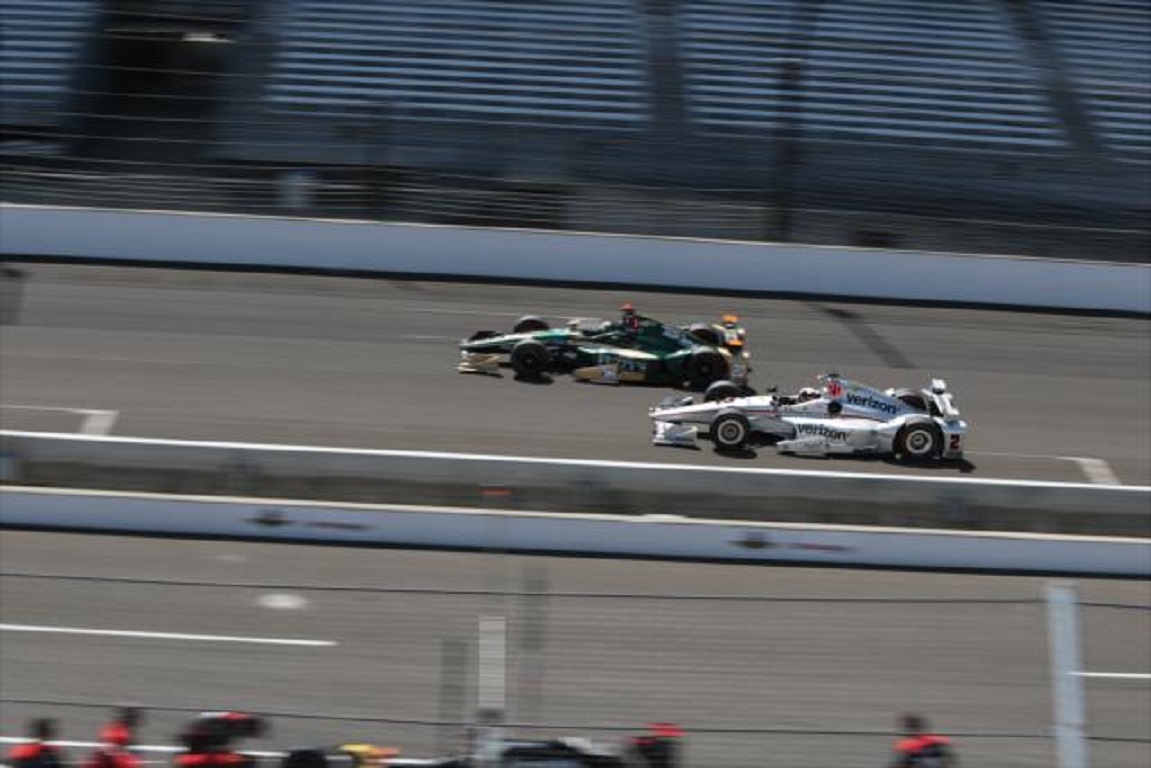 While none of the drivers in the middle of the starting grid for Sunday's Indianapolis 500 presented by PennGrade Motor Oil were successful in last weekend's time trials, their presence should be felt during the second half of the 200-lap event on May 29. There is a lot of firepower present, led by former champions Scott Dixon, Juan Pablo Montoya, and Tony Kanaan, as well as the consistent results posted by Marco Andretti. Two-time Indianapolis 500 pole winner Ed Carpenter also lurks in this area of the lineup, as does his Indy-only teammate J.R. Hildebrand.
So not only is there value here, but recent history also sides with this part of the field. Since the introduction of the Dallara DW12 chassis at Indy in 2012, no driver over the past four races has won the race and started better than 12th, where Kanaan started when he won the event in 2013. Assuming the ability to pass matches what has been witnessed in early practice sessions this month, it could be more likely that the 100th Indy 500 winner comes from this third of the grid as opposed to the top 12 in Sunday's 33-car field.
Row 5
Scott Dixon: The Iceman paired up nicely with then CGR teammate Dario Franchitti in 2012 as they moved from the fifth row to the front of the order around half distance and despite a valiant effort from Takuma Sato, managed to claim a 1-2 finish with Franchitti claiming his third Indy 500 victory. The last three efforts since then have been mixed for the New Zealander. Dixon never mounted a serious challenge in 2013, crashed out of the event late in 2014, and faded to fourth at the end of last year's event. If he can work with Kanaan, a serious push for a second win at the Brickyard is certainly in play.
Marco Andretti: 14th on the grid is Andretti's worst starting spot for the Indy 500 since 2011 when he qualified 27th. Considering his Andretti Autosport Honda showed much more pace in practice, this was largely unexpected. Still, with six finishes in the top six at Indy in ten efforts, the third-generation pilot should be able to join the mix upfront during the second half on Sunday. The question is can he stay in contention when he joins the lead group? That's been the main reason why he has yet to add his face to the Borg Warner Trophy so far. He is solid in the first 400 miles at Indy, but it is the last 100 miles that has let him down. If he can show a willingness to be more aggressive late, 2016 could finally be his year.
J.R. Hildebrand: Minus an early exit from the event in 2013, the California-native has been consistently in the top half of the field at Indy, starting of course with his painful runner-up effort as a rookie in 2011. He appeared to be a serious threat early in the 2014 edition of the Indy 500, but rough going on pit stops relegated him to a tenth place finish. He posted a solid eighth place finish last year at the Brickyard, yet never posed a serious challenge to the front runners, in a race largely centered on a Penske-Ganassi showdown from start to finish. Progress made in the first half of Sunday's race will largely influence his final output.
Row 6
Charlie Kimball: The Ganassi equipment helped the diabetes advocate join the fight up front around the halfway point and allowed him to remain in contention to the finish, when he claimed a third place result, the best among the CGR entries last year. Assuming he can clear traffic in the same manner on Sunday, he stands another good chance to contend. It will be interesting to see if he is indeed in contention for the win this time around, whether or not he takes a more aggressive stance as opposed to last year where a more conservative approach was adhered to in the final 100 miles.
Juan Pablo Montoya: The Penske driver has proven able to charge his way through the field, having done so the past two years at Indy. If not for a costly drive through penalty for speeding on the pit lane two years ago, the Colombian could easily be entering Sunday's race undefeated in three Indy 500 starts. Still, finishing no worse than fifth here is very impressive and that streak stands a very good chance of being extended after the checkered flag falls on Sunday. Don't forget he could've easily folded last year after early contact with Simona de Silverstro relegated him to the back of the field. Yet, he took well to the adversity and quickly joined the battle upfront before outpacing both Will Power and Scott Dixon to take the win.
Tony Kanaan: Like with Montoya, the 2013 Indy 500 champion should be on the move early on Sunday. Although it may take a little longer for TK to take the lead from 18th as opposed to coming from 12th to first in under twenty laps three years ago, it is safe to say the veteran has been saving his best stuff for Indy. Since the win here however, bad luck has haunted Kanaan the past two years. Mechanical woes halted his challenge two years ago, while a mistake on a chassis adjustment put him in the wall with just under 50 laps to go last year. If luck is on his side, there's no reason to think TK will not play a role in the final outcome on Sunday.
Row 7
Sebastien Bourdais: Despite finishing seventh and 11th in his last two Indy 500 starts, the Frenchman has never really posed a major challenge in terms of winning the race since his rookie effort in 2005. With KV Racing struggling for pace all month, a top ten result in Sunday's race could very well be considered as a success. Not expecting much in terms of positive fireworks here.
Ed Carpenter: The Indianapolis-native definitely played a major role in the outcome in the two years where he started from the pole, but has failed to make an impact when having to come from further back. Carpenter never threatened the top ten last year prior to his race ending accident with Oriol Servia in turn one. The veteran believes he will pose a threat on Sunday and that his grid position is based on a lack of all-out speed. The jury is certainly out on that entering Sunday.
Gabby Chaves: The sophomore has shown well since acquiring the Dale Coyne Racing ride before the Grand Prix of Indianapolis, yet a charge toward the front on Sunday may be too much to ask for. Although he earned Rookie of the Year honors last year at the Brickyard, Chaves battled with an ill-handling car for most of the distance and only finished 16th. If he is able to avoid trouble on Sunday, he could possibly improve slightly on last year's result, but don't expect much more beyond that.
Row 8
Max Chilton: The ex-Formula One driver does have the advantage of having Ganassi equipment, but will he have the chance to utilize it to the full? Sage Karam never got the chance to uncork it as he was eliminated last year in an opening lap crash with Takuma Sato that was not of his own doing. Chilton fared well at Phoenix in his first oval race in the Verizon IndyCar Series and won at Iowa Speedway last year in Indy Lights, so if he can survive the early traffic congestion, a run up with his teammates is possible but as a newcomer is unlikely.
Sage Karam: As mentioned above, Karam's effort never really got a chance to take off a year ago. However, his charge from 31st to ninth in 2014 with the same Dreyer-Reinbold-Kingdom squad he competes for this year, shows the potential the Pennsylvania-native possesses. Hard to fathom that at age 21, this will be the 2013 Indy Lights champion's third Indy 500 appearance on Sunday. If a little more racing luck comes his way, he could pose a threat in the second half of the event.
Conor Daly: The local product certainly made things interesting in the Angie's List Grand Prix of Indianapolis two weeks ago, so maybe a different tact in pit and race strategy could once again make him a contender in his third Indy 500 effort. Hopefully he is able to control his eagerness when the green flag flies on Sunday however. Don't forget a car fire last year ended his race before it even began.
In the final part of our Indy 500 preview Friday, we look at the final few rows of the starting grid, which still features at least one or two drivers who could present a threat to those starting further up on the grid.