VICS: Hinch Mentally and Physically Ready for 100th Running of Indy 500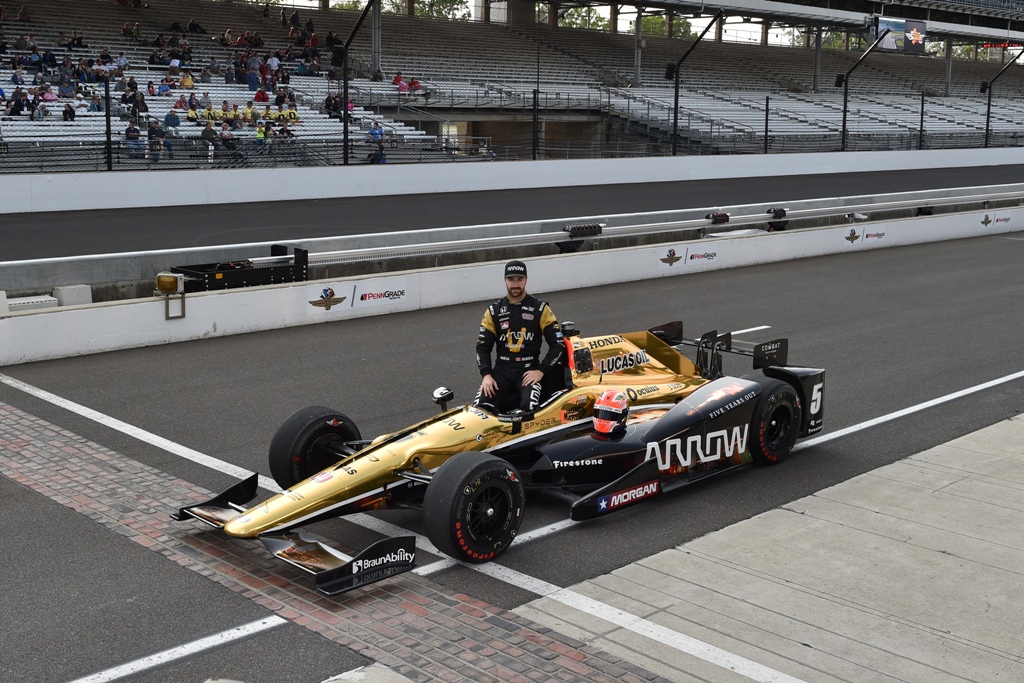 A year later following an almost fatal accident, James Hinchcliffe put the world on notice – scoring the pole for the 100th Running of the Indianapolis 500.
As a result, the driver of the No. 5 Arrow Schmidt Peterson Motorsports Honda, currently sits fifth in the championship standing after winning 42 points for winning the pole for Sunday's 100th Running of the Indianapolis 500 at the Indianapolis Motor Speedway.
"Yes and no," Hinch quoted. "Obviously it was a huge day for the whole team, not just getting pole position, but getting all our team cars into the top 10. Earlier in the day, Sam was on track in his car doing 150 miles an hour. All in all, Sunday was a pretty special day for everybody at SPM.
"To a certain extent, it's sunk in and we're appreciating it. We know 10 miles in qualifying is one thing and 500 miles on Sunday is a totally different thing. That's what we're focused on."
James is trying to prepare himself mentally for the upcoming race. He knows he still has 500 and some miles left with Carb Day practice and then the race. 200 laps around IMS can be rough on anyone, but at least Hinch has a head start on everyone else but starting the race on the pole.
"There's no doubt it's an advantage starting up front here." Hinch stated.   "We've seen time and time again, it certainly doesn't guarantee a good result and it doesn't mean that anybody starting outside the top 10 can't have a good one either. You see winners come from the high teens and low 20s and beyond.
"For us, the strategy is just to try and run up front and stay up front all afternoon. There's going to be a lot of things thrown at us. There always is in this race. Patience is going to be the key of the day. There's going to be a lot of ebb and flow.
"We have a fast car. The Arrow car has been fast in race running's. There have been a lot of strong cars, though. There's going to be a lot of competition, no doubt. The number one pit stall is going to be an advantage, as well. We have a few things working in our favor, but it's definitely going to be a hard-fought battle out there."
All week long prior to the pole weekend at IMS the Honda teams were fast. Many people thought that Chevrolet was sandbagging and come qualifications they would show their true colors. However, Honda kept their momentum going and Hinch along with another Honda driver, Ryan Hunter Reay, will start in the front row.
"Well, I think if you look at last year's race, the whole 5 team has been getting a lot of momentum on our side," Hinch added. "We had a pretty strong race in Long Beach, a little bit better in Barber, as you said better at the Grand Prix, getting on the podium.
"To get a Honda on pole position at the Speedway, it broke a pole-less streak of 32 races for Honda. It's a big accomplishment. They deserve a ton of credit for the amount of work they put into their program for the month of May. The engines that we have here at the Speedway are obviously producing big horsepower. It's great we were able to do that.
"Yeah, for sure, I think momentum is kind of on our side as a team. Hopefully this is a little bit of a shift in terms of the manufacturer battle as well."
The Indianapolis 500 is one special race that every IndyCar driver wants to win. But to be able to say I won the 100th Running of the Indy 500, that has a nice ring to it for all 33 drivers ready to compete in each race.
For Hinch, though, it would really be extra special. His road to recovery would truly be over and everyone will stop mentioning his accident and he can finally put it to rest in the past where it belongs.
"For me I think pole for us was probably a little bit extra special than it would have been for anyone else," Hinch said. "I mean, being on pole here at the Speedway is something that everyone's obviously fighting for. It's a huge point of pride. The race teams and the mechanics put so much time into these cars. It's the time you're going for ultimate speed.
"The drivers will tell you those four laps are one of the hardest, scariest things we do in an IndyCar all year. It is a huge point of pride. When you look back a year for us as an entire team, to have come back from where we were a year ago, to now be sitting here, I would strongly argue anybody that would have tried to say that this pole would have meant more to them than it would us.
"I'm so proud of the guys, like I said. It really validates all the hard work they put into all the cars to have all three in the top 10. As far as the track goes, this place, it has something that money can't buy, and that's history. You can go out and build a brand-new racetrack somewhere. You can make it a billion-dollar facility that's start-of-the-art this, nicest that, top of this. But at the end of the day there's no substitute for history.
"Not only does this race have a hundred years now, the tradition that goes along with it as well. It's not just a race; it really truly is an event. The whole city gets behind it from the day the calendar switches from April to May. You feel the buzz around town, the amount of events there are. All that goes into this race, it's a combination of things that really make it so special."
As Hinch gears up for a race he unlike other athletes don't have time to get prepared mentally because they literally walk off the driver intro stage and onto the grid next to their cars.
"They force you to be able to make that transition almost instantaneously," Hinch added. "For me over the years, I've really kind of used the moments as I'm getting ready to get in the racecar, putting in my earpieces, putting on my balaclava, my helmet, my gloves, my HANS device, strapping in.
"That whole sort of process and procedure for me is the time I get myself to flip that switch to go from the public figure to the competitor and try to get your mind into the right place. Sometimes it's easier than others, there's no doubt. Sometimes you wish you had more time to do that. But it's the nature of the beast. It's the same for all the drivers on the grid.
"Like I said, it's something we've just kind of learned to cope with. The good news is, once you get in that racecar and you're strapped in, the engine fires up, the visors go down, it's very calming and peaceful in a sense because it's just kind of you and the racecar finally, which is what you are really here to do. There's no more people talking, no more distractions, it's just you and the job at hand."