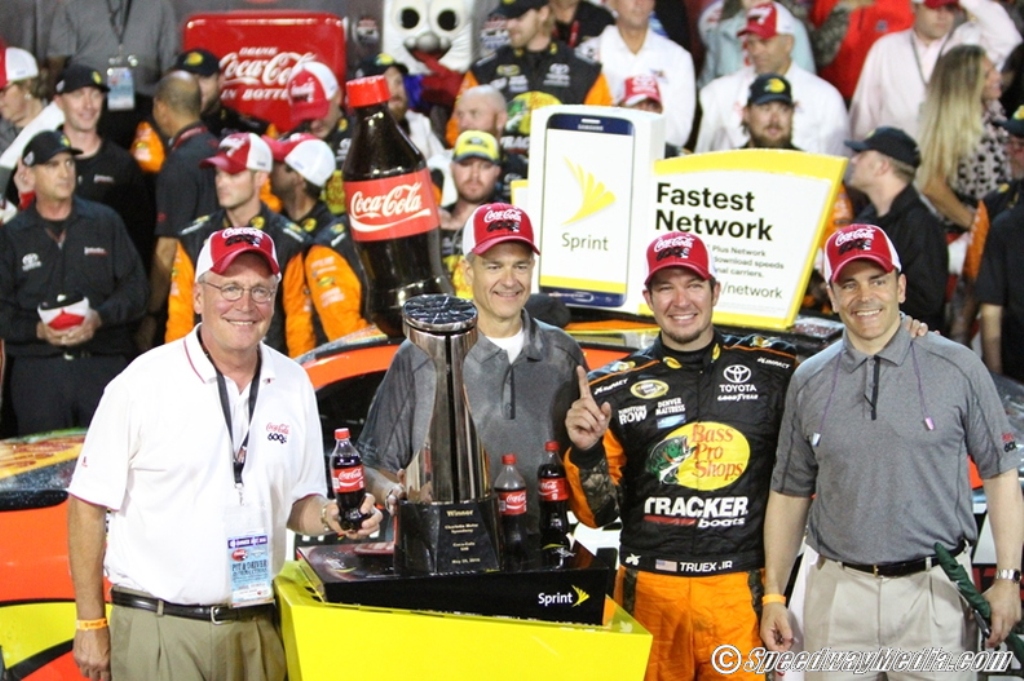 A dominating performance during Sunday's Coca-Cola 600 at Charlotte Motor Speedway has etched Martin Truex, Jr.'s name in the history books.
Truex led 588 of 600 miles during NASCAR's longest race, and was only passed for the lead under racing conditions once when Jimmie Johnson got around the No. 78 Bass Pro Shops Toyota to lead one lap. The 392 laps Truex led was the most in Coke 600 history. The next highest laps led in this race was by the late Jim Paschal, who led 335 of 400 laps in the 1967 running.
Truex and crew chief Cole Pearn have come close to winning several races this year, including the Daytona 500 where they finished second, and a dominating performance at Kansas where a tire issue took them out of the running late. Being able to dominate at Charlotte and close the deal is a great feat for the single-car team out of Colorado.
"To win a race, the Coke 600 is one of the races everybody wants to win," Truex said. "It's so huge. We came close to the Daytona 500, now to be sitting here, it's just unbelievable. These are the races that define drivers' careers, and it's really a neat opportunity for me. I felt like we had this thing won last year and got beat on fuel mileage, and we talked about it a lot since then. We really thought about that a lot coming back here. We were looking for a little redemption. I'm sure Cole will agree with me on that one, and all the team guys. They really wanted this one. They know how big it is."
The No. 78 team had been fast at Charlotte all weekend. Pearn prepared a piece good enough for Truex to earn pole on Thursday, and was quickest in final practice on Saturday. For Pearn and the No. 78 team, it's a relief to be so fast on the 1.5-mile tracks.
"I felt like we had a really good plan on the race trim setup based on what we experienced in the All-Star Race, and just had a really good plan to be good in all stages of the race, and that's really what we worked hard on," Pearn said. "It was nice to see it come together. There were some times where some other guys were obviously really strong and we were able to hold them off when they presented a challenge. Just really happy to get it done. We've led a lot of laps this year, especially on mile-and-a-halfs, and to get it done in the Coke 600 is really cool."
The Sprint Cup Series heads to Pocono Raceway next weekend, which also happens to be the sight of Truex's first win with Furniture Row Racing last year. Truex led 97 of 160 laps at Pocono last year, and he hopes to put on a similar showing this year.
"I look forward to it," Truex said. "I love racing there. It's a really fun unique racetrack and we tested there a couple months ago and thought it went pretty good. The fall race or the second race there last year we had a pretty good run and felt like we had a shot at winning. Kind of got messed up on a fuel mileage deal. Hopefully we'll go back there and repeat. It would be a great place to win again. I love the folks up there, got a lot of fans up there, enjoy the area, and looking forward to going to Pocono."