NSCS: Fuel Gamble Pays Off for Kurt Busche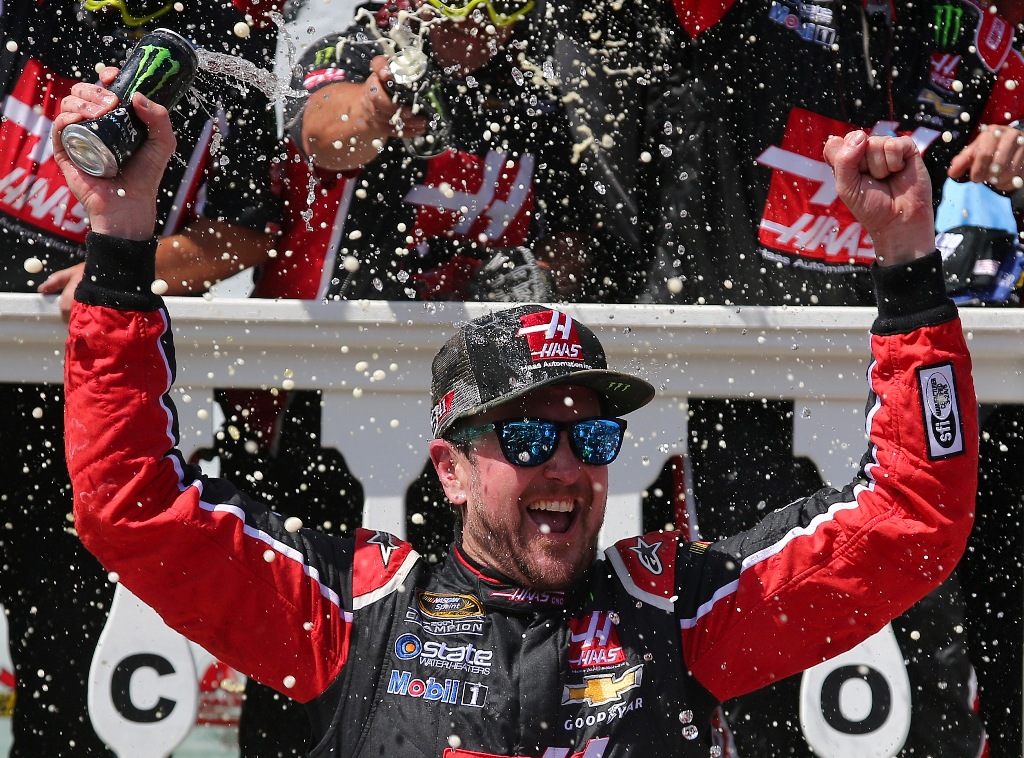 It was an attrition filled race, but a late race caution with 41 laps to go allowed Kurt Busch to gamble on fuel and steal a win from a dominating Chase Elliott and his Hendrick Motorsports teammate Dale Earnhardt, Jr in the Axalta 'We Paint Winners' 400 at Pocono Raceway.
The Monday afternoon race was originally scheduled for Sunday, but poor weather conditions forced the race to be pushed back a day.
Team Penske teammates Brad Keselowski and Joey Logano led the field to the green on what would turn out to be an up-and-down day for them. Logano grabbed the lead from his teammate and led the first 17 laps before a competition caution. Logano and teammate Brad Keselowski each took four tires, while others either stayed out on old tires, or take only two. The Penske teammates dropped deep in the running order.
Kyle Larson would lead on the restart after not pitting on the competition caution, but the track position advantage he gained would soon go away as a caution for a spinning Brian Scott came out just three laps after the restart. Larson was forced to pit, which handed the lead over to Matt Kenseth.
Before the race could restart, Brad Keselowski was slapped with a black flag. NASCAR deemed that one of Keselowski's crew members body slammed the No. 2 car's quarterpanel on the previous pit stop to gain a sideforce advantage, and made the No. 2 car come down pit road to get the car repaired to NASCAR's liking. Keselowski continued to lose track position when NASCAR decided the penalty wasn't enough and made Keselowski serve a drive-through penalty for unapproved body modification under green-flag conditions.
Kenseth held the lead for a number of laps before green-flag pit stops began. Kenseth brought his No. 20 Dollar General Toyota to pit lane, and was promptly followed by most of the field, except for Kevin Harvick and Joey Logano. Harvick would inherit the lead until Matt DiBenedetto lost control of his No. 83 car, and brought out a caution. The ill-timed caution would mire Harvick and Logano back in traffic, while a number of cars were forced to take the wave-around.
When the race restarted on Lap 63, Kenseth was back in front of the field, but rookie Chase Elliott quickly took over the top spot. Elliott, who was participating in his first NASCAR Sprint Cup Series race at Pocono, would lead the most laps over the day with 51.
A caution on Lap 92 changed the pace of the race. Tony Stewart was having his best run of the year until he got loose on a restart following a debris caution. Stewart restarted inside the top-10, but got loose and started losing a lot of ground to those around him. He began dropping back and moved right up into the path of his Stewart-Haas Racing teammate Danica Patrick. Patrick, with nowhere to go, turned her teammate and boss into the wall, while also collecting Landon Cassill. From this point on, attrition became the name of the game throughout the race.
The green flag waved once again on with just over 60 laps to go, and Chase Elliott rocketed away from Matt Kenseth and Kurt Busch on the restart.
Elliott's car was the strongest on short runs, which would play into his hand while caution after caution came out. Michael Annett put the next yellow out. His car appeared to run into tire issues as he went hard into the wall on Lap 102 while battling inside the top-20.
The race restarted once again with just more than 50 to go. Elliott retained the lead, but a wreck by Kyle Busch two laps after the restart forced Elliott to work his restart magic once again.
Elliott led on the restart once again with Kurt Busch to his inside and Jimmie Johnson and Dale Earnhardt, Jr. behind. For Elliott, it was another flawless restart as he got away from the field, but it was short lived yet again. Austin Dillon lost a brake rotor going into turn one on Lap 116. Dillon's teammate Paul Menard ran into brake issues earlier in the race, which forced him to bring his No. 27 Chevrolet to the garage.
Most of the leaders came to pit road under the Dillon caution, but Dillon's younger brother Ty used Austin's misfortune to his advantage and stayed out to get the lead. Casey Mears, Trevor Bayne and Chris Buescher each employed a new tire strategy on their pit stop that allowed them to exit the pits in front of the race leaders, and gain track position.
Ty Dillon led on the restart, and as the field fanned out, Jimmie Johnson got sideways exiting turn two and spun bringing out the final caution with 41 to go. The caution put teams just on the edge of their fuel window, while those up front on fuel strategies either pitted, or were shuffled throughout the running order.
Dale Earnhardt, Jr. led on the final restart with teammate Chase Elliott and Casey Mears right behind him. Kurt Busch restarted right behind the No. 13 of Mears, and easily made his way around. It became a three-man battle for the lead, but Elliott made an aggressive move on his Hendrick Motorsports teammate, nearly wrecking both of them. Elliott and Earnhardt both lost their momentum, which gave Busch just enough of a push to pass both the Nos. 24 and 88 to take the lead for the first time of the day.
Busch's interim crew chief John Klausmeier urged his driver to save fuel, and he saved just enough. Busch went on to win at Pocono and secure his spot in the 16-driver Chase for the Sprint Cup. It was Busch's third win at Pocono, and 28th of his career.
Busch's regular crew chief Tony Gibson was suspended for this race following loose lug nuts found on the No. 41 following the Coca-Cola 600. John Klausmeier, who usually serves as lead engineer for Busch, served as crew chief for the first time of his career this weekend, and was able to visit victory lane with his driver.
For the fourth time this year, Dale Earnhardt, Jr. came up short with a second-place finish. Behind the No. 88 was Brad Keselowski who made his way in front of Chase Elliott to finish third in the closing lap, while the rookie took home a fourth-place finish. Joey Logano rounded out the top-five following an up-and-down day.
Kasey Kahne, Matt Kenseth, Carl Edwards, Kevin Harvick and Ryan Blaney rounded out the top-10.
Last week's Coca-Cola 600 winner Martin Truex, Jr. finished a disappointing 19th after an early incident on pit road with Matt DiBenedetto damaged his car, and his chances of going back-to-back.
Former champions Kyle Busch, Tony Stewart and Jimmie Johnson would each finish outside the top-30 following separate crashes late in the race.