VICS: 2017 IndyCar Silly Season Pre-Thanksgiving Update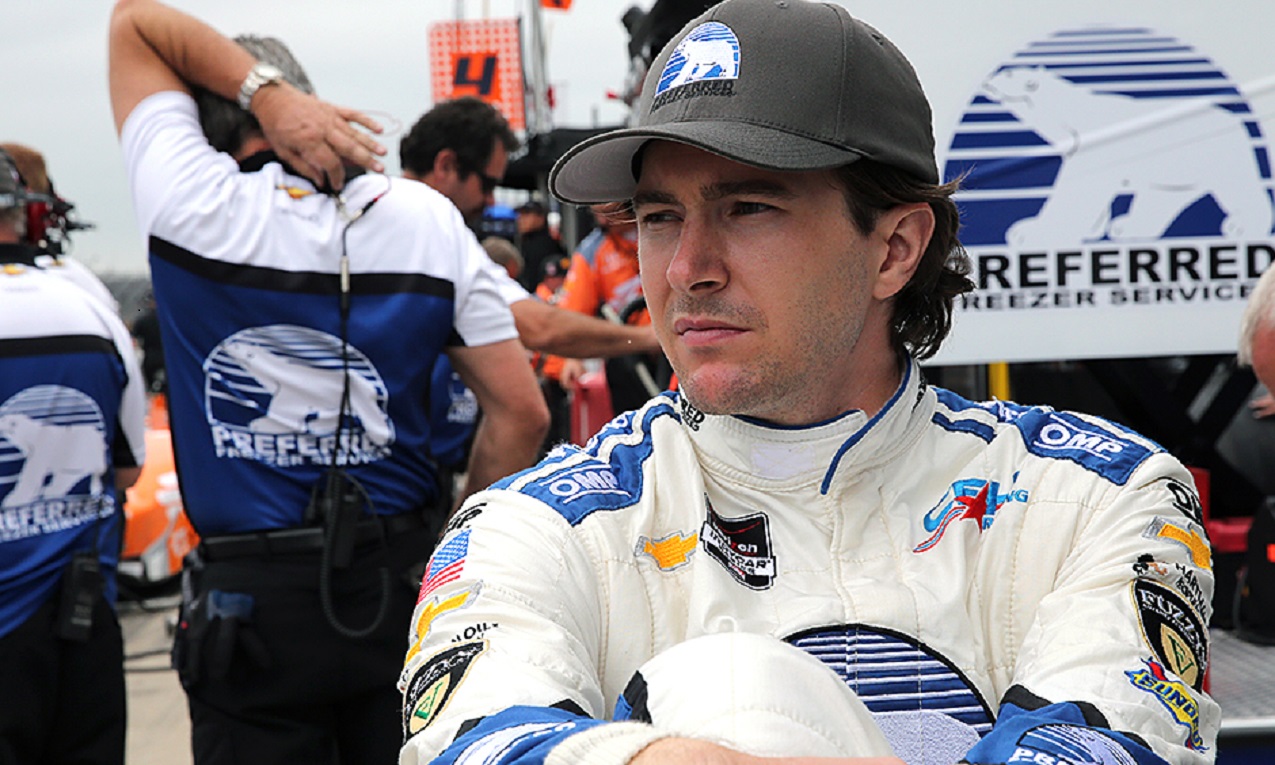 (Last Updated: November 12, 2016) With full confirmations from both AJ Foyt Racing and Dale Coyne Racing now on the table, only the fourth Chip Ganassi Racing ride and the seat at KV Racing remain as the only known full time rides left to be secured. That is of course, subject to change if Rahal Letterman Lanigan Racing finds the necessary funds to expand to two teams in 2017. The moves made could also accelerate the securing of Indy 500-only rides for the 101st running of the Greatest Spectacle in Racing, a scenario that normally occurs in full after the first of the year. Below is the current situation.
Team Penske: Simon Pagenaud (CONFIRMED), Will Power (CONFIRMED), Josef Newgarden (CONFIRMED), Helio Castroneves (CONFIRMED), Juan Pablo Montoya (CONFIRMED, Indy 500 Only)
With Newgarden having now completed his first test drive as a member of the Captain's Super Team, the focus has unexpectedly shifted again to the man he replaced on the full time roster: Juan Pablo Montoya. Insider information suggests that the two-time Indy 500 champion will stay with Penske, but will be involved in a new entity in the IMSA WeatherTech SportsCar Championship for next season. In return, the Captain reportedly will provide Montoya a car to contest next year's Indianapolis 500, marking the first time Penske has featured a five-car team at the Brickyard in its history. Nothing confirmed yet, but reportedly progress is being made on both fronts.
Chip Ganassi Racing: Scott Dixon (CONFIRMED), Charlie Kimball (CONFIRMED), Tony Kanaan (CONFIRMED), Max Chilton (Likely)
Nothing new to report on the status of Max Chilton, although insider information says the signing of a deal to remain at CGR with backing from Gallagher Investments remains likely, although the situation below has brought a second possibility into the picture. With a high asking price tag supposedly in play, the number of options beyond Chilton are limited, with only Indy Lights veteran Felix Serralles being viewed as a viable candidate outside of the Englishman.
Andretti Autosport: Ryan Hunter-Reay (CONFIRMED), Marco Andretti (CONFIRMED), Alexander Rossi (CONFIRMED), Takuma Sato (Likely), ?Townsend Bell (Possible, Indy 500 only)
Whether it is a move to appease Honda to avoid playing second fiddle to new engine partner CGR or not is anyone's guess, but reports are now pointing former AJ Foyt Racing and Formula One pilot Takuma Sato to fill what was Carlos Munoz's seat at Andretti Autosport for 2017.  Despite earning only two top-five finishes and placing 17th on the final Verizon IndyCar Series points table in 2016, Sato does have some backing as a Japanese driver for Honda, possibly a sign of a major influx of cash that reportedly was needed for Andretti to remain at four cars full time entering 2017. As for the Indy 500, expect Andretti to join Penske as a five-car entrant once again next May, with a return of NBCSN IndyCar analyst Townsend Bell possible.
Schmidt Peterson Motorsports: James Hinchcliffe (CONFIRMED), Mikhail Aleshin (CONFIRMED), ?Santiago Urrutia (Possible, Part-Time plus Indy 500)
Very unlucky not to earn at least one victory during the 2016 slate, Hinchcliffe bounced back nicely from his near fatal crash at Indy in 2015, while Aleshin improved greatly from his first foray in the U.S. in 2014. Schmidt had hoped to expand his operation to three full time entries, however CGR's switch to Honda and Santiago Urrutia falling short in his quest to win the Indy Lights Championship appear to have derailed that possibility. Schmidt is hopeful however, of running an extra car for the Indy 500 next May and in a handful of other events. Urrutia is one possible option as well as this past year's Indy-only driver Oriol Servia.
Ed Carpenter Racing: Ed Carpenter (CONFIRMED, but ovals only), J.R. Hildebrand (CONFIRMED, full time), ?Zach Veach (Possible, Road Courses plus Indy 500)
J.R. Hildebrand was confirmed as the team's full time driver for 2017 in early November. Hildebrand is no stranger to the ECR organization having driven in the past three Indianapolis 500s for the oval track specialist, finishing tenth or better in each of them. The move initially seemed to point Spencer Pigot to a second year of road course driving, plus a third seat for the Indy 500, however insiders are now tapping multi-year Indy Lights veteran Zach Veach possibly taking the role, while Pigot may be headed to a greater role with Mazda's IMSA Daytona Prototype International team in 2017.
Rahal Letterman Lanigan Racing: Graham Rahal (CONFIRMED), ?Oriol Servia (Possible)
With Rahal set for another year of driving for his family-based operation, this is the other team hinted at looking at potential expansion for 2017. While it may not make financial sense in the short term with a new car set to go online in 2018, it could be deemed necessary in terms of taking the next step toward the younger Rahal winning a championship, as his father did three times during his own driving career. According to reports the younger Rahal has shown an interest in having Oriol Servia as a teammate if indeed a second car comes to fruition. The two have been teammates at the Indy 500 in both 2014 and 2015 so there is a recent history present.
AJ Foyt Racing: Conor Daly (CONFIRMED), Carlos Munoz (CONFIRMED), ?Alex Tagliani (Possible, Indy 500 only)
As expected, both Munoz and Daly will drive for SuperTex in 2017, as the sponsorship from ABC Supply Company allows the team to go after the best available driver options, as opposed to needing to secure drivers that provide financial support. Munoz has come close twice in the past four years to winning the Indianapolis 500, while Daly took full advantage of a full time seat at Dale Coyne Racing to gain attention with several back to front efforts on road courses. Expect Foyt to offer a third car for the Indy 500 in order for the event to feature a full field of 33. Alex Tagliani has driven the third Foyt entry at Indy for the past two seasons and could be called upon to drive once again next May.
Dale Coyne Racing: Sebastien Bourdais (CONFIRMED), Ed Jones (CONFIRMED), Pippa Mann (Likely, Indy 500 only)
While the Chicago-based squad has often called upon pay drivers to survive the rigors of the IndyCar calendar in recent years, it has at times secured the services of a solid regular driver. After getting a strong year from up and coming driver Conor Daly, it has sought a similar output from multi-time ChampCar titlist Sebastien Bourdais, who has agreed to drive for Coyne in 2017 after spending the last three years with KVSH Racing. After winning the 2016 Indy Lights championship, Dubai-based British pilot Ed Jones has been confirmed for DCR's second full time seat. As for Indy, Pippa Mann likely will once again make another appearance for the team with Susan G. Komen remaining as the sponsor.
KVSH (Carlin?) Racing: ?
With Bourdais leaving, the future prospects for the Kevin Kalkhoven and Jimmy Vasser-led operation look a little bleak for the new year. It is believed that Indy Lights team boss Trevor Carlin will either join as an investor or buy out the assets of the team completely in advance of the 2017 season. If that is indeed the route taken, questions linger about how many cars the Carlin-backed group would enter full time, with perhaps a two-car effort possible. One option is former Carlin Indy Lights driver Max Chilton, but only if things sour in his efforts to rejoin Ganassi next season.
Stay tuned to OnPitRoad.com for continuing coverage and updates on the 2017 IndyCar Series silly season.