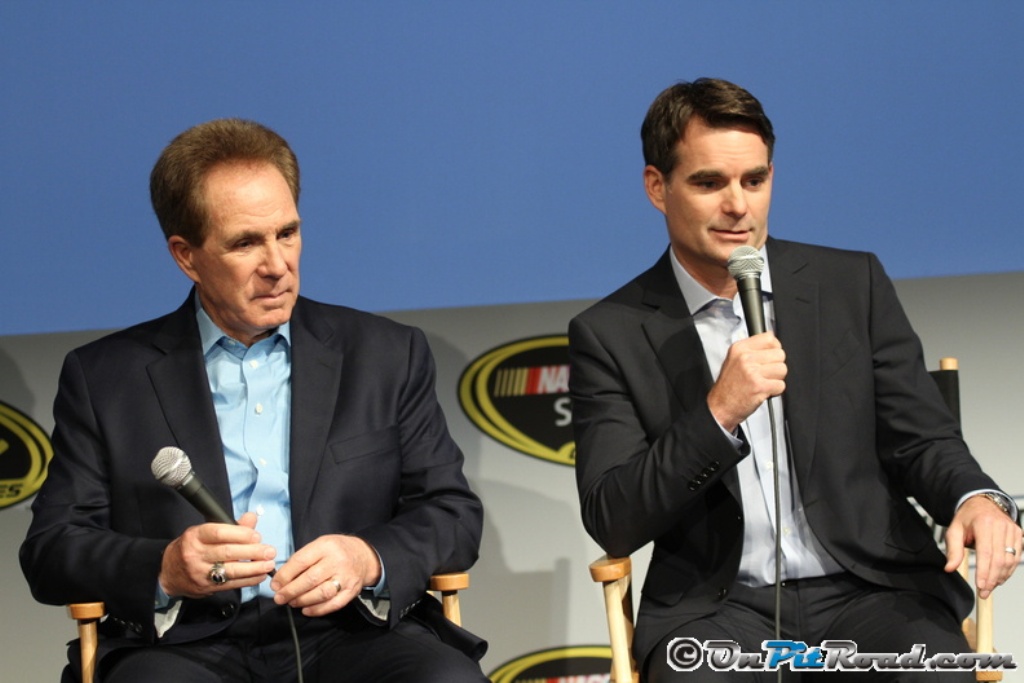 Recently retired NASCAR Sprint Cup Series driver and four-time series champion Jeff Gordon will race in the 2017 running of the Rolex 24 Hours of Daytona in January.
Gordon will run as a co-driver to brothers Jordan and Ricky Taylor and Max Angelelli in the No. 10 Konica Minolta Cadillac DPi-V.R for the race. The Rolex 24 opens the season for the IMSA WeatherTech Championship Season during the last weekend of January.
"When I announced I would no longer be competing full-time in the NASCAR Sprint Cup Series, my hope was that I would get an opportunity like this to compete again in such a prestigious event — with Konica Minolta and Wayne Taylor Racing — with the hopes of winning it this time," Gordon said. "I know that Ricky and Jordan are super-fast, and I believe it will be a very strong combination."
Angelelli, who races with the team during each endurance race of the season, will be paired up with Gordon for the second time in his career.
"I think it is exceptional to have Jeff back with us after 10 years," Angelelli said. "I look forward to sharing our new Konica Minolta Cadillac DPi-V.R racecar with him, discussing our setup and race strategy. It was great the first time — we might have won that race if some things would have gone our way. Now that it's happening again, with the new car, it's going to be absolutely great."
Gordon last took part in the race in 2007 when he drove as co-driver with Angelelli, Jan Magnussen and Wayne Taylor. The team of drivers finished second overall in the event, but now instead of driving with Wayne Taylor, he'll compete with his sons.
"It used to be common to have NASCAR guys joining teams for the Rolex but, over recent years, it's become less and less frequent," Jordan Taylor said. "Jeff Gordon is a name that everyone knows worldwide. I can't wait to compare notes and feedback with such a legend of our sport. It's going to be an experience of a lifetime."
"Having Jeff Gordon join the team is really a dream come true for all of us," added Ricky Taylor. "It is a huge compliment to how well-respected the team has become over the years for someone with the history and career of Jeff Gordon to want to be a part of it. I'm sure he will be a great addition to the lineup and hopefully we can all get our first Rolex 24 win together."
Gordon is expected to join the team for an IMSA-sanctioned test event prior to the Rolex 24 on Dec. 13-14 as well as the Roar Before the 24 on Jan. 6-8.