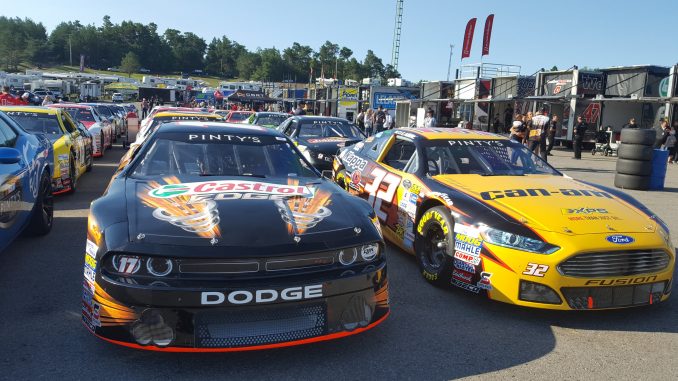 The 2016 NASCAR Pinty's Series season ushered a new age for stock-car racing in Canada.
The series welcomed Pinty's as its new entitlement sponsor, and 16-year-old Cayden Lapcevich became its youngest champion ever. While 2016 was a big year, 2017 promises to be just as big.
NASCAR announced the new series schedule on Thursday, which includes a trip to Delaware Speedway after the series' last visit in 2013, and a doubleheader at Wyant Group Raceway on July 25. Teams will have to manage two 100-lap features in Saskatoon on one day before travelling to Edmonton for the third race during the West Coast swing on July 29.
"With the newly released schedule, the 2017 season is shaping to take that excitement to the next level. The mix of world-class road courses and challenging ovals will provide a great test for drivers and teams, and excite fans across Canada."
With the addition of Delaware to the schedule and a second race in Saskatoon, Sunset Speedway in Innisfil, Ont., will make its departure from the schedule. Sunset hosted two races over the past two years, both of which were won by Alex Tagliani.
The 13-race schedule can be seen below.
2017 NASCAR PINTY'S SERIES SCHEDULE
| Date | Track | Location |
| --- | --- | --- |
| 21-May | Canadian Tire Motorsport Park | Bowmanville, Ont. |
| 3-Jun | Delaware Speedway | Delaware, Ont. |
| 17-Jun | Autodrome Chaudiere | Chaudiere, Que. |
| 8-Jul | Circuit ICAR | Mirabel, Que. |
| 15-Jul | Exhibition Place | Toronto, Ont. |
| 25-Jul | Wyant Group Raceway* | Saskatoon, Sask. |
| 25-Jul | Wyant Group Raceway* | Saskatoon, Sask. |
| 29-Jul | Edmonton International Raceway | Wetaskiwin, Alb. |
| 13-Aug | Circuit Trois-Rivières | Trois-Rivières, Que. |
| 19-Aug | Riverside International Speedway | Antigonish, N.S. |
| 3-Sep | Canadian Tire Motorsport Park | Bowmanville, Ont. |
| 9-Sep | Autodrome St-Eustache | St. Eustache, Que. |
| 16-Sep | Kawartha Speedway | Fraserville, Ont. |
*100-lap twin features
SCHEDULE SUBJECT TO CHANGE