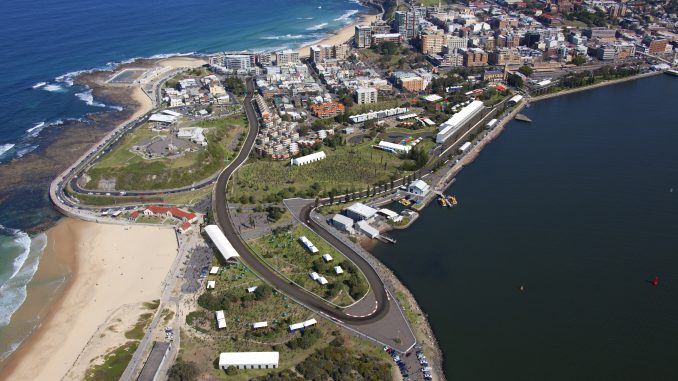 Supercars Australia has unveiled the street circuit for the Coates Hire Newcastle 500, set to take place from 24-26 November next year.
The Newcastle coastline will provide a stunning backdrop to the 2.6km circuit which also incorporates parts of the CBD and local landmarks such as Nobbys Beach, Fort Scratchley and the Harbour Foreshore.
The Coates Hire Newcastle 500 will be the season finale of the Virgin Australia Supercars Championship.
Supercars Chief Executive James Warburton said: "This is a world-class circuit that will make for exciting racing for the people of Newcastle," he said.
"We can't wait to come to Newcastle and deliver great entertainment on and off the track and showcase the city to the rest of Australia and the world."
NSW Minister for Trade, Tourism and Major Events Stuart Ayres said the event will bring high adrenalin energy to the town and drive the local economy.
"The race is expected to turbocharge the local economy by attracting approximately 81,000 visitors over the next five years, set to inject $57 million in visitor expenditure," Mr Ayres said.
"It's a great opportunity for Newcastle, the Hunter and Supercars fans from across Australia to enjoy the wide array of activities on offer in the region."
Lord Mayor Nuatali Nelmes said the Newcastle City Council and Supercars are undertaking comprehensive community engagement to get the best possible outcome for residents while ensuring a fantastic circuit for racing.
"Supercars has adjusted the design of the circuit to minimise disruption while still capturing everything that is spectacular about Newcastle including its famous coastline.
"We know locals are excited about Supercars coming to Newcastle and we want to ensure this event is an outstanding success," she said.
"With the date and track now locked in we can look forward to planning the next 11 months before the Supercars take to the streets showcasing Newcastle on a global stage."
Images and video of the circuit and an interview with Supercars CEO James Warburton can be downloaded here.
Community members are invited to two further information sessions to learn about the next stages of planning and ask questions on Tuesday December 13 at 4.30pm to 8.00pm, and Wednesday December 14 at 8.00am to 12.00pm, at the Crowne Plaza, Newcastle.
For more information about how to register and details about next year's event go to www.newcastle.nsw.gov.au/supercars.