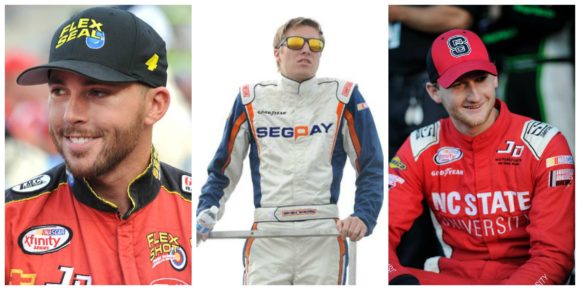 DAYTONA BEACH, Fla. – Robert W. Kettelle Roofing Contractors of Florida will serve as a key associate sponsor for the JD Motorsports with Gary Keller team's three-way run in Saturday's Xfinity Series opener at Daytona International Speedway.
Kettelle's colors will ride along with drivers Ross Chastain, Garrett Smithley and Harrison Rhodes as they drive JD Motorsports Chevrolets in the PowerShares QQQ 300, the first race of the 33-event Xfinity season.
"It's great to have the folks at Kettelle with us this weekend," said team owner Johnny Davis. "We look at Daytona as our biggest race of the year, and we put a lot of emphasis on making sure we have three great cars ready to compete. With Kettelle's help, we'll do well."
Family-owned Kettelle Roofing is one of the top commercial and residential roofing contractors in Florida. The company's work is centered in Charlotte, Hendry, Lee and Collier counties, but Kettelle does work all across Florida.
The Kettelle family already has a connection with JD Motorsports. Robert Kettelle's 20-year-old son, Brandon, races go-carts, and he also competes in online racing against some of JD Motorsports' employees.
"This is a great opportunity for us to get involved and help the team," Kettelle said. "We run a small business, so we know what this is like. We're looking for a good weekend from the team."