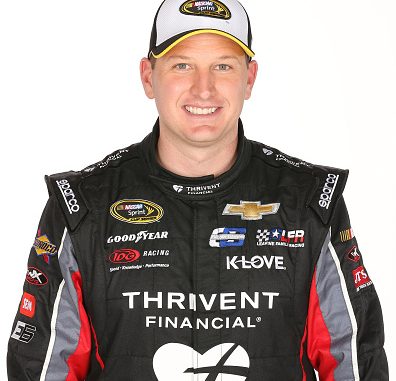 Racing in his eighth career Can-Am Duel tomorrow night will be Phoenix, Arizona native Michael McDowell. He will pilot the #95 K-Love Radio Chevrolet SS for Leavine Family Racing.
Something will be different this year though for McDowell compared to the last few seasons. McDowell knows he will race in the Daytona 500 on Sunday, and the only thing he has to be nervous about tomorrow night is keeping his car in one piece. This is different from past seasons as he had to race his way into the Great American Race.
In seven past Can-Am Duels, he has qualified for the Daytona 500 five times over his career with a best finish of ninth coming in the 2013 Daytona 500.
McDowell has shown himself to be quite the Superspeedway racer, and this year will have a veteran crew chief in the form of Todd Parrott. Parrott has two Daytona 500 victories to his credit, both with Dale Jarrett. One stat that has to be in the favor of McDowell is that one of those Daytona 500 victories was Parrott's first victory as a Cup Series crew chief.
He ended up 30th in qualifying on Sunday, and will start 15th in the second duel tomorrow night. It's a good start for him with it being his second best starting spot in the Duels. Last season, McDowell started 13th in the Duel and finished 14th, which ultimately qualified him for last year's Daytona 500. His best finish in a duel came in 2012 where he finished sixth.
McDowell was able to gain his first career victory in the NASCAR Xfinity Series last year at Road America but he is still searching for his first career victory in the Monster Energy NASCAR Cup Series in 213 starts. On Sunday, he will seek to add his name to the history books by gaining a victory in the Great American Race.