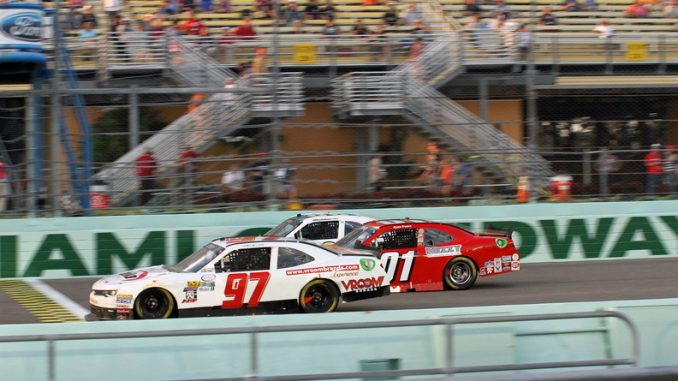 Josh Bilicki returns to the NASCAR Xfinity Series this weekend at the Atlanta Motor Speedway behind the No. 97 for Obaika Racing. He will be attempting to make his fourth career start.
Bilicki, an accomplished road racer from Wisconsin, made his series debut at Road America last year finishing 38th following electrical issues. In his next outing, and first oval track outing, at Phoenix International Raceway, he scored a best career finish of 28th, one that he hopes to improve on this weekend.
"I'm very humbled to have the opportunity to race NASCAR again this weekend at Atlanta Motor Speedway. The track is very fast and the cars will handle much different without the aero package that we had last year, so I'm excited to learn this track and car combination," he told OnPitRoad.
It will be Bilicki's first start at Atlanta, but he will have a teammate who has some experience at the track, and plenty of experience in NASCAR.
"My teammate Stephen Leicht has over 300 NASCAR races under his belt so I know that I can go to him for any questions about driving here," he said.
Bilicki is looking to do more races this season, but much like many small teams in the Xfinity Series, that is all dependent on sponsorship.
"We are still looking and open to sponsors for this weekend's race and beyond," Bilicki said. "I want to especially thank Victor Obaika for giving me this opportunity!"