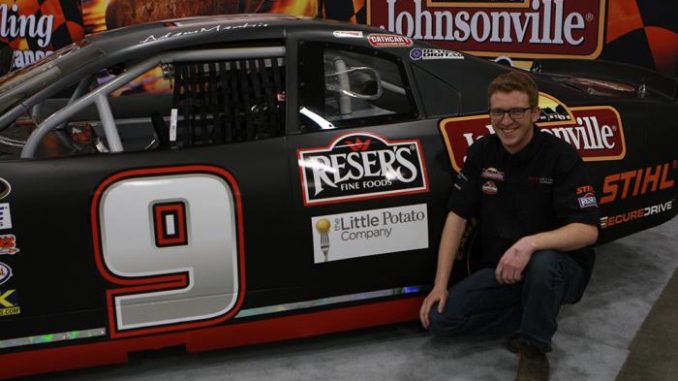 After a part-time NASCAR Pinty's Series season in 2016 that included two top-five finishes, 19-year-old Adam Martin will move up to a full-time schedule in 2017.
The Ayr, Ontario driver will run for rookie of the year honours by running the full season with a host of sponsorship from Johnsonville Sausage, Olivier's Chocolates and Candies, Reser's Fine Foods, Secure Drive, STIHL Canada, Little Potato Company and Legacy Auto Leasing.
"We are excited for this race season," said Martin. "I'm racing with the best drivers in the country, but it's motivating. When you have a good night against these drivers it's a great feeling."
Martin ran half of the schedule in 2016. In his six starts, he finished in the top-10 three times, scoring two fourth-place finishes at Sunset Speedway and Autodrome St. Eustache. The first of those fourth-place finishes at Sunset came in his series debut.
"I expected to run well at my home track Sunset Speedway last year," said Martin. "A fourth place finish was a huge boost to our confidence. When we went to Quebec and finished fourth again later in the season it really showed that we have the right people in the right places to take on the full schedule."