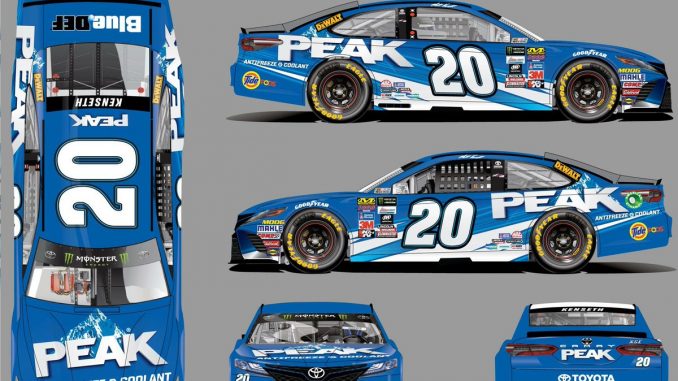 Joe Gibbs Racing announced this afternoon that they will be joining forces with Old World Industries in both the Monster Energy NASCAR Cup Series and NASCAR Xfinity Series. Matt Kenseth will be the primary driver for Old World Industries products PEAK and BlueDEF in the Monster Energy NASCAR Cup Series while Daniel Suarez will lead the charge in the Xfinity Series.
PEAK will make it's JGR debut this weekend on the No. 20 Toyota Camry with Matt Kenseth in Sunday's Kobalt Tools 400 at the Las Vegas Motor Speedway. PEAK will also join the No. 20 team in two weeks at the Auto Club Speedway in Fontana, California while serving as the associate sponsor on his No. 20 for the remainder of the 2017 Season. He has a combined six victories at the two tracks with his most recent coming at the Las Vegas Motor Speedway in 2013, his first victory with Joe Gibbs Racing.
PEAK will be on Suarez' Xfinity car for the first time during the Sparks Energy 300 at the Talladega Superspeedway. PEAK will remain as an associate sponsor in the remainder of his races in the No. 18 Toyota Camry. He has two starts at Talladega with a best finish of seventh coming in last season's race.
"We're excited to announce PEAK's partnership with us and both Matt (Kenseth) and Daniel (Suárez)," said Joe Gibbs, owner of Joe Gibbs Racing in the team release. "They have been a tremendous supporter of our sport for a long time and I think their entitlement sponsorship of the NASCAR PEAK Mexico Series™ is another great example of that. It's a real thrill to have them with us and on the 20 car with Matt starting this weekend in Vegas. Hopefully we can get them a trip or two to victory lane."
"As a company, we're thrilled to welcome Matt, Daniel and the Joe Gibbs Racing team to the Old World Industries Motorsports family," said Bryan Emrich, Chief Marketing Officer at Old World Industries. "These are guys that aren't afraid to get their hands dirty, and have both a great record on the track and a personal passion for all things automotive. We look forward to being a part of their continued success in 2017 and beyond."
The company announced during the off-season that they would become the entitlement sponsor for the return of the Mexico Series. A series that developed the 2016 NASCAR Xfinity Series Champion Daniel Suarez along with many other Hispanic born NASCAR drivers like Ruben Garcia Jr., Germán Quiroga Jr., Carlos Contreras, who joins a list of many.