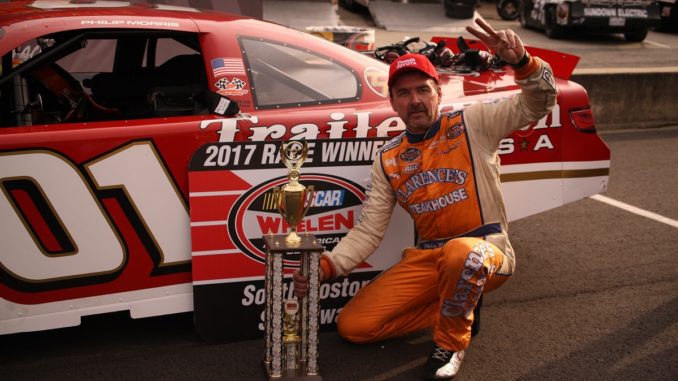 SOUTH BOSTON, Va. (March 28, 2017) – Philip Morris is determined to return to the level of performance he enjoyed while winning 57 races at South Boston Speedway and capturing four national championships.
After winning races 58 and 59 during South Boston's season-opener last Saturday, he's obviously well on his way.
"Last year was a humble pill to swallow. Just following people like we did last year tests your commitment," Morris said Monday afternoon. "We finished second or worse a lot last year. It helped define if we were going to do what it takes to get back to where we were."
It wasn't like the four-time NASCAR Whelen All-American Series national champion had forgotten how to drive. He stepped away from the sport for three years and when he returned last year, he discovered he had fallen a step or two behind in all areas.
"I had to regroup my business. I had to get back to what was feeding my family," Morris said of his time away from the sport spent revitalizing his Ruckersville company, Trailer Town USA. "I had to get my gross numbers up.
"Not racing was hard, but it was easier when I was working so hard on my business. I was racing my business. I approach my business like I do late model racing … you have to go the extra mile."
Morris looks back on 2016 as a building year. "I had to get the feeling of the tires and the tracks and the competition had gotten better. You can thank Lee Pulliam (a three-time national champion) for that. Lee has made people approach things totally different than we used to."
Morris' first step in that "different approach" was to bring Concord, North Carolina, car builder Forrest Reynolds aboard to basically run the show. Reynolds is a former on-track foe of Morris who now owns and operates Reynolds Racing Chassis.
"Getting with Forrest Reynolds was the key. He builds the race car and is the crew chief the car chief, the tire chief, everything," said Morris. "He may be more determined that I am. I had some epic battles with him on the race track. It takes determination to do this and he has it."
The new relationship with Reynolds is helping Morris on and off the track. For the first time in his long career the 51-year-old Morris isn't working on his cars day-after-day, night-after-night.
"He keeps the cars up in Concord, so even if I wanted to wrench on it, I couldn't. It's six hours away," said Morris, adding that helps him concentrate more on his business.
Morris wasn't sure what to expect from South Boston Speedway's new pavement, but he left a test session two weeks with a smile on his face.
"I was surprised when I came and tested. I could get up on the wheel so much more than before. The track had so much grip," said Morris.
From the first time Morris' red and white Chevy rolled onto the track Saturday, it was obvious he was fast. In qualifying he showed exactly how fast. While more than half the field broke the old track record of 15.314 seconds, set by Adam Barker in 2007, Morris obliterated it. He had a fast lap of 14.731 seconds or 100.197 miles per hour, the first time the 100-mph barrier had been broken at South Boston.
While Morris was dominant in the first race, neither of the twin 100-lappers were run-aways for him. He quickly found out South Boston's young crop of drivers like Bobby McCarty and Austin Thaxton and veterans like Pulliam, Peyton Sellers and Nick Smith were going to be difficult to deal with.
"The competition was there Saturday, that's for sure. Any one of those guys can win. There are some epic battles coming this year," said Morris. "South Boston is absolutely where we're going to be running for the year. There are some epic battles coming."
Morris was a bit surprised how quickly new racing surface widened out.
"The second race I had to run on the outside almost the entire time. There were two grooves there for us with plenty of grip," said Morris. "Forrest had the car perfectly optimized for the grip, too."
Morris is not an emotional guy around the race track. But Saturday afternoon, after wins 58 and 59, he was a happy man. The comeback was complete.
"It was like taking the weight of a race car off my shoulders," Morris said of the two wins. "You go from expecting to win every race to hoping you have a small chance of winning. That's where we were last year. So, we were pretty excited Saturday."
The lights go up at South Boston Speedway for the first time this season on Saturday, April 8 for the NASCAR Late Model Twin 75s racing program.
There will be twin 75-lap races for the NASCAR Whelen All-American Series Late Model Stock Car Division, a 50-lap Limited Sportsman race, a 30-lap Budweiser Pure Stock race and a 15-lap Budweiser Hornets race.
Registration and pit gates open at 2:30 p.m. with practice from 4 p.m. to 5 p.m. Grandstand gates open at 5:30 p.m., qualifying is set for 6 p.m. and the green flag flies at 7 p.m.
Admission is $10 for adults and $5 for youth ages 7-12. Kids ages six and under are admitted free with a paid adult.