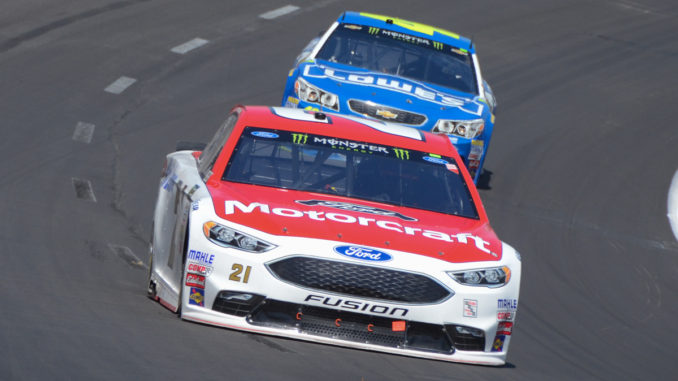 Before the O'Reilly Auto Parts 500 on Sunday at Texas Motor Speedway, Ryan Blaney had led a total of 31 laps in his entire career. That changed at Texas where he led 150 laps, and appeared to be on course for a run-away victory, before late race woes landed him in the twelfth finishing spot.
Blaney charged to the lead on a lap 16 restart when he powered around pre-race favorite Kevin Harvick with a power move on the outside, something that before the race was expected to not be possible due to the new paving. The 23-year-old, High Point, NC native then set sail and put his Motorcraft Ford on cruise control as he easily began distancing himself from the field.
He was in control, clicking off laps as the leader, and sitting comfortably knowing that no one at this stage of the race could touch him. It was his race to lose. And that is exactly what he did.
Under caution with five laps to go in Stage two, Blaney did not pit, along with seven other cars including Harvick. The Wood Brothers team opted to go for the stage win and collect the points rather than pit. Blaney won the stage with relative ease, but since the rest of the lead lap cars pitted on the previous caution, Ryan was now mired deep in the field.
Blaney began slicing through traffic, steadily working his way to the front, and had reached fourth position before contact with the lapped car of Cory Lajoie dropped him back to sixth. The situation deteriorated further when on the last pit stop of the day, Ryan over-shot his pit, then the car fell off the jack, all but assuring that he would not be the winner.
Still, he was undeterred; "not a bad day for us," he said after the race, "it's nice to win a couple segments, but I want to lead the last lap. That's the lap I care about, but I thought we made a big gain today as a team."
We didn't finish where we wanted to by a long shot, but the positives you look at was how good our car was and how our adjustments were today," he continued, "we deserved to finish third at worst. But, at the same time you've got to look at the positives, and I think this is the most positive race we've ever had as a team, as a whole organization."
Blaney currently occupies the number six spot in the points, only 91 behind leader Kyle Larson.
On a bonus note, Blaney's performance at Texas marked the first time the Wood Brothers organization has led more than one hundred laps in a single race since Neil Bonnet led 108 laps at Rockingham on October 31, 1982, in the Number 21 Wood Brothers Ford.