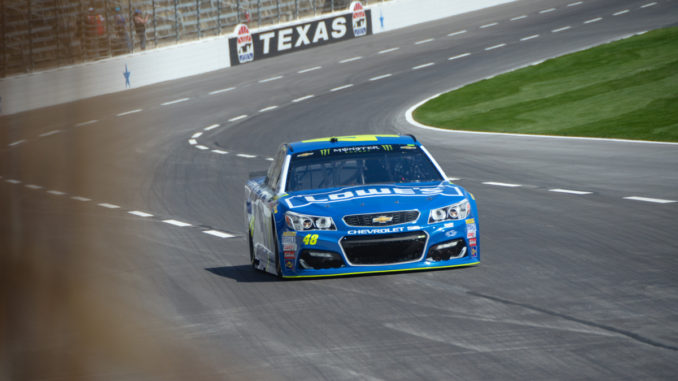 It's safe to say that Texas Motor Speedway is the house that Jimmie Johnson built. The 41-year-old California native has been all but flawless at the Fort Worth track. Every time the Monster Energy NASCAR Cup Series rolls in to Texas, it is just assumed that Johnson will play a major player in the outcome.
In 27 starts, Johnsons has amassed six wins, 14 top-fives and a whopping 20 top-tens. Couple that with the fact that he has only had one lone did-not-finish (DNF) at the track, with an astounding 1,023 laps led. The Lowe's Chevrolet driver has an average start of 8.889 and an average finish of 8.370.
But, for as impressive as Johnson has been in the Lone Star state, it appears he may have an up-hill battle on his hands for this weekend's O'Reilly Auto Parts 500. In Fridays qualifying session, Jimmie ran a single lap, then spun the car on the cool-down lap. Three of his tires were flat spotted in the incident, prompting crew chief Chad Knaus forgo further qualifying attempts.
Johnson will start 24th for the race, which would normally not be considered too challenging for someone with his record, but, with the new repave at Texas, and drivers struggling to find a second racing groove, passing will likely be at a premium, and getting to the front will be harder than it normally is.
Conversely, Kevin Harvick has been the man to watch in Texas. Harvick stormed to the pole position in his Jimmy Johns Ford with a speed of 198.405. He will be joined in the top-ten starting grid by seven other Ford drivers.
With eight Fords making the final round of 12 in qualifying, it solidifies the stranglehold Ford has had on the sport through the first portion of the 2017 season. Toyota landed only one car in the top-12, that of Joe Gibbs Racing driver Matt Kenseth.