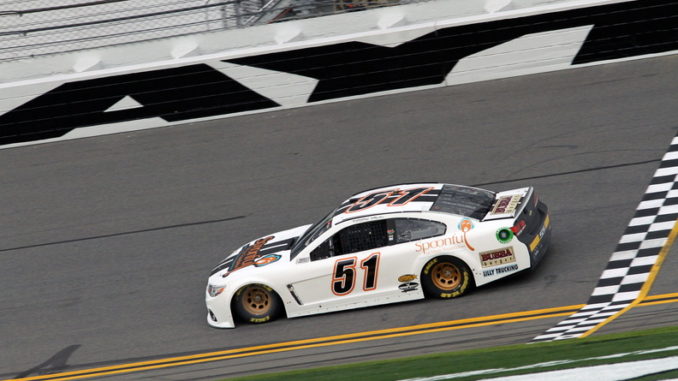 Timmy Hill and Rick Ware Racing entered Kansas Speedway with a little extra confidence as the team welcomed a familiar sponsor on board the No. 51 Chevrolet SS. Lilly Trucking for the first time this season. With Kansas being one of Hill's best tracks, the season debut for Lilly was a memorable one for Rick Ware Racing.
"Kansas has always been a great track for me. I hold my best Cup Series finish there with a 22nd place on the lead lap from 2012. Each time we roll into this track I seem to have success," Hill told OnPitRoad.com in an interview on Monday Afternoon.
In his eighth start of the 2017 Monster Energy NASCAR Cup Series season, Hill started the No. 51 in the 39th position since he was one of 11 drivers unable to make it through pre-qualifying inspection, but that wouldn't put down the spirits of the small team. The 2017 Go Bowling 400 had a record amount of cautions  at 16, which played in the hands of Rick Ware Racing.
"The Kansas race ended up being a survival race. The caution flag continued to fly in this race which made for interesting strategy," said Hill. "Our Lilly Trucking Chevy struggled must of the race with handling but with the added caution flags we did find ourselves improving each pit stop and ultimately finished up 28th."
Hill isn't sure when his next race with Rick Ware Racing will be as he runs on a race-to-race basis, but says the team will not enter the Monster Energy All-Star Open on Saturday evening.