'Random Winners' Create Playoff Implications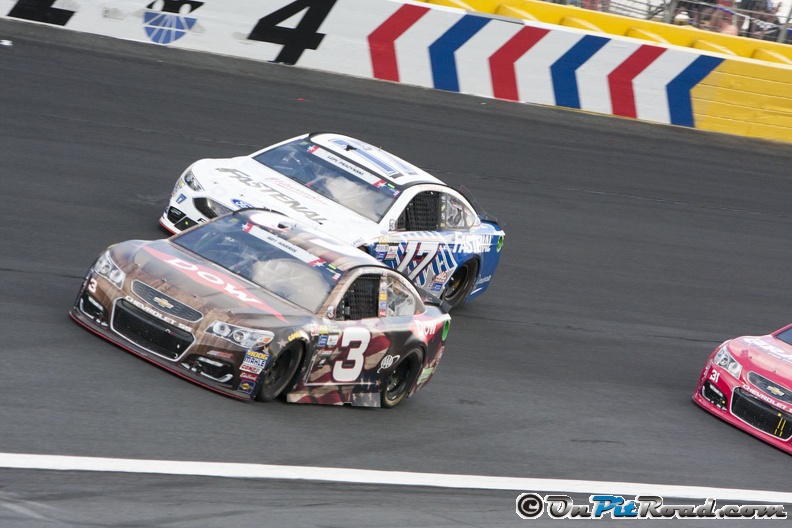 We seem to have stumbled into a strange NASCAR timeline where drivers who haven't won in years are breaking long winless streaks or scoring their first career wins while Joe Gibbs Racing has yet to find victory lane in a points scoring race.
Austin Dillon, a driver known for more flashy appearances in the NASCAR XFINITY Series, won his first career Monster Energy NASCAR Cup Series race last night in the Coca-Cola 600 at Charlotte Motor Speedway. By winning in the famed No. 3 Chevrolet for Richard Childress Racing, he joined Ricky Stenhouse, Jr. as the second first-time winner this season. Prior to Dillon and Stenhouse's break through wins, Ryan Newman scored his first win since 2013 at Phoenix International Raceway in March. What some may refer to as fluky wins have potentially locked these three into the playoffs, while key big wig Cup drivers fight it out for the remaining positions.
So far this year, nine drivers have won in the first 12 races. Presumably, with the exception of Joey Logano's encumbered win at Richmond International Raceway, these drivers are guaranteed a playoff spot. That puts Newman, Stenhouse, Jr. and Dillon in the playoffs along with two-time winners Martin Truex, Jr., Brad Keselowski and Jimmie Johnson. Kyle Larson, a winner at Auto Club Speedway, and Daytona 500 winner Kurt Busch should also be in. However, with so many more drivers who could easily kick a dry spell, NASCAR could be on its way to either some big names missing the playoffs, or more than 16 winners by the time we get to Richmond in September.
Let's break down who has yet to win this year.
We've already established that Joe Gibbs Racing still doesn't have a points win in 2017. It marks the first time since 2007 they've gone this deep into a season without a win. Kyle Busch finished second last night to record his second runner-up finish of the season. He's very capable of winning, and will surely get it done soon if he can get the monkey off his back. His teammates Denny Hamlin and Matt Kenseth have been getting closer to breaking through, too. Kenseth especially needs a win as he finds himself 18th in points after a string of bad runs to start the season. The other Gibbs driver, Daniel Suarez, isn't as likely to break through, but he's been running better over the past four or five races.
A lot of people may be surprised to realize Kevin Harvick is also yet to find victory lane this year. He sits fourth in points, and has consistently been at the top of the running order all year, but alas, no win. With two third-place finishes this season, and a near win at Atlanta Motor Speedway before a pit road penalty took him out of the running, Harvick has been the best of the drivers who haven't won yet. Give it three or more races – he's going to win very soon.
Wood Brothers Racing driver Ryan Blaney has been on the cusp of his first victory on a few occasions this year. Blaney dominated the race at Texas Motor Speedway before a bad pit call cost him a shot at the win. Blaney finished 12th that day after leading 148 laps. At Kansas Speedway a few weeks ago, he earned his first career pole. He followed that up by leading a good chunk of the race and finishing fourth. His best finish of the year came at the season opening Daytona 500 when he finished second. The Wood Brothers have good pace on the superspeedways, but seem to be at their best on the intermediates. It's only a matter of time until Blaney gets the elusive first win.
Blaney isn't the only sophomore driver hoping to visit victory lane soon. Chase Elliott has been close a few times this year as well. Elliott's seventh in points, but on the playoff cutoff line, he's 12th. He could use a 'W' to secure that spot in NASCAR's postseason.
While Logano has a win at Richmond, his win was deemed to be encumbered after he failed post-race inspection. In lamest terms, NASCAR took the win away without actually taking it away. His win can't be used to put him in the playoffs, so he needs one more to lock his spot. Logano hasn't shown as much consistent speed as his Penske teammate Keselowski, but Logano is more than capable of a win.
Two drivers looking to break a long winless spell each already have a runner-up finish this year. Clint Bowyer, in competitive equipment once again for Stewart-Haas Racing, and Jamie McMurray are each eyeing their first wins in a long time. Bowyer last won in 2012 during his breakthrough year that saw him finish second in the points for the now defunct Michael Waltrip Racing. McMurray won in 2013 at Talladega Superspeedway, the same place he finished second earlier this month. Both of these drivers are high up in points – with McMurray sixth – and will probably visit victory lane this year. The question is, will it be before or after the cutoff point?
So now what? We've already highlighted eight more playoff spots that could be locked with a win in the upcoming weeks. That would put us at 16. Drivers like Dale Earnhardt, Jr., Kasey Kahne and even A.J. Allmendinger at a road course could pull off some trickery to give us more than 16 winners, which would mean some race winners would be bumped from the playoffs. At this point, the NASCAR playoffs look like they could be getting dicey as the summer months wear on.