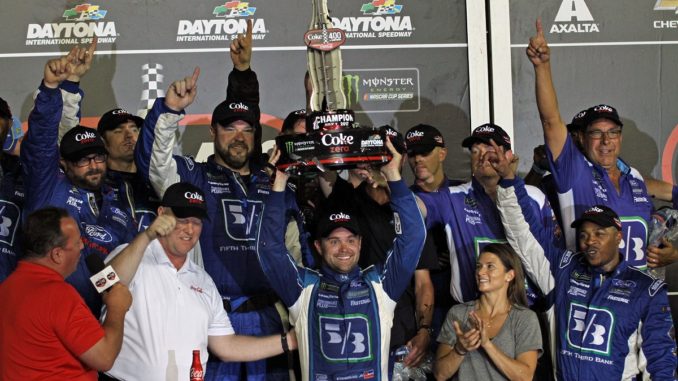 By Reid Spencer
NASCAR Wire Service
DAYTONA BEACH, Fla. – The major story of Saturday night's Coke Zero 400 Powered by Coca-Cola – Dale Earnhardt Jr.'s final run at his beloved Daytona International Speedway in the No. 88 Hendrick Motorsports Chevrolet – turned out to be a footnote to Ricky Stenhouse Jr.'s masterful victory in a war of attrition that produced a race-record 14 cautions.
The driver of the No. 17 Roush Fenway Racing Ford, who got his first Monster Energy NASCAR Cup Series victory in his 158th career start two months ago at Talladega, established himself as a restrictor-plate wizard with his second straight superspeedway win, this one after three laps of overtime.
Stenhouse lined up behind race leader David Ragan for a restart on Lap 162, after a caution for a backstretch collision involving Jamie McMurray, Denny Hamlin and Erik Jones slowed the action for the 14th time and sent the race to overtime.
Ragan pulled out to a two-car-length lead after the restart, but Stenhouse surged past him near the end of the backstretch and protected the top spot the rest of the way. Clint Bowyer charged into the runner-up position at the finish, beating third-place finisher Paul Menard to the stripe.
After the Talladega victory, Stenhouse talked team owner Jack Roush into letting him keep the winning car. So the No. 17 team built another superspeedway car that was just as fast.
"I kept my Talladega car and told them to build a new one," said Stenhouse, who locked himself into the postseason playoff with his second victory of the season. "They built a Fifth Third Ford that was really fast…
"This is awesome! I've been coming here since 2008. I actually came in 2006 one time with Bobby Hamilton Jr., and it's cool to put it in Victory Lane and get our second win this year. I love it! Thank you to the fans for coming out here. Everyone at NASCAR. What a great weekend. America! 1776! We are the champs!… This validates what we did at Talladega."
A succession of multicar wrecks crippled or eliminated more than a handful of contenders, the most notable of which was Earnhardt, the polesitter.
On Lap 52, Earnhardt felt his right front tire losing air but was trapped in the outside lane. Inadvertent contact from Menard nudged the No. 88 into the outside wall near the entrance to Turn 1, obliterating the top third of the car number on the right side.
Earnhardt lost two laps on pit road but returned to the lead lap as the highest-scored lapped car after eventual seventh-place finisher Brendan Gaughan scraped the wall on Lap 90 to cause the seventh caution. Earnhardt restarted 31st but drove up to sixth before Kevin Harvick blew a tire and spun in front of Earnhardt in Turn 2 on Lap 106.
In a wreck that involved five cars and also eliminated the Ford of Stage 1 winner Brad Keselowski, Earnhardt hit Harvick's Ford broadside, effectively ending the evening for both drivers.
But that was just a prelude to the intense action that would follow, as an unlikely cast of characters claimed positions in the top 10. Michael McDowell came home fourth, scoring his first top-five in 230 Monster Energy NASCAR Cup Series starts.
Ryan Newman was fifth, followed by Ragan, Gaughan, AJ Allmendinger, Jones (whose No. 77 Toyota survived a succession of incidents) and Chris Buescher.
A second-place finisher at Sonoma last Sunday, Bowyer was already growing weary of the runner-up role.
"This bridesmaid deal sucks," Bowyer said. "I want to win. We're in this business to win. That's what (owners) Tony (Stewart) and Gene (Haas) pay me to do. I'm proud of everyone on the Mobil 1 Ford team."
Monster Energy NASCAR Cup Series Race – Coke Zero 400 Powered by Coca-Cola
Daytona International Speedway
Daytona Beach, Florida
Saturday, July 1, 2017
1. (6) Ricky Stenhouse Jr., Ford, 163.
2. (11) Clint Bowyer, Ford, 163.
3. (24) Paul Menard, Chevrolet, 163.
4. (23) Michael McDowell, Chevrolet, 163.
5. (22) Ryan Newman, Chevrolet, 163.
6. (30) David Ragan, Ford, 163.
7. (32) * Brendan Gaughan(i), Chevrolet, 163.
8. (27) AJ Allmendinger, Chevrolet, 163.
9. (17) Erik Jones #, Toyota, 163.
10. (29) Chris Buescher, Chevrolet, 163.
11. (36) Corey LaJoie #, Toyota, 163.
12. (12) Jimmie Johnson, Chevrolet, 163.
13. (28) Matt DiBenedetto, Ford, 163.
14. (8) Jamie McMurray, Chevrolet, 163.
15. (31) Darrell Wallace Jr.(i), Ford, 163.
16. (34) Ty Dillon #, Chevrolet, 163.
17. (20) Daniel Suarez #, Toyota, 163.
18. (4) Kasey Kahne, Chevrolet, 163.
19. (26) Landon Cassill, Ford, 163.
20. (16) Kyle Busch, Toyota, 163.
21. (33) * Elliott Sadler(i), Chevrolet, 163.
22. (2) Chase Elliott, Chevrolet, 162.
23. (14) Trevor Bayne, Ford, 160.
24. (18) Denny Hamlin, Toyota, Accident, 157.
25. (10) Danica Patrick, Ford, Accident, 154.
26. (9) Ryan Blaney, Ford, Accident, 154.
27. (13) Matt Kenseth, Toyota, Accident, 154.
28. (15) Kurt Busch, Ford, Accident, 153.
29. (21) Kyle Larson, Chevrolet, Accident, 153.
30. (37) * Reed Sorenson, Toyota, 147.
31. (3) Brad Keselowski, Ford, Accident, 113.
32. (1) Dale Earnhardt Jr., Chevrolet, Accident, 106.
33. (5) Kevin Harvick, Ford, Accident, 105.
34. (25) Martin Truex Jr., Toyota, Accident, 73.
35. (7) Joey Logano, Ford, Accident, 71.
36. (19) Austin Dillon, Chevrolet, Accident, 70.
37. (39) Jeffrey Earnhardt, Chevrolet, Engine, 57.
38. (40) DJ Kennington, Toyota, Engine, 14.
39. (35) Cole Whitt, Chevrolet, Engine, 9.
40. (38) * Ryan Sieg(i), Toyota, Engine, 7.
Average Speed of Race Winner: 123.986 mph.
Time of Race: 3 Hrs, 17 Mins, 12 Secs. Margin of Victory: 0.213 Seconds.
Caution Flags: 14 for 51 laps.
Lead Changes: 33 among 16 drivers.
Lap Leaders: D. Earnhardt Jr. 0; C. Elliott 1-4; B. Keselowski 5-28; K. Harvick 29-30; B. Keselowski 31-33; K. Harvick 34; B. Keselowski 35; D. Earnhardt Jr. 36; B. Keselowski 37-43; E. Jones # 44-47; D. Hamlin 48; E. Jones # 49-53; D. Hamlin 54-67; M. Kenseth 68-69; T. Bayne 70-71; M. Kenseth 72-78; D. Hamlin 79; M. Kenseth 80-81; K. Harvick 82-85; R. Stenhouse Jr. 86-91; D. Suarez # 92-101; M. Kenseth 102; J. Johnson 103-106; C. Bowyer 107-110; R. Stenhouse Jr. 111-117; M. Kenseth 118-126; R. Blaney 127-135; K. Kahne 136-137; D. Suarez # 138; K. Kahne 139-148; R. Stenhouse Jr. 149-150; T. Dillon # 151-157; D. Ragan 158-161; R. Stenhouse Jr. 162-163.
Leaders Summary (Driver, Times Lead, Laps Led): B. Keselowski 4 times for 35 laps; M. Kenseth 5 times for 21 laps; R. Stenhouse Jr. 4 times for 17 laps; D. Hamlin 3 times for 16 laps; K. Kahne 2 times for 12 laps; D. Suarez # 2 times for 11 laps; R. Blaney 1 time for 9 laps; E. Jones # 2 times for 9 laps; K. Harvick 3 times for 7 laps; T. Dillon # 1 time for 7 laps; C. Bowyer 1 time for 4 laps; C. Elliott 1 time for 4 laps; D. Ragan 1 time for 4 laps; J. Johnson 1 time for 4 laps; T. Bayne 1 time for 2 laps; D. Earnhardt Jr. 1 time for 1 lap.
Stage #1 Top Ten: 2,88,21,14,22,95,1,41,20,38
Stage #2 Top Ten: 20,11,48,41,38,4,5,13,43,21