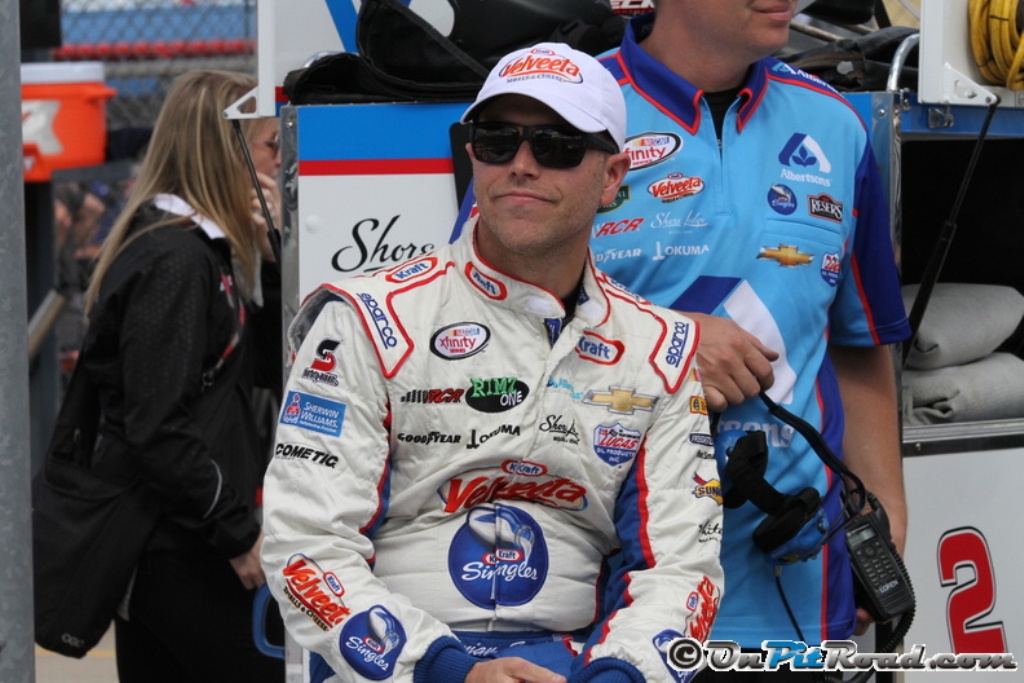 WELCOME, N.C. (July 3, 2017) – Brian Scott will return to Richard Childress Racing (RCR) to pilot the No. 3 Daniel Defense Chevrolet for two races in the NASCAR XFINITY Series (NXS) this season. After announcing his NASCAR retirement at the end of 2016 to move home to Idaho with his family, Scott will make a brief return to the sport with his former team to pilot the No. 3 Chevrolet Camaro for the second NXS race at Iowa Speedway on July 29 and the September 23rd race at Kentucky Speedway.
"Everyone at RCR is pleased to have Brian Scott back in one of our cars, even if it's only for a couple of races," said Richard Childress, Chairman and CEO of RCR. "He is a great friend of the company and did well for us in the past. We appreciate that he's going to come out of retirement to drive our No. 3 Chevrolet. I have no doubt that once Brian is behind the wheel again, he will have the same desire to win that he's had in the past."
Daniel Defense, a leading manufacturer of premium firearms, rail systems and accessories, joined RCR at the start of the season to sponsor the No. 3 Chevrolet in select races. These two races with Scott will be Daniel Defense's final primary sponsorship races of the year, but their associate sponsorship will continue throughout 2017. Earlier this season, Ty Dillon drove the Daniel Defense Chevrolet to a 10th-place finish at Dover International Speedway.
Prior to his retirement, Scott drove three full-time NXS seasons for RCR from 2013-2015. He finished as high as fourth (2014) in the championship point standings. An avid outdoorsman and a veteran NASCAR racer, Scott is a natural fit for the No. 3 Daniel Defense Chevrolet.
"I'm looking forward to climbing back into a RCR Chevrolet," said Brian Scott. "Iowa and Kentucky were good tracks for our team. I have no doubt that with the advanced engineering and work they've put into their programs since then that we will be even stronger. These two races are all about having fun and, I hope, getting the No. 3 team to Victory Lane."
About Richard Childress Racing:
Richard Childress Racing (rcrracing.com) is a renowned, performance-driven racing, marketing and manufacturing organization. RCR has earned more than 200 victories and 17 championships, including six in the Monster Energy NASCAR Cup Series with the legendary Dale Earnhardt. RCR was the first organization to win championships in the NASCAR Cup Series, NASCAR XFINITY Series and NASCAR Camping World Truck Series. Its 2017 Cup Series lineup includes two-time NASCAR champion and 2017 Coca-Cola 600 winner Austin Dillon (No. 3 Dow/American Ethanol/AAA Chevrolet), 2011 Brickyard 400 champion Paul Menard (No. 27 Menards Chevrolet) and 2008 Daytona 500 champion and 2013 Brickyard 400 winner Ryan Newman (No. 31 Caterpillar/Grainger/VELVEETA Shells & Cheese Chevrolet). Its XFINITY Series program includes a multi-driver lineup with Austin Dillon, Ben Kennedy and Paul Menard (No. 2 Rheem/Menards Chevrolet), a multi-driver lineup with Ty Dillon, Scott Lagasse Jr. and Brian Scott (No. 3 Bass Pro Shops/Rheem/Red Kap/Advil/Nexium 24HR® Chevrolet/Daniel Defense), Daniel Hemric (No. 21 Blue Gate Bank/Smokey Mountain Herbal Snuff) Brandon Jones (No. 33 Menards/Nexteer/Anderson's Maple Syrup) and Brendan Gaughan (No. 62 South Point Hotel & Casino/U.S. Cellular Chevrolet).
About Daniel Defense:
Located in Black Creek, Georgia, Daniel Defense is a leading manufacturer of premium firearms, rail systems, and accessories. Its iconic brand remains unmatched in quality, precision and world-class customer service. President/CEO Marty Daniel founded Daniel Defense, which started out creating rails and accessories for the AR-15 platform in small batches. Today, with two locations and a combined 137,000 square feet of manufacturing space, Daniel Defense continues to make quality rails and accessories and the world's finest firearms for civilian, law enforcement, and military customers. For more information, visit www.danieldefense.com.