49th Annual Hillbilly Hundred One Week Away!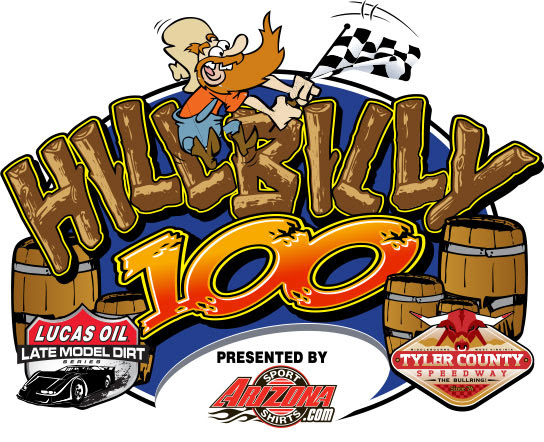 BATAVIA, OH (
August 27, 2017
) – The oldest running marquee event in dirt late model racing is just around the corner. The 49th Annual "Hillbilly Hundred" will take place on 
September 2nd-3rd
 at Tyler County Speedway in Middlebourne, WV.
The stars of the Lucas Oil Late Model Dirt Series will battle regional standouts, such as Tim Dohm, Jared Hawkins and Tyler Carpenter – all chasing a $25,000 top prize. In 2016, Scott Bloomquist led all 100 laps to claim his third-career Hillbilly Hundred victory. Jonathan Davenport finished second, followed by Brandon Sheppard, Mike Benedum, and Tim Dohm.
The festivities will kick off on Saturday, September 2nd with the "Hillbilly Fifty," which pays $4,000-to-win for Steel Block Late Models. Saturday'sprogram will also include a $5,000-to-win event for Fastrak Late Models and a $2,000-to-win event for AMRA Modifieds. Additionally, heat races will be ran for the Hotmods, Mod Lites, and Four Cylinders.
The action heats up on Sunday, September 3rd, when the Lucas Oil Late Model Dirt Series takes center stage for the "Hillbilly Hundred". The event will include a complete program of: Miller Welders Time Trials, Heat Races, B-Mains, and the 100-lap, $25,000-to-win main event. The Hotmods and Mod Lites will complete their events.
Tyler County Speedway in Middlebourne, WV is a 1/4-mile dirt oval nestled in the hills of scenic West Virginia, along the historic Middle Island Creek. On site camping makes the Tyler County Speedway/Fairgrounds a race fan's vacation destination, year after year, including primitive or full hook-up spots. Ideal for a weekend getaway or a day of family fun, the fairground has shower facilities, shelters for picnicking, playground areas, and nearby fishing available. For camping info call, (304) 771-6874 or the TC Fair Association at (304) 771-0499. To find additional information, visit:www.tylercountyspeedwayonline.com.
Lucas Oil Championship Standings:
| | | | | | |
| --- | --- | --- | --- | --- | --- |
| POS | CAR # | DRIVER NAME | HOMETOWN | POINTS | TRAIL BY |
| 1 | 1R | Josh Richards | Shinnston, WV | 6845 | |
| 2 | 0 | Scott Bloomquist | Mooresburg, TN | 6720 | -125 |
| 3 | 39 | Tim McCreadie | Watertown, NY | 6700 | -145 |
| 4 | 5 | Don O'Neal | Martinsville, IN | 6115 | -730 |
| 5 | 20 | Jimmy Owens | Newport, TN | 6110 | -735 |
| 6 | 1 | Earl Pearson Jr. | Jacksonville, FL | 6025 | -820 |
| 7 | 14 | Darrell Lanigan | Union, KY | 5980 | -865 |
| 8 | 28e | Dennis Erb Jr. | Carpentersville, IL | 5770 | -1075 |
| 9 | 22 | Gregg Satterlee ® | Rochester Mills, PA | 5550 | -1295 |
| 10 | 71 | Hudson O'Neal ® | Martinsville, IN | 5520 | -1325 |
| 11 | 15 | Steve Francis | Bowling Green, KY | 5375 | -1470 |
| 12 | 99 | Boom Briggs ® | Bear Lake, PA | 4860 | -1985 |
Tyler County Speedway – September 3rd Tire Rule:
Left Rear/Fronts – Hoosier Rib 28.5 – 1300, 1425
Right Rear – Hoosier 01, 04 (no cutting, no siping, no needling)
Tyler County Speedway – September 3rd Event Purse: 1. $25,000, 2. $11,500, 3. $7,500, 4. $5,000 5. $3,500, 6. $ 2750, 7. $2,250, 8. $1,750, 9. $1,500, 10. $1,400, 11. $1,300, 12. $1,250 13. $1,225, 14. $1,200, 15. $1,175, 16. $1,150, 17. $1,125, 18. $1,100, 19. $1,075, 20. $1,050 21. $1,025, 22. $1,000, 23. $1,000, 24. $1,000, 25. $1,000, 26. $1,000
Previous Hillbilly Hundred Winners:
1967 – Don Gregory
1968 – Ray Neece
1969 – No Race Held
1970 – Clate Husted
1971 – Danny Dean
1972 – Dorus Wisecarver
1973 – Bob Wearing Sr.
1974 – Bob Wearing Sr.
1975 – Bob Wearing Sr.
1976 – Bob Wearing Sr.
1977 – No Race Held
1978 – Gene McNeely
1979 – Danny Dean
1980 – Rodney Combs
1981 – Freddy Smith
1982 – Charlie Swartz
1983 – Freddy Smith
1984 – Larry Moore
1985 – Jack Boggs
1986 – Jack Boggs
1987 – Jack Boggs
1988 – Donnie Moran
1989 – Donnie Moran
1990 – Buck Simmons
1991 – Rodney Combs
1992 – Rodney Combs
1993 – Davey Johnson
1994 – Bill Frye
1995 – Bart Hartman
1996 – Todd Andrews
1997 – Rod Conley
1998 – Steve Shaver
1999 – Davey Johnson
2000 – Davey Johnson
2001 – Donnie Moran
2002 – Billy Moyer
2003 – Chub Frank
2004 – Mike Marlar
2005 – Clint Smith
2006 – Earl Pearson Jr.
2007 – Eddie Carrier Jr.
2008 – Jimmy Owens
2009 – Ray Cook
2010 – Scott Bloomquist
2011 – No Race Held
2012 – Mike Marlar
2013 – Jimmy Owens
2014 – Don O'Neal
2015 – Scott Bloomquist
2016 – Scott Bloomquist