Josef Newgarden Increases Point Lead Following Gateway Win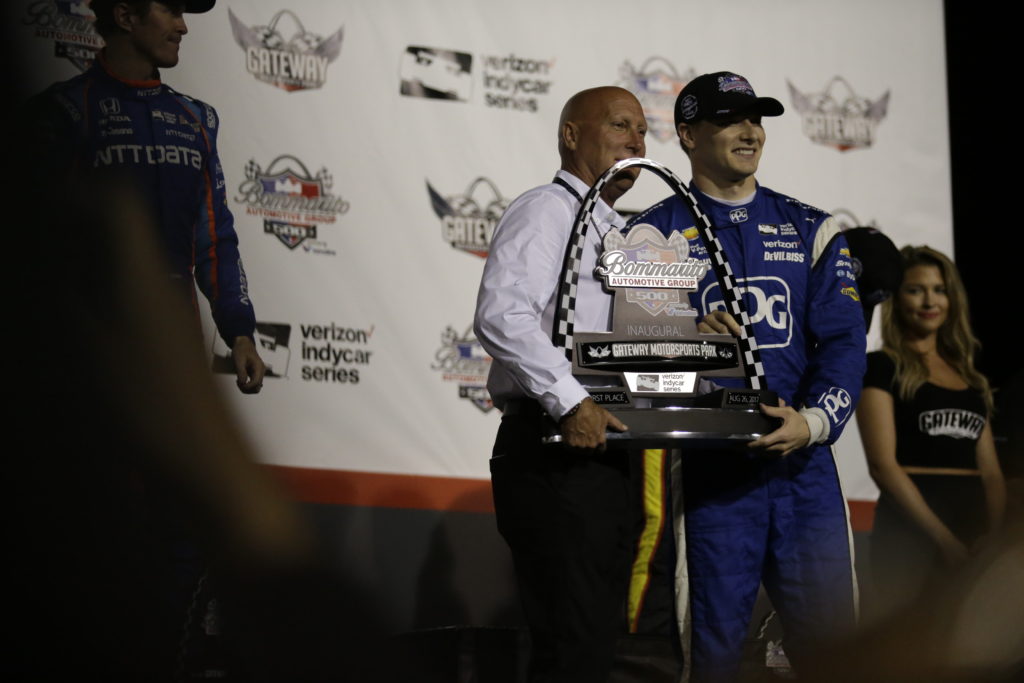 Josef Newgarden, driver of the PPG Automotive Refinish Chevrolet for Team Penske, won the Bommarito Automotive 500 at Gateway Motor Sports Park, and added to his lead in the IndyCar Series Championship standings.
Newgarden, who signed with Penske in the offseason last year, has had a very good season thus far with only two races left. After winning Saturday's race, which was his fourth Victory of the season, Newgarden has padded his point lead over Scott Dixon and teammates Helio Castroneves and Simon Pagenaud by more than 30.
It was also IndyCar's first time running at Gateway since 2003. Newgarden was shocked, but happy to see the high volume of fans who came to the track.
"I felt like the energy for this event, it really spurred everyone on," Newgarden said. "You should have seen all the drivers. I felt like everyone was a little extra nervous tonight because of the energy in this place. A lot of that is down to St. Louis, all the promoters here, Ed Gateway, everything at the track, the sponsors at the track have done to try to get people out here and come back to this race. It's fun to see it back here.
"I remember watching this race when I was younger. They stopped coming here, I think 2003 was the last race. It's fun to have it back in 2017, see it so well supported for the first year. It was a great night to go racing. I felt like we had a good car. We had four good cars at Team Penske. Happy to get the win on the 2 car side because I felt like we had the car to beat. I didn't want us to be denied tonight for sure."
The Nashville, Tennessee native started the race in the second position behind teammate Will Power, and quickly took the lead, avoiding being caught up in the wrecks that would bring out the cautions. However, with 35 laps to go, he found himself in second place behind another teammate Simon Pagenaud. The American driver knew his car was good and that he had the car to beat. In order to get around Pagenaud, he made a daring move in turn one that didn't go over well with his teammate.
"Yeah, I mean, Simon gave me a lane to work with," Newgarden added. "I had a good tow on him, put my car inside in the opening, got about halfway alongside of him. One thing I didn't want to do was touch him too hard. I think if I would have stayed too far left, I would have jumped the curb and that would have taken both of us out.  I tried to get Simon to move over a little when we were coming to the opening of the corner. We both had to slow up. Fortunately worked out well for us on the 2 car side. Pagenaud, didn't get up into the wall or anything like that, so I would say it worked out okay for him, too."