Clements' Road America Victory Sets Huge Shake Up in Playoff Picture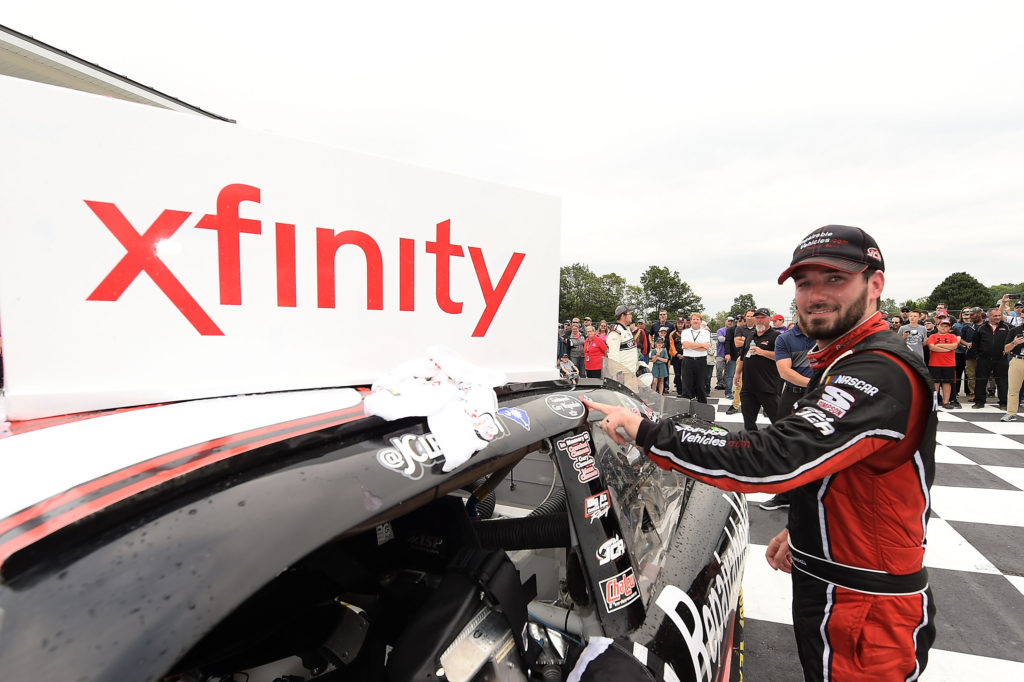 Jeremy Clements was able to secure his first career victory in the NASCAR XFINITY Series Sunday at Road America, and the win couldn't come at a better time for him. The win got him, a driver who entered the race far outside the playoffs, into NASCAR's postseason. The victory ultimately places extra pressure on those drivers who were just inside the cut-off line and puts a huge shake up in the playoff picture with just three races remaining in the regular season.
The battle came down to Matt Tifft and Clements with Clements securing the victory but a Clements victory did a lot more to the playoffs than if Tifft had held off Clements to win. Tifft was already all but guaranteed in the playoffs with a large points margin over the cutoff line. Tifft was competing for the victory that could've locked him into the playoffs, but he still sits ninth in playoff standings with a 98-point cushion.
Despite not altering anything from fifth, where points leader Elliott Sadler currently sits, to 11th, the Clements victory ultimately eliminated one spot available to a driver to make it on points. That driver was Dakoda Armstrong, who finished 22nd. Before the race began, Armstrong sat 10th in XFINITY Series standings with a 59 point cushion but with a combination of Clements winning and a sour afternoon, he now sits 13th and out of the playoffs by just four points. 
Sitting just inside the playoffs with the final spot at the moment is the driver who called his shot in a post-race interview last weekend at Bristol. That driver, Brendan Gaughan, had a solid afternoon but finished fifth when all was said and done. He earned his second top-five of the season, but it wasn't enough to add to his cushion. Gaughan isn't in a must win situation, but needs to start a string of strong finishes branching off of the finish he earned Sunday.
Ross Chastain entered Sunday's race with a 43 point deficit and after strong runs in the first few road course races, Chastain looked to deliver some playoff magic and possibly leave Road America with either a secured playoff spot or a little extra surplus of points. The disappointing part about Chastain and Road Courses is that he runs well until the end and he just can't seal the deal. A 19th place finish at Watkins Glen, 15th place finish at Mid-Ohio, and now a 13th place finish Sunday is a string of consistency by Chastain but it isn't enough to put him inside the playoffs when other drivers are having stronger consistent finishes. Chastain fell from 13th on the grid down to 15th with a 54 point deficit but like Gaughan, Chastain isn't in a must win situation but he needs to step it up in the final three races to even be in the discussion to make the playoffs.
Clements wasn't the only driver to drastically improve his playoff hopes on Sunday afternoon in Wisconsin. Long-time NASCAR competitor Michael Annett jumped from 11th to ninth in points following a career-best finish of second. The JR Motorsports driver has had a disappointing season, but a career day may be all he needed to cement himself as a potentially race winning driver.
Clements getting a win makes things harder for drivers like J.J. Yeley, Ryan Sieg and Brandon Jones, all drivers who sit in must-win situations. However, Sunday's race proved one thing. If all you need is a win, even the underdogs still have that opportunity against today's big cats.