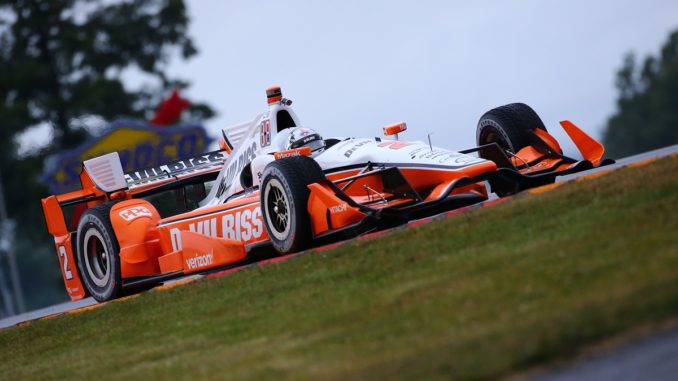 Josef Newgarden, driver of the No.2 Devilbiss Chevrolet, for Team Penske, came into the Grand Prix at the Glen at Watkins Glen International, with momentum on his side.  He won the last race at Gateway Motorsports Park, which was his fourth win of the season.   He also had a steady lead in the championship standings sitting 33 points ahead of fellow competitor Scott Dixon.
At the start of the weekend, things looked promising for Newgarden.   He finished pretty well in the practices and even qualified well.   However, during the race things quickly took a turn for the worse.    Newgarden was racing everyone hard trying to make passes roughly.   Halfway through the race, during a caution, Newgarden made a pit stop. Coming off pit road, teammate, Will Power, cut him off to take the lead off pit road and by doing so made Newgarden lock up his brakes to avoid hitting into Power and he hit the inside wall.   Things got even worse for the American driver, as Sebastien Bourdias was coming off pit road, not seeing Newgarden, Bourdais ended up plowing into the back of him.   The Nashville, Tennessee native  had to head back to pit road for repairs.   His crew was able to repair the car enough for him to run laps and salvage some points.
"It was kind of an eventful day for the DeVilbiss Chevrolet team," Newgarden stated.   "I felt like we were in a good position until that final pit stop. No excuse for it. It was my fault. I saw Will (Power) leave right in front of us and I just locked it up and slid over into the wall. Then Sebastien (Bourdais) got into the back of me. It's unfortunate, but there's nothing I can do about it. We'll go to Sonoma in a couple of weeks and race for it."
Newgarden will head to Sonoma three points in front of Dixon.