Don't Forget the Long Shots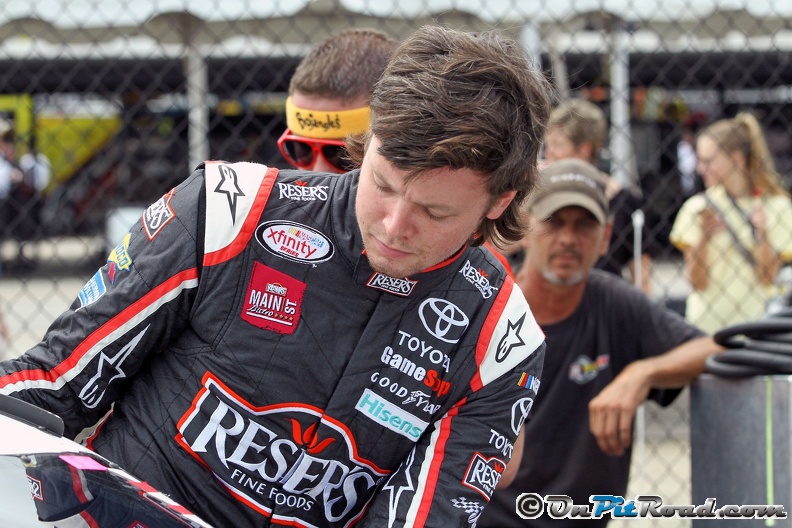 This weekend the focus is set upon a certain list of drivers who either need to have a strong points night or who just out right needs the victory. In a new OnPitRoad.com exclusive series, we're going over the five best long shots who could find victory lane every weekend and it begins with this weekends Federated Auto Parts 400 at Richmond.
Erik Jones
Jones has had a strong rookie season, but he must win to get into the playoffs. With a string of strong finishes, he's the best guy to go who many may have forgotten.
Since scoring an eighth-place finish at Pocono Raceway in August,the momentum has been on his side and continues into the final race of the regular season. Jones could almost taste victory at Bristol when he finished second to Kyle Busch, but on Saturday night, look for the Byron, MI native to rise above the chaos and prevail with a victory.
Richmond Stats – In one start at Richmond, Erik Jones finished 38th after a flat tire forced him into the outside wall ending his afternoon. He does, however, have four starts in the XFINITY Series at Richmond with a best start of first in April of 2016 and has a best finish of second coming last September.
Trevor Bayne
Bayne has been sneaking up into the top-10 almost every weekend, and had the race stayed green at Indianapolis Motor Speedway, he might have even had a victory. Last weekend at Darlington wasn't one of his stronger races where he finished 35th after making contact with the outside wall after a flat tire. Since Daytona in July though, Bayne has been keeping it consistent in the points.
Should the race play out like Indianapolis, look for Bayne to make any risk in order to make the playoffs.
Richmond Stats – In five races at Richmond, Bayne has a best finish of 13th coming last season. Improvement has shown on his statistics sheet at Richmond after finishing 24th in his debut race in Richmond.
Michael McDowell
McDowell has been Mr. Consistent this season and is on track to have the best season of his career. After a slight speed bump at Michigan, McDowell is back into the top-20 finishing 20th at Bristol and 19th last weekend at Darlington. Leavine Family Racing has been showing steady improvement each weekend, and the team often finds themselves in the top-15 over the course of race weekends.
Last weekend, McDowell earned his 12th top-20 finish of the season and now sits 26th in points. McDowell brought home a 12th place finish in the September Richmond race last year. Should McDowell pull some risks and a fast car, he could be in contention for the win like he was at Daytona and Indianapolis.
Richmond Stats – Being one of the veterans of the sport, McDowell has 13 starts at Richmond Raceway. As noted above his best finish came last September when he finished 12th. His best start came in September 2012 where he started 19th.
Aric Almirola
Almirola has had a rough 2017 and needs to end the regular season on a high note. NASCAR granted him a waiver after missing eight races earlier this season after a back injury he suffered during a crash at Kansas Speedway. Before the injury, Almirola had a string of two top-10 finishes and a victory at Talladega in the XFINITY Series. Since he returned, he's only secured two finishes inside the top-15.
Richmond Stats – In 11 starts at Richmond in the Monster Energy NASCAR Cup Series, Almirola has a best finish of fourth back in September in 2015. Almirola has had strong performances in the final race before the playoffs and this Saturday night shouldn't be any different. Almirola finished ninth here in the spring.
A.J Allmendinger
Five top-10 finishes this season has been the highlight for Allmendinger, and he's just four top-ten finishes away from tying his total from last season. He's had just one top-five that he secured in the season opening race at Daytona where he finished third. Since the opening race, the rest of the season has been a roller coaster. Everything from a sixth place finish at Martinsville to a 37th place finish at Richmond earlier this season has set Allmendinger up for a must win situation in the race at Richmond on Saturday night.
Richmond Stats – Allmendinger has the most starts of any drivers on this list with 20. He has three top-10 finishes at Richmond, most recently in 2014. Allmendinger has put up impressive starting spots also earning a best of third-place back when he drove for Richard Petty Motorsports in 2010.