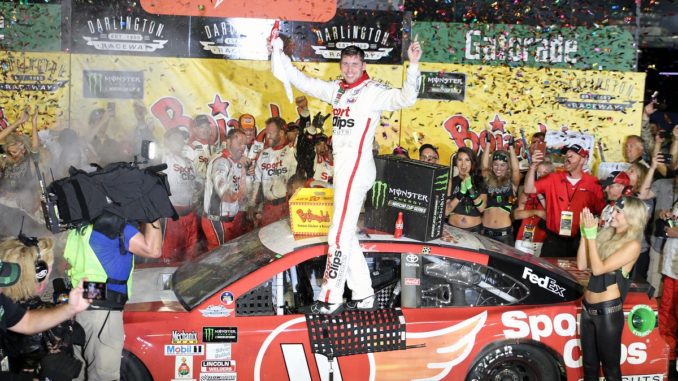 NASCAR has announced it will increase the penalty for rear suspension violations in the wake of another round of penalties.
Last weekend, at Darlington Raceway, Denny Hamlin swept the weekend winning both the Xfinity Series and the Monster Energy NASCAR Cup Series races. In post-race inspection for both events, it was discovered that Hamlin's winning cars did not fit with within the guidelines of the NASCAR rulebook. Likewise, Joey Logano's No. 22 Xfinity Series car also failed inspection for a similar violation.
Logano also had a rear suspension violation earlier this year at Richmond. Both Hamlin's and Logano's wins were encumbered, meaning it could not be used to quality for the playoffs, the crew chiefs were also fined and suspended for the infraction.
Evidently, this level of penalty is not enough to deter the teams from pushing the envelope in this area. This latest round of violations has led to many calling for NASCAR to begin removing the win completely and giving it to the next highest finishing legal car.
For Logano, the encumbered win has him on the outside looking in entering this weekend's final regular season event at Richmond. Hamlin, however, had another win in the bank he could use to make the playoffs, therefore, the risk was a little more worthwhile for the No. 11 team.
NASCAR, noticing a trend, has decided to ramp up the severity of the penalty. Effective immediately, the penalty for rear suspension violations will be elevated to $75,000 fine for the crew chief, a three-race suspension for both the crew chief and car chief, a 40-point penalty and an encumbered win. The effect of these penalties is significantly enhanced as the regular season closes out and the playoffs begin. A violation could immediately eliminate a team from championship contention.