OPR Says: The Monster Energy NASCAR Cup Series Playoffs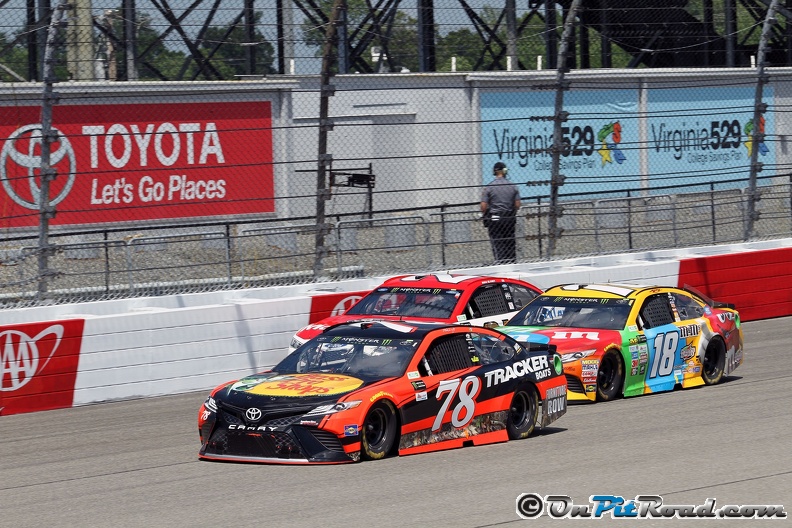 Playoff weekend is upon us now, and the Monster Energy NASCAR Cup Series drivers will be the first to take center stage in the championship picture.
Since NASCAR is only 10 weeks away from crowning a champion under its newest playoff format, OnPitRoad.com writers decided it was only appropriate to go through our thoughts on who is shaped up for the championship run.
Q1: Which drivers do you think will perform the best in the playoffs and ultimately make the Final 4 at Homestead?
Tyson Lautenschlager (Managing editor/NASCAR journalist): "It's no secret this year that the class of the field has been the Toyota drivers. In fact, several others in the field, Brad Keselowski being one of them, has been very vocal about how strong the Toyotas are.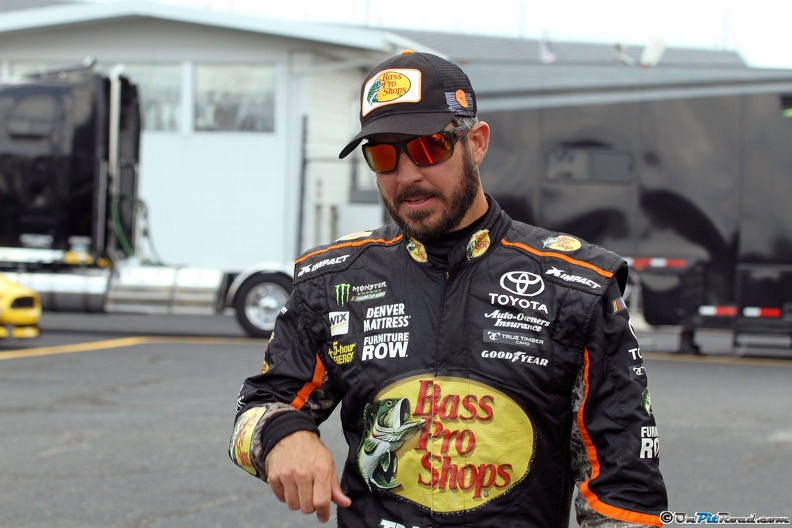 "Leading the field for Toyota is Martin Truex, Jr. He has a huge gap on the rest of the field by way of playoff points. He'll definitely make the Final 4. Joining him will be Joe Gibbs Racing's Kyle Busch and Denny Hamlin, leaving one more spot open. I don't think Toyota will sweep the top-four spots, and it's tough to bet against Kyle Larson at this point. I think Larson sneaks in as the lone Chevy driver."
Roger Holtsclaw (Owner/Publisher/NASCAR journalist): "While several drivers have momentum, there always seems to be a surprise once we enter the playoffs.
"This season, however, I think Martin Truex and Kyle Larson are a lock. They will definitely be in the Final 4. The two remaining spots could be a little tougher to pick. The Toyotas are running extremely strong right now, but one can never count out seven-time champion, Jimmie Johnson. There have also been moments when Keselowski looks very strong in the Penske Ford. Chase Elliott has had consistency, but I do not believe consistency is enough. Ryan Blaney has shown glimpses, but has not been a consistent threat to win. I believe the Final 4 will be Truex, Larson, Johnson and Kyle Busch."
Carrie Ellis (IndyCar contributor): "I would have to say it will be a huge battle going into Homestead between Martin Truex Jr., Kyle Busch, Brad Keselowski, Jimmie Johnson, Kevin Harvick and Denny Hamlin. Out of those six, I think the final four will be Truex Jr., Harvick, Hamlin and Busch. I guess we will see and I am certain it's going to be an interesting show from here on out."
Q2: Several strong teams (Logano, Earnhardt, Jr., Bowyer, Jones, Suarez etc.) missed this year's playoffs. Who will be "the best of the rest" throughout the final 10 races?
Kala Perkins-Holtsclaw (Assistant Editor/NASCAR journalist): "Joey Logano is accustomed to having strong playoff appearances and racing for the Championship at Homestead. It will be interesting to see how his team performs after not making the playoffs this season. This is new territory for Joey and his team after having such success in recent years. I think they have the drive to prove they are still a championship contending team, and will work tirelessly to win as many races as possible the rest of the season. I definitely expect Logano to be "one of the best of the rest."
"Erik Jones has shown some strength in recent races. He is still searching for his first win, but he has run up front some and is showing a lot of potential. I also think Clint Bowyer has a lot of potential to run strong the rest of the season. He has had some bad luck and hasn't run as well as he would like recently. However, I expect Bowyer and his team to work out their kinks and have a strong showing in the remainder of the season.
"Unfortunately, I do not expect Dale Earnhardt Jr. to be "the best of the rest." His performance this season has been disappointing to himself, his team and fans alike. I think everyone would like to see him run up front and finish off his final season strong, but he hasn't given us much indication of better performances to come."
Christian Koelle (NASCAR contributor): "I really feel this will be the season where non-playoff drivers will stand out in a few races this season especially with Logano, Jones, and Bowyer and I don't feel Dale Earnhardt Jr. will end his final season without a win."
Mick Holtsclaw (Photographer): "With several strong front running teams missing the cut for this years playoffs, a few that seem to stand out above the others include Joey Logano, who will win a race before the season is over. After an impressive run at Richmond, Erik Jones will build on that and be strong the remainder of the season. Daniel Suarez has shown improvement week in and week out, look for him to be up front each week."
Mike Holloway (Assistant editor/Photography editor): "As far as non-playoff contenders, I don't really see much of an actual "competition" here. Look for Joey Logano to lead the charge of the "rest." While the entire season for the 22 car has been quite abysmal, they have shown flashes of brilliance and strength, even scoring a when earlier in the season at Richmond, albeit "encumbered.""
Q3: Who is your pick to win the championship?
Lautenschlager: "Truex seems to consistently have the best speed no matter where the series goes, however, he and his team tend to have an issue when it comes to tight pressure situations. The final race at Homestead is the definition of a pressure cooker. You need to be good all day, including late-race cautions, if you want to win. The team struggles in that position. Therefore, I don't think we'll see the best team be declared the champion. I'm going with 'Yung Money,' Kyle Larson as the 2017 champion.
"Good luck hoisting that giant trophy, Larson."
R. Holtsclaw: "It all comes down to Homestead. The easy choice would be Truex. They have consistently ran strong all year and at a variety of tracks. But, I think when one considers the history at Homestead and the fact that this has been a breakout season, Kyle Larson will hoist the trophy in the finale. He has figured out how to win in the Cup Series and is poised to secure his spot in history."
Ellis: "I will have to go with either Martin Truex Jr. or Denny Hamlin. Both have been on a tear lately winning races. Their pit crews have been on point to lately as well getting them track position when they need it setting them up for the win. Both are deserving of it as they have worked so hard to get where they are."
Perkins-Holtsclaw: "My pick to win the championship is Kevin Harvick. There are several race tracks in the playoffs, in which Harvick has typically run well. Harvick and his crew chief, Rodney Childers, have had a lot of success while working together. I think they are smart and resourceful. Harvick seems to keep his emotions in check, unlike some other drivers, and I think that will serve him well this playoff season.
"Combining driver talent, the possibility of having fast cars, and Harvick's ability to keep a level head during post-season pressure makes him my pick to win the championship."
Koelle: "I am feeling really confident in Ryan Blaney. He's had a career season including his first career victory at Pocono earlier this season and is entering a tracks that he feels he can win at (Chicago, Texas, Talladega, Charlotte, Kansas). So I pick Ryan Blaney to pick up the Wood Brothers their first championship in the Cup Series."
M. Holtsclaw: "I feel the 2017 Championship playoffs will be exciting each week. While my heart says Keselowski will take home the cup, my head says Martin Truex Jr will crowned the 2017 NASCAR Monster Energy Cup Series Champion.
"With that said, the slightest slip by Truex's team and Kyle Larson will be there to take advantage and be victorious in Homestead."
Holloway: "I really think it's going to be hard to bet against Martin Truex, Jr. There is no debate they have been the team to beat this year every single week. Look for Truex to score his first title over Kyle Larson, Jimmie Johnson and Kyle Busch. I think Kevin Harvick should get an honorable mention here, and could very well play spoiler on the whole party. Though I would think it would be a longshot, if anyone is going to do it, I'd bet on Harvick."