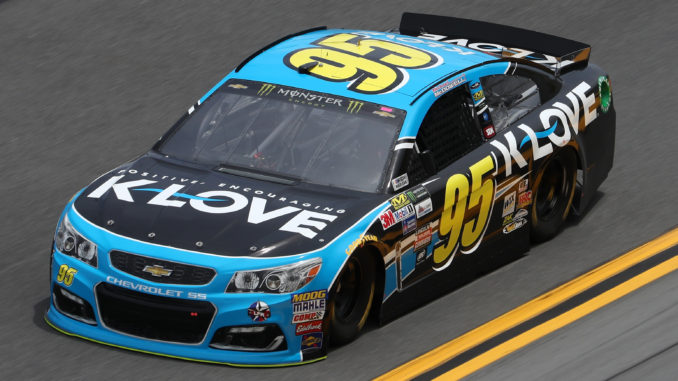 After the announcement yesterday of Kasey Kahne joining Leavine Family Racing, Michael McDowell now joins the list of free agents for the 2017 season.  Despite having a blurry future in the Monster Energy NASCAR Cup Series, McDowell spoke with Brad Gillie and Larry McReynolds on The Late Shift.
"Obviously, it's not the news you want to have but I'm thankful for the time I got to spend at LFR and the great people there and got to build something fun and be a part of it and get ready for the next step." said McDowell.  "K-Love has been a long supporter of my career and I have spoke with them over the last few days and they made it very clear that they never sponsored the equipment. They've always been supporters of mine and where ever I want to go and however that looks they'll be behind it."
K-LOVE Radio has sponsored McDowell in some sort or fashion ever since they made their debut in the Monster Energy NASCAR Cup Series at Richmond in 2011. His best finish behind the wheel of a K-LOVE sponsored car came in the 2013 Daytona 500 when he finished ninth. The christian radio station has also backed McDowell in the XFINITY Series, most recently at Mid-Ohio in 2013 with Joe Gibbs Racing. The partnership with K-LOVE puts McDowell in a different category of free agent drivers being as he has something to bring to the table.
"That's unbelievable, I mean you can't ask for more from a driver standpoint to have partners like that who have your back and are willing to make changes and you know what that looks like, it's not easy from a marketing standpoint when you change numbers and teams and potentially manufacturers and all these different things that come with it." rejoiced McDowell. "To have partners like K-Love behind me and maybe an opportunity to bring some of the past partners back into the game. I feel really good about where I could potentially fit in, I don't know when the time frame of that is and when that'll happen and if it even will happen. I know God has a plan for my family and myself and I hope that it's in NASCAR and I'm going to continue pushing hard."
McDowell currently sits 25th in Monster Energy NASCAR Cup Series points with one top-five, one top-ten, and 13 top-20 finishes. On top of the impressive runs McDowell has completed 98% of the laps this season. With nine races remaining though, McDowell still has unfinished business behind the wheel of the No. 95 and has the opportunity to grow his resume while pleading his case for a ride in 2018.