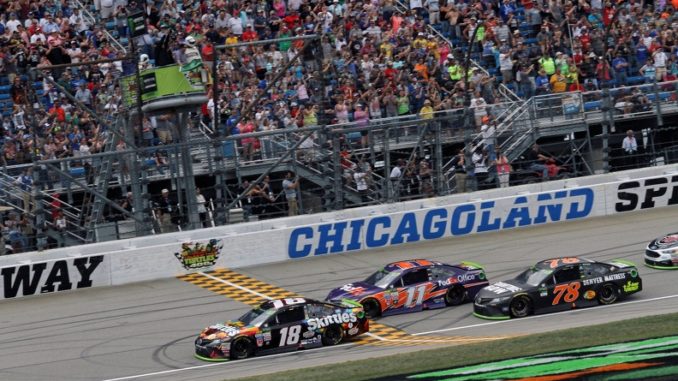 The manufacturer battle has really kicked off in recent weeks, especially after Toyota has seemingly found a lot of speed later in the season.
Toyota certainly found the speed last weekend in Chicago that caused a stirring of the pot among the rival manufacturers and their drivers, specifically Brad Keselowski, who pilots the No. 2 Miller Lite Ford Fusion for Team Penske. Kyle Busch locked up the pole by almost two MPH in the largest margin during qualifying since 2009. Despite Toyota showing a edge on paper, the finishing statistics are seemingly missing something, so I decided to track Toyota's stats in the cup series since 2007, when they joined the cup series.
When Toyota joined the Monster Energy NASCAR Cup Series back in 2007, they failed to tally a victory. The following season though Toyota earned it's first triumph with Kyle Busch and Joe Gibbs Racing at Atlanta. That sparked nine more wins in 2008 with three different drivers (Kyle Busch, Denny Hamlin and Tony Stewart). Toyota has been in the conversation every season, earning at least one victory every year since, with the least amount coming in 2014 when they only earned two victories in one season. It's not domination, but consistency on Toyota's side and in reality, it replaced Dodge after it's departure following the 2012 season.
Keselowski states that "NASCAR hasn't let a manufacturer get this far ahead since the 70s". He must have missed 2007 when Chevrolet earned 26 victories in one season. That 26-win season is also the most by a manufacturer in one year in the modern era, and Toyota is far from doing that this season. Even if they win the rest of the races this season, the maximum number of races they could win is 18, eight races off of Chevrolet's record.
If you look over season statistics Chevrolet has been leading the charge with 2008 being their worst season, still with 11 trophies. The bowtie brand has also earned 13 manufacturer championships in a row since 2003 with that streak coming to an end last season when Toyota earned their first title.
Ford hasn't been very far behind but with less cars to bring to the track, until this season. It takes a lot more work to step up against the large lineups of Chevrolet and Toyota. Ford was the last manufacturer to win that title back in 2002 when the blue oval earned 14 victories that season. Ford has been at a slight disadvantage in recent years with the least amount of competitive cars on the track, or even the least amount of cars on track period. Ford's acquisition of Stewart-Haas Racing this season has really helped the blue oval compete against its rivals and it shows in the standings for the manufacturer title.
Despite Keselowski's tweet, he still earned a top-10 finish on Sunday. Ford has already matched their total amount of victories from 2016. Chevrolet is just two wins off, while Toyota, who was off to a slow start in the beginning, is seven victories off of last seasons total. The speed advantage may be there but that doesn't mean a thing if you don't have the victory, stage points or playoff points to show for it. If anything has been seen this season, it's the fact that the fastest car doesn't always win.