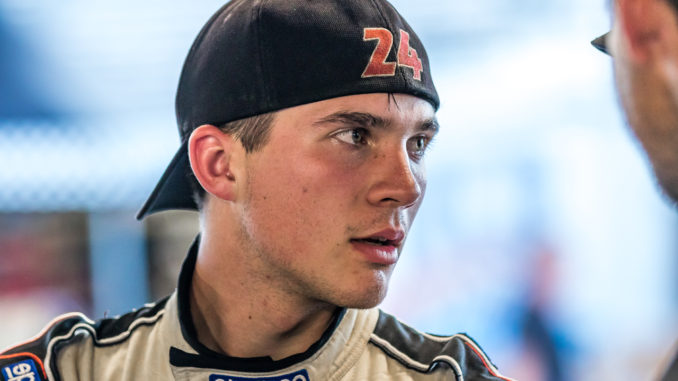 MANASSAS, VA – Mason Diaz accomplished much of what he set out to do throughout the course of the 2017 season and now, the 16-year-old is ready to have success in marquee races over the coming months.
When the season started, Diaz hoped to win Rookie of the Year honors in the NASCAR WHELEN All-American Series in North Carolina and win a track championship at Southern National Motorsports Park.  When the regular season ended at Southern National on September 10th, Diaz did just that, along with winning Rookie of the Year honors in Florida.
"Our goal this year was to walk across the stage at the NASCAR banquet," Diaz said.  "We succeeded.  We won the track championship at Southern National Motorsports Park and won Rookie of the Year in two states.  I can't thank my team, Mike Darne Racing, my family and sponsors enough for the season and not giving up."
Immediately after winning the championship at Southern National, Diaz turned his attention to Martinsville Speedway for the biggest race of the year, the ValleyStar Credit Union 300, which will be run on September 23rd.  Diaz will make his second attempt in Late Model Stock Car racing's crowned jewel event.
"All day during the test, our car was really fast and handled well," Diaz remarked.  "I feel really good about the race this year.  Mike Darne always gives me a fast racecar and he knows how to get around Martinsville Speedway.  He's been in contention to win that race a few times, so I'm just learning as much as I can from him."
Last season, Diaz attempted to make the field but his efforts were derailed when he was involved in an accident during one of the qualifying heat races.  This season, with more experience on his side and another fast car, he is hoping to make the field and have a strong run.
"My main goal is to make the race, unlike the first year," Diaz explained.  "Hopefully we will have some luck on our side this year.  If we make the race, I would like to finish all the laps and gain as much experience as possible."
Last week's test, under the lights, was crucial.  Saturday's race will be the first race ever run under Martinsville Speedway's new permanent LED lighting system.
"Running under the lights, I think, will make the race a lot better," Diaz remarked.  "On practice day, I thought the track became completely different.  It's a game changer for everyone, not just me as a rookie."
Diaz will be racing for a cause at Martinsville as well.  September is Spinal Cord injury Awareness month and Diaz will have the Shepherd Center and the United Spinal Association of Virginia on his car for the Martinsville race.  The Shepherd Center is where Brandon McMurray, a longtime supporter of both Mason Diaz and Southern National Motorsports Park, and Diaz family friend Brandon Payton have been treated at.
After the Martinsville race, Mason Diaz will focus on Pro Late Model racing.  Diaz will compete in the Fast Five Pro Late Model Series season finale at Southern National Motorpsorts Park on October 7th as well as at the Allen Turner Snowflake 100 at Five Flags Speedway on Saturday, December 2nd– part of the 50th Snowball Derby weekend.
"I'm looking forward to getting more laps in the Super Late Model," Diaz commented.  "I have a lot of fun racing that car and we've run well at New Smyrna and Five Flags with it so hopefully we can have more success with that car at Southern National and in Pensacola later this year."
Diaz ended the regular season with six wins, five at Southern National and one at Caraway Speedway, 21 top-5 finishes and 32 top-10 finishes.
Saturday night's ValleyStar Credit Union 300 at Martinsville Speedway will be broadcast live on MRN Radio.  NASCARHomeTracks.com will provide updates all weekend.
Mason Diaz is supported by The Sign Shop, Mike Darne Racing, Prince William Marina, Concord Automotive, Convenience Car Care and the Potomac Shores Golf Club. To learn more about Mason Diaz Racing, check out his website at www.masondiaz24.com, "like" Mason Diaz Racing on Facebook or follow @masondiazracing on Twitter.