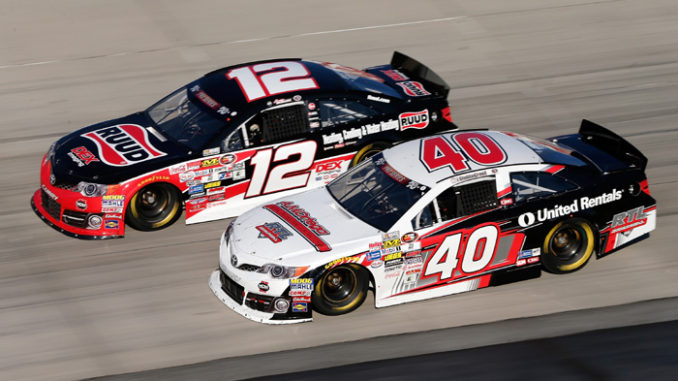 DOVER, Del. (September 29, 2017) – Toyota driver Harrison Burton captured the NASCAR K&N Pro Series East (NKNPSE) championship with a victory in the season finale at Dover International Speedway on Friday, marking his first career NASCAR title and the fifth East Series championship for Toyota.
"It was a hard battle and I'm kind of speechless," said Burton. "I remember being at the banquet last year after a pretty bad season and saying, 'I want to win this championship,' and that's why I made the decision to come back and run again was for this moment right here. It's totally worth it – I can tell you that much."
The 16-year-old, Huntersville, North Carolina-native captured the title following a close, season-long battle with fellow Toyota driver Todd Gilliland. Burton claimed the championship on the strength of five wins and top-10 finishes in all 14 series starts this season.
The son of former Monster Energy NASCAR Cup Series driver Jeff Burton, Harrison won the title in his second full-time NKNPSE season, while also competing part-time for Kyle Busch Motorsports in the NASCAR Camping World Truck Series (NCWTS).
"Harrison Burton is an incredible talent and we're certainly proud he's winning races and championships in a Toyota," said Keith Dahl, motorsports general manager for Toyota Motor North America (TMNA). "It's remarkably impressive to see a teenager best his peers to capture a NASCAR championship and we're eager to see what Harrison does in the years to come."
Burton is the fourth Toyota driver to capture a NKNPSE title, joining Ryan Truex (2009 and 2010), Max Gresham (2011) and Kyle Larson (2012), and is the first Toyota driver since 2012 to take the championship. He is set to close his 2017 NCWTS schedule at Martinsville Speedway on Saturday, Oct. 28.
About Toyota
Toyota (NYSE:TM) has been a part of the cultural fabric in the U.S. and North America for 60 years, and is committed to advancing sustainable, next-generation mobility through our Toyota and Lexus brands. During that time, Toyota has created a tremendous value chain as our teams have contributed to world-class design, engineering, and assembly of more than 33 million cars and trucks in North America, where we operate 14 manufacturing plants (10 in the U.S.) and directly employ more than 46,000 people (more than 36,000 in the U.S.).  Our 1,800 North American dealerships (nearly 1,500 in the U.S.) sold almost 2.7 million cars and trucks (2.45 million in the U.S.) in 2016 – and about 85 percent of all Toyota vehicles sold over the past 15 years are still on the road today.
Toyota partners with community, civic, academic, and governmental organizations to address our society's most pressing mobility challenges. We share company resources and extensive know-how to support non-profits to help expand their ability to assist more people move more places. For more information about Toyota, visit www.toyotanewsroom.com.