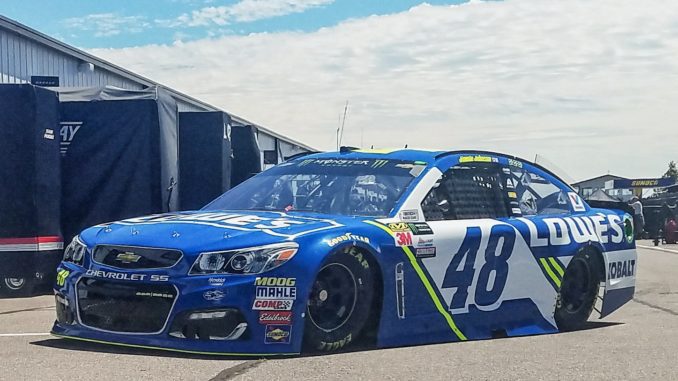 The top question that has been asked so far in the playoffs has been on when the No. 48 team would hit the switch and start looking like a championship caliber team. With a third place finish on Sunday, the ole' No. 48 team is back. Hendrick Motorsports as a whole had a level of speed we haven't seen in a while with Chase Elliott finishing second, Johnson finishing third, and Dale Earnhardt Jr. finishing seventh.
" I think when we unloaded on Friday, we realized how much speed all of our Hendrick cars had.  As we look back over the summer, it just seems like tracks with more banking, our combination works well, and we were able to exploit that this weekend." rejoiced Johnson. "I wished I would have qualified better.  I really think we had a shot at winning the race today, and at times I was better than the 24 and the 18 and was catching there at the end.  I just never really had track position to race for the win.  I finally got top-three there on the last run and we were out of laps."
The top-five finish was Johnson's first since his victory back in June at Dover along with being the first that wasn't a victory. Johnson won Texas, Bristol, and Dover back in the first part of the season but when it comes to the rest of the summer, it was pretty dismal on the stats sheet. Johnson almost won the Brickyard 400 back in July until he spun causing one of the final cautions of the race while battling for the lead.
At Richmond and Chicago Johnson earned his best finishes since Dover in June. The top-ten finishes showed the team had the speed but still not enough to compete with Martin Truex Jr., Kyle Busch, Kyle Larson, and even Brad Keselowski. On Sunday though, Johnson battled with all four of those drivers, finishing higher than three of the four drivers. The next step for the No. 48 team is Charlotte, where that team seems to step up their A-game. Johnson enters as the defending race winner and looks to repeat in the final Bank of America 500, as this race moves to the Roval next season.
"Charlotte is a great track for us, as well, and typically when we run well at Dover, it carries over to Charlotte, and we're optimistic about next week, too."