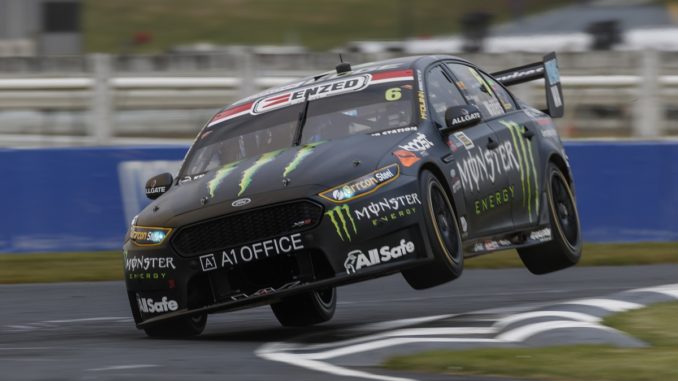 Cam Waters and Mark Winterbottom are confident of getting in the middle of the Supercars Championship fight as the fast Fords dominated practice in the pivotal ITM New Zealand SuperSprint in Auckland.
Winterbottom, the 2015 Supercars Champion, is hopeful he may have finally found the car he needs after a very patchy season on limited results. He was third fastest today among four Fords in the top five with the lone Holden soldier current Championship leader Jamie Whincup.
Winterbottom's Prodrive team-mate and Wilson Security Sandown 500 winner Cam Waters topped the timesheets in his Monster Energy Falcon from Whincup and Winterbottom. Scott McLaughlin got his Shell V-Power Falcon home in fourth with the third Prodrive Falcon of Chaz Mostert fifth.
The fifth Championship contender Fabian Coulthard was the only one outside of the top ten, finishing practice day in fourteenth.
Waters had a horrendous first practice before getting his car right for the second and final session. The young gun may not be in the Championship hunt with Whincup, McLaughlin, Coulthard, Mostert and Shane van Gisbergen but is now ready to take them on.
"We weren't too phased after p1, it was a matter of tuning it up more than anything," he said. "I was attacking but the car wasn't how I wanted it. This now puts us in good stead for tomorrow but there's still more in it. It's all very positive."
To download full sized images from today's practice of Cam Waters, click here
Winterbottom lamented his first season in 12 years without a win, so far. He now thinks one is not far away and all he has left to salvage the year.
"We had a good day which was nice," he said. "It has taken 10 months to get to this position. I have got nothing to race for other than wins so we will have a crack. If the car feels like it did today that's a nice feeling.
"It has been a tough year but to finish it off well would be nice. It has taken way too long and it's been frustrating. We just work through it and don't give up. Seventh in the Championship is not good enough and it's only now we are hitting our straps."
Whincup, the current championship leader by just 17 points knows practice results won't stand for too much when qualifying begins tomorrow in what could be wet conditions.
"We were there or thereabouts but we still need to go better tomorrow to stay in the top five," the six-time Supercars champion said.
Winterbottom did have an on-track altercation with Van Gisbergen, who to his surprise apologised for getting in the way and taking time away from his Ford rival's lap.
"He got in my way on my lap, it cost me a couple of tenths or more. That's probably rare (for him to apologise). Normally he does it in the sessions and doesn't come and apologise," Winterbottom said.
"They don't want to make enemies at the moment because they are all fighting for the Championship. If it was qualifying I wouldn't have been as nice about it."
Tim Slade, Bathurst winner David Reynolds, Craig Lowndes and Lee Holdsworth completed the top 10. Rick Kelly was the top Nissan in 12th, two spots ahead of Coulthard, who vaulted up the order from the foot of the times in the final minute.
For full results from today's practice click here
Qualifying will begin at 10:25am AEDT tomorrow before the first crucial 200km race of the weekend at 2:10pm AEDT. There will be a second round of qualifying and a 200km race on Sunday.