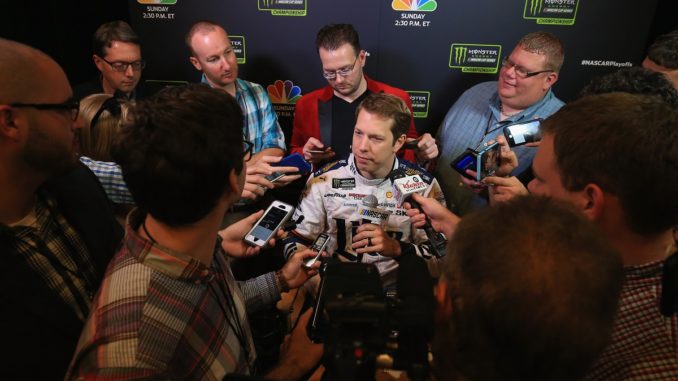 Ford drivers Brad Keselowski and Kevin Harvick were part of the Championship 4 Media Day festivities on Miami Beach Thursday afternoon. Part of the day included a press conference featuring all four Championship 4 contenders together. Below are Keselowski and Harvick's Q&A from that event.
Q.    YOU GUYS HAVE RACED ALL YEAR UNDER A FORMAT THAT AWARDS STAGE POINTS; WITH THAT NOT BEING THE CASE FOR YOU ALL ON SUNDAY, DO YOU APPROACH THE RACE ANY DIFFERENTLY AS FAR AS GAME PLANNING, PUT STOPS AND THINGS LIKE THAT?
KEVIN HARVICK:  "Depends when the caution falls.  I think going into the race obviously you have that in mind, but I think the stage points have been so important throughout the year, and if you come to a spot where you're deciding between points and tires, that can be a tough decision.  I think everybody knows you're going to put four tires on this week for the most part, unless there's extreme circumstances, and the stages, you're just trying to position yourself as far forward as you can because they don't matter, so if it comes out two laps before, everybody is probably going to pit anyway."
Q.  BRAD AND KYLE, WE'VE SEEN RIVALRIES POP UP IN NASCAR, THEN THEY QUICKLY DISAPPEAR, BUT IT SEEMS LIKE THE ONE THAT YOU HAVE FOR WHATEVER REASON, THE ANIMOSITY, HAS CONTINUED OVER THE YEARS.  WHY DO YOU THINK THE DISLIKE BETWEEN YOU TWO HAS GONE ON FOR SO LONG?
BRAD KESELOWSKI:  "Was it for me or Kyle?  Well, I don't know, I haven't really thought about it.  You know, I think looking for this weekend, there's four of us up here on the stage, and for probably both of us, it's not enough to beat each other, we've got to beat everyone to win a championship.  It would be, at least from my perspective, a little bit foolish to get caught up on any one person. But I do think that both of us are fortunate to have great cars, great teams, and when you run up at the front a lot, things are going to happen when you're going fast.  You know, I feel like where we're at in the sport right now, we're both going to be here for a long time to come, as are the other two, for as long as they want to, as well ‑‑ So I think it's one of those things where when you race at the front and you're racing for championships, it's a great position to be in, and just the way it has unfolded. I think probably if you look across the field, everyone has had some run‑ins with each other.  I think probably all four of us have probably ran into each other over the course of our careers, but that's part of the fun of the sport, as well."
Q.  WE'VE SEEN THE PLAYOFFS, THE INTENSITY HAS INCREASED AND GUYS ARE WILLING TO DO JUST ABOUT ANYTHING TO WIN A RACE OR TO MOVE ON.  I'M ASKING YOU, WHAT IS THE LINE SUNDAY WHEN THE CHAMPIONSHIP IS ON THE LINE?
BRAD KESELOWSKI: "I mean, I'm willing to try to go win the race.  I think everybody here is.  It's hard to really say what's going to happen.  I think you've got all these different things going on out in these races that you look week to week, there seems to be so many different scenarios.  I don't think anyone could have predicted what happened last year with the restarts and the chaos and all that.  I don't know how you can really make a prediction when you don't know how the race is going to unfold and fall out.  But it's a great opportunity to win a championship with this format, with it being kind of set back at zero.  If it wasn't set back at zero, we'd probably all be congratulating Martin right now with the season he's had. But it is, so everyone has an opportunity.  It's just about the finishing position and not the stages, so when it comes down to the end of the race, I don't think anyone really knows that answer until it's right in front of them."
Q.  ALL FOUR OF YOU ARE XFINITY SERIES CHAMPIONS; WE WANTED TO GET YOUR PICKS ON WHO WILL JOIN YOUR CLUB ON SATURDAY.
BRAD KESELOWSKI:  "William (Byron) looks really good, but I think that's a great crop of drivers.  Any one of them could be a champion in my mind.  I think Justin has ran really well.  Daniel Hemric, he has put himself in a position, but William has set the bar really high for rookies and winning the races he has.  He's probably a safe pick."
KEVIN HARVICK:  "I like Sadler.  Sadler drove for me and I know how close they came in 2011.  It's for the old guys, right?  I didn't know I was going to be the guy to get bashed for being old up here.  I do feel old compared to at least two of you."
Q.  MARTIN HIT ON IT A WHILE AGO, YOU'LL RISK ANY OF THE THREE, BUT WHERE DO THE MIND GAMES BEGIN AND WHERE DO THEY STOP?  EVERYONE IS WONDERING WHAT'S GOING TO HAPPEN WHEN YOU GET ON THE TRACK AND PUT KEVIN OR MARTIN OR ANY OF Y'ALL TALKING TRASH TO EACH OTHER ABOUT HOW YOU FOCUS ON THE RACE ITSELF AND NOT WHAT'S GOING ON OFF THE TRACK.
KEVIN HARVICK:  "I think for me, it's really about me and my team and how can I put them in the best position to have the calmest weekend possible.  I don't want Rodney answering questions, I don't want to have to answer questions because for us, I feel confident in where we are as a team.  I feel like we're here to win this championship with the momentum and the things that we've done over the last few weeks, especially on the mile‑and‑a‑half racetracks.  Our cars have run well.  We won Texas and are doing what we have to do. We came here with no intention other than to win this championship, and there's really no reason to ‑‑ it's not boxing.  This is a car race, and there's a lot of things that are involved in it.  It's not my mind against his mind.  It's my team and everybody that has to show up and navigate the weekend because this weekend is not like any other weekend that we've been to.  It's not like any other week that you've been to.  There's a lot that goes into navigating the weekend, and when you pull into the garage, just when you walk into the garage this weekend, it's not like it's going to be the same garage.  You're going to have people everywhere, you're going to have sponsors everywhere, you're going to have people that you haven't seen all year.  There's just a lot more to navigate.  But from a performance side of things, I feel good about where we are as a team, and I don't feel like screwing that up. If you had to punt and you were kind of on the outside looking in hoping for a prayer, you might need to do things differently, but that's how I feel."
Q.  IF YOU HAD TO DESCRIBE THIS SEASON WITH ONE WORD, WHAT WOULD THAT BE?
KEVIN HARVICK:  "Long."
BRAD KESELOWSKI:  "I only get one word?  I was never good with rules.  I think anybody in the media here would probably go with Kevin's answer, and I would say long."