Rolex 24 Hours of Daytona: The First 6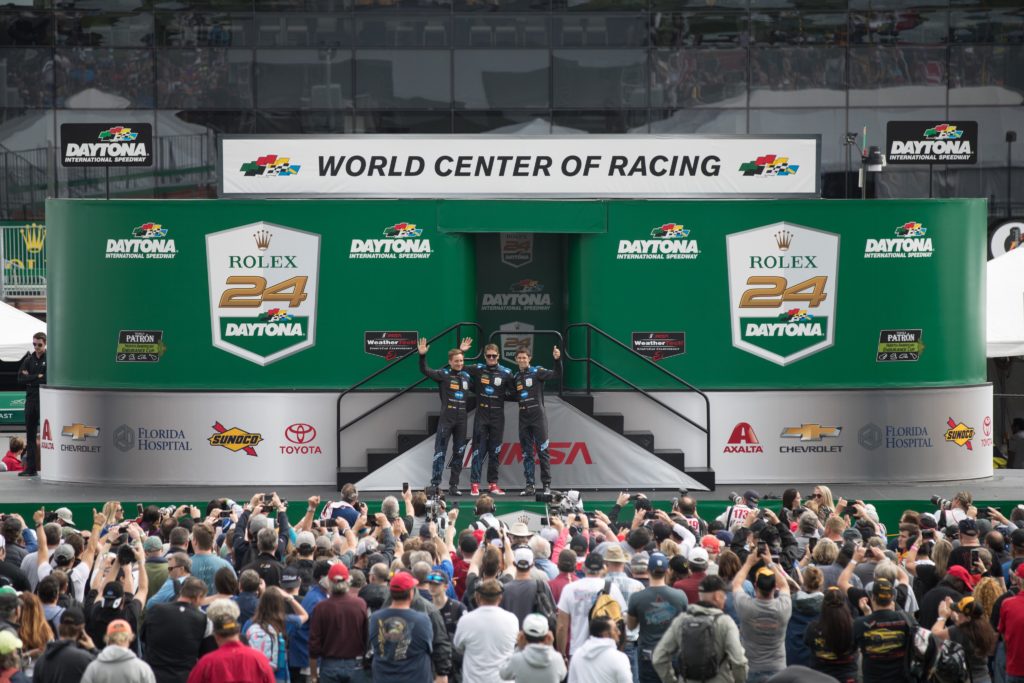 It's been an uncharacteristically calm race at Daytona International Speedway this afternoon as the race has only seen one full course yellow at the six-hour point of the race. That caution? During the third hour of the race when James Calado in the No. 62 Risi Competizione Ferrari ran out of fuel.
As the race hits the six-hour portion, it's seen its fair share of tire punctures and minor mechanical incidents. Most recently, a heavy rain fell on the speedway. Despite all this, none of the 50 cars are listed as retired yet.
Prototype (P)
The race began with Renger van der Zande on pole in the No. 10 Konica Minolta Cadillac DPi for Wayne Taylor Racing. Van Der Zande, who will team up with Jordan Taylor all season as his brother Ricky Taylor left for Team Penske, led the early portion of the race.
Since then, however, the lead's been traded back and forth between the No. 7 Team Penske Acura DPi and the two Action Express Racing Cadillacs.
The 20-car deep field has been stout, despite a few of the competitors struggling. The most notable of the struggling cars are two Team Joest Mazdas.
Also struggling has been the No. 20 BAR1 Motorsports Multimatic/Riley LMP2.
Top-5:
No. 31 – M. Conway, F. Nasr, S. Middleton
No. 7 – H. Castroneves, S. Pagenaud, R. Taylor
No. 5 – C. Fittipaldi, J. Barbosa, F. Albuquerque
No. 10 – J. Taylor, R. van der Zande, R. Hunter-Reay
No. 6 – D. Cameron, JP. Montoya, G. Rahal
GT Le Mans (GTLM)
Despite normally being one of the most exciting classes in the field each year, GTLM hasn't been the firecracker of a race it often is. There is, of course, 18 hours to change that.
Currently, two Ford GTs lead the way.
Top-5:
No. 66 – S. Bourdais, J. Hand, D. Mueller
No. 67 – S. Dixon, R. Westbrook, R. Briscoe
No. 62 – T. Vilander, J. Calado, A. Pier Guidi, D. Rigon
No. 4 – M. Fassler, O. Gavin, T. Milner
No. 911 – P. Pilet, N. Tandy, F. Makowiecki
GT Daytona (GTD)
The largest class in the field, GT Daytona boasts 21 cars this weekend.
The biggest piece of action in this field surprisingly happened on the formation lap. The No. 58 Wright Motorsports Porsche had a suspension failure as the race began leading Robert Renauer damaging the car heavily at no fault to his own. The car that includes GTD superstars Patrick Long and Christina Nielsen finally entered the race shortly after two hours after the race began, leaving them in a big hole.
The No. 29 Montaplast by Land Motorsport Audi R8 has been the most dominant car so far with brothers Sheldon and Kelvin van der Linde at the helm of the car.
Top-5:
No. 29 – K. van der Linde, S. van der Linde, J. Schmidt, C. Mies
No. 33 – J. Bleekemolen, A. Christodoulou, B. Keating, L. Stolz – 1 lap
No. 93 – M. Farnbacher, L. Aschenbach, J. Marks, C. Ledogar – 1 lap
No. 11 – F. Perera, M. Bortolotti, R. Ineichen, R. Breukers -1 lap
No. 48 – B. Sellers, B. Miller, M. Snow, A. Caldarelli -1 lap