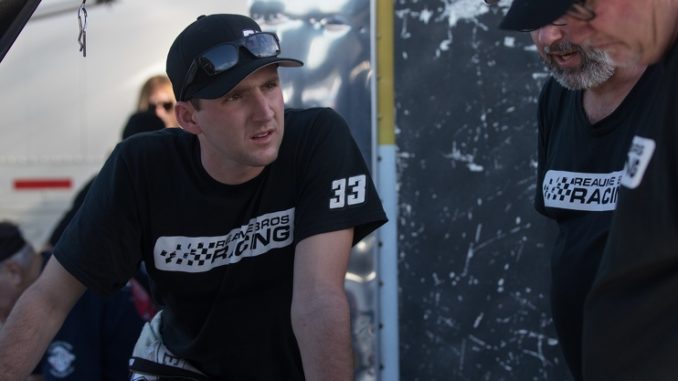 Josh Reaume was one of the many crew members working on a truck during Thursday's Truck series practice sessions. The difference today compared to the last two seasons is that it's his own truck, and he's the driver.
Reaume made the decision over the offseason to start his own Truck team with his brothers, called Reaume Bros Racing. He spent the last two seasons running a limited schedule for underfunded teams and worked as a race engineer for Ryan Sieg. He saw some success in that role as Sieg made the inaugural playoffs in 2016.
Even though Josh had a stable job and was racing on a limited schedule, he decided it was time to make a change.
"Nobody really likes starting and parking, when you're racing you are competitive," Reaume told OnPitRoad.com. "So I had to look at starting and parking as a way to get experience and get my name out there, get clearance for tracks. If you spent too much time out of the garage you get forgotten."
This decision by Reaume allows for him to take control of his career and work towards long-term goals.
"I've always wanted to start a team and be the driver, it allows me to have more control of things," he said. "Its going to be hard but I think the only way to push yourself and grow as an individual is to stick your neck out there and put yourself in a situation where you have to succeed."
While this is a significant career change, Reaume isn't going into it alone.
Everyone working on the No. 33 Silverado can be seen wearing "Reaume Bros Racing" shirts and hats. This includes his brothers and father, who Josh believes will help him have success.
"My brothers have always been involved, and I would have never got into racing if wasn't for my family. I want them to be a part of this."
He also believes that the family aspect will give him an advantage in the long run.
"Everything in life is about relationships. Relationships are hard to maintain, but one thing that's for sure is that family always find ways to resolve their differences. I've got my dad and three brothers here helping out. I've got a lot of good people to lean on and trust that they have your best interests."
It also helps his interests that his brother, Jonathan, has degrees in Mechanical Engineering and Computational Fluid Dynamics.
Looking back at last season, Reaume finished 24th in the Truck point standings running a limited schedule for other teams. He plans to improve on that this season.
"We should definitely finish the season in the top 20 in points. As far as performance on track week-to-week, it is hard to gauge. We've got some good equipment but it will have to be worked on and will grow as the season goes on. I would hope to be on average in the top 20 for sure."
But there are more pressing issues, and that is qualifying for tomorrow night's race. Since this is the first race for Reaume Brothers Racing, the No. 33 R-Coin Chevrolet entry by RBM doesn't have any points. Reaume will have to outqualify four trucks to make it into the race.
"I don't really care where I qualify. There was mayhem on Lap 2 in last years race, so my goal is to hopefully survive it all and collect the points that we can."
At the end of the three practice sessions, Josh was 31st fastest in the first two sessions and 21st in final practice. Josh Reaume will attempt to race his way into tomorrow's NextEra Energy Resources 250. Qualifying is Friday at 4:30pm with coverage on FS1.