40th – Mark Thompson – No. 66 Phoenix Air Ford
Daytona 500 appearances: 0
Mark Thompson will make history on Sunday when he takes the green flag at Daytona.
At age 66, he will be the oldest driver to start in the Daytona 500. There's a saying that with age comes experience, and that is certainly true when it comes to Thompson and Daytona.
While Sunday's Daytona 500 will be his first Cup race at the speedway, Thompson made his ARCA Racing Series debut at the track in 1991. He's been a regular racing at Daytona in ARCA with 17 starts over the years, including last weekend's ARCA race where he was running in the top-5 before he got caught up in a wreck with two laps to go.
Thompson is definitely a driver that could raise some eyebrows in the 500.
39th – David Gilliland – No. 92 Black's Tire Service / Carquest Auto Parts Ford
Daytona 500 appearances: 7
Best finish: 3rd (2011)
For the first time since July 2016, David Gilliland will race in the Monster Energy NASCAR Cup Series.
Gilliland will be driving the No. 92 for Ricky Benton Racing, a team making its Daytona 500 debut. He got some practice during Friday night's Truck race where he led some laps and had one of the most competitive trucks before being involved in a incident.
Gilliland was a regular Cup competitor from 2006 to 2015, but has stepped away from a full-time scale in recent years to focus on his son Todd's future. Gilliland said earlier in the week that he believes this to be his final Daytona 500.
38th – Kyle Larson – No. 42 Credit One Bank Chevrolet
Daytona 500 appearances: 4
Best finish: 7th (2016)
A championship favorite, Kyle Larson will be starting in the back of the field in a backup car after getting caught up in a accident with Matt DiBenedetto during the second duel.
Larson struggled in final practice, and has been caught up in a wreck in every race he's participated in during speedweeks from The Clash all the way up to the NASCAR XFINITY Series race on Saturday.
37th – Aric Almirola – No. 10 Smithfield Ford
Daytona 500 appearances: 7
Best finish: 4th (2017)
Aric Almirola's first speedweeks as a driver for Stewart-Haas Racing didn't get off to the start he was hoping for after a crash during The Clash and in his duel. Much like Larson, he followed those accidents up by also crashing in the XFINITY race.
It was announced in 2017 that Almirola was going to drive the No. 10 as Danica Patrick's replacement. Some of the excitement about this new pairing may be deflated after Almirola accidents over the week.
36th – Matt DiBenedetto – No. 32 The Hurricane Heist Ford
Daytona 500 appearances: 2
Best finish: 9th (2017)
Matt DiBenedetto is looking to improve on the impressive ninth-place finish he had in the 2017 Daytona 500. There are a few challenges in his way though.
DiBenedetto will have to start in the back of the field in a backup car after getting involved in an accident with Kyle Larson.
Though it may not be apparent in the Daytona 500, an increased technical alliance over the offseason with fellow Ford team Stewart-Haas Racing may benefit this team in 2018.
35th – Jimmie Johnson – No 48 Lowe's for Pros Chevrolet
Daytona 500 appearances: 16
Best finish: 1st (2006 and 2013)
Two-time Daytona 500 winner and seven-time NASCAR Cup Series champion Jimmie Johnson hasn't had the best Speedweeks.
He has wrecked two cars since the No. 48 team unloaded last Saturday.
He will start from the back of the field on Sunday. Johnson will try to build on what many see as a disastrous 2017 season.
34th –  Gray Gaulding – No. 23 EarthWater Toyota
Daytona 500 appearances: 0
There has been a lot of uncertainty about BK Racing, the team Gray Gaulding is driving for in the Daytona 500. One thing that is certain is that 20-year-old Gray Gaulding will make his Daytona 500 debut on Sunday.
How long this team will last throughout the season is a question mark right now. The team filed for Chapter 11 bankruptcy earlier this week.
33rd – William Byron- No. 24 AXALTA Chevrolet
Daytona 500 appearances: 0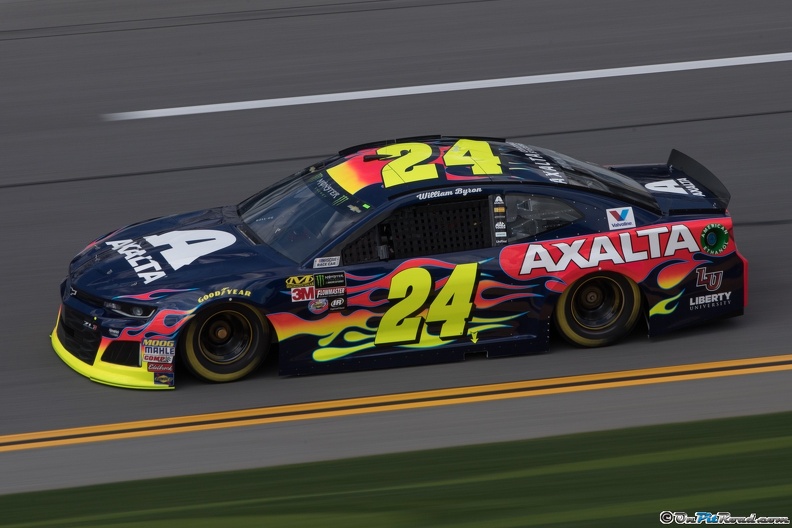 William Byron is making his first start as a full-time Cup Series driver tomorrow in the 500.
He had some issues in the Duels on Thursday. but that could be seen as rookie nerves. Byron seemed to recover during the final practice sessions, with him spending time in the draft and having speeds in the top-10.
32nd – Corey LaJoie – No. 72 Schulter Systems Chevrolet
Daytona 500 appearances: 1
Best finish: 24th (2017)
Corey LaJoie moved teams in the off season, announcing that he will be splitting the No. 72 with Cole Whitt in 2018. The move to Tri-Star Motorsports should be a rejuvenating one after spending a frustrating season with BK Racing.
Tomorrow will mark LaJoie's second Daytona 500, and while he's a small story in the field, some eyes will be on him to see how the second generation driver runs.
31st – Brad Keselowski – No. 2 Discount Tire Ford
Daytona 500 appearances: 8
Best finish: 3rd (2014)
The 2012 Cup Series Champion is looking to add winning the Daytona 500 to his list of accomplishments.
Keselowski was involved in a crash during his Duel on Thursday and will be starting in a backup car, but is still a heavy favorite to win.
Six of his 24 wins in NASCAR's top series have come on restrictor plate tracks.