Breaking Down the Daytona 500 Starting Grid – Pos. 30-21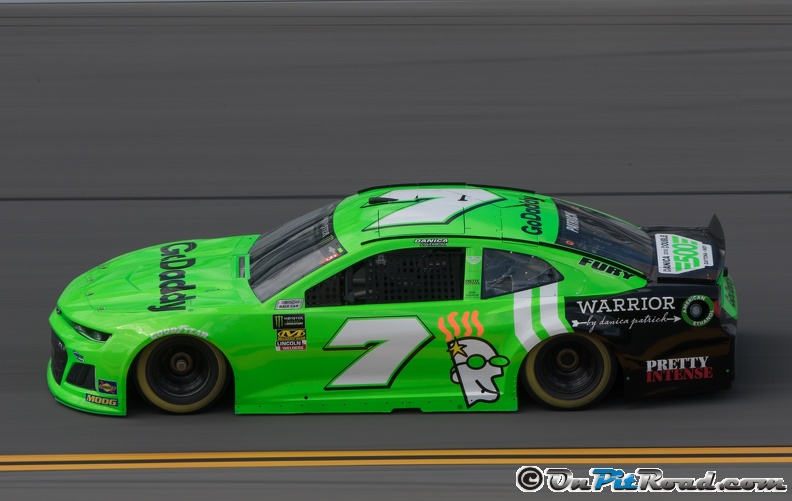 30th – DJ Kennington – No. 96 LORDCO/Castrol Toyota
Daytona 500 appearances: 1
Best finish: 36th (2017)
The first of two foreign born drivers in the field is two-time NASCAR Pinty's Series champion D.J. Kennington.
The Canadian will be starting his second Daytona 500 for Gaunt Brothers Racing owned by fellow Canadian Marty Gaunt
Last year, Kennington became the first Canadian since Trevor Boys in 1988 to make the Daytona 500.
29th – Justin Marks – No. 51 HARRY'S Chevrolet
Daytona 500 appearances: 0
Justin Marks found time in between mountain climbing and driving in other series to race in tomorrow's Daytona 500 for Rick Ware Racing.
While Marks doesn't complete in many Cup Series races, he has shown speed in practice. He's hinted at participating in as many as five or six Cup races this season.
28th – Danica Patrick – No. 7 GoDaddy Chevrolet
Daytona 500 appearances: 6
Best finish: 8th (2013)
Unless you've been hiding under a rock for the past few months, you probably know Sunday's Daytona 500 will be Danica Patrick's final NASCAR start.
However, in her 11 starts at Daytona in the Cup Series, she has finished 20th or worse 7 times.
Patrick announced at Homestead-Miami Speedway last November that she would compete in the Daytona 500 as a part of the "Danica Double" before she runs the Indianapolis 500 this May. She is driving the No. 7 for Premium Motorsports tomorrow.
27th – Jeffrey Earnhardt – No. 00 VRX Simulators Chevrolet
Daytona 500 appearances: 1
Best finish: 26th (2017)
With Dale Earnhardt Jr.'s retirement in November, Jeffery Earnhardt is the lone Earnhardt entered in this year's Daytona 500. But that isn't the only news involving him.
He announced over the offseason that he is joining StarCom Racing, a relatively new team managed by 1990 Daytona 500 winner Derrike Cope, for the full season.
26th – Kasey Kahne – No. 95 Procore Chevrolet
Daytona 500 appearances: 14
Best finish: 7th (2007, 2008 and 2017)
Kasey Kahne made the switch from Hendrick Motorsports to Leavine Family Racing over the offseason.
It was admittedly a downgrade, but Kahne's time at Hendrick didn't live up to the expectations of many, only having five wins in six seasons.
Maybe moving to Leavine Family Racing will give Kahne a fresh start.
25th – Brendan Gaughan – No. 62 Beard Oil Distributing/South Point Hotel & Casino
Daytona 500 appearances: 2
Best finish: 11th (2017)
Sunday will be Brendan Gaughan's third Daytona 500. He will be driving the No. 62 for Beard Motorsports for the second year in a row.
Gaughan finished in 11th last year. This team has shown promise on restrictor plate tracks. Gaughan finished seventh at Daytona in July with the team.
24th – Martin Truex Jr – No. 78 Bass Pro Shops/5-hour Energy Toyota
Daytona 500 appearances: 13
Best finish: 2nd (2016)
The 2017 Monster Energy NASCAR Cup Series Champion has been under the radar for most of speedweeks.
Truex Jr. won eight races last season, including the season finale at Homestead. There is a chance that Truex finally checks the Daytona 500 off of his list of tracks to win at, especially after a nail biting finish against Denny Hamlin two years ago.
23rd – Ty Dillon – No. 13 GEICO Chevrolet
Daytona 500 appearances: 3
Best finish: 25th (2016)
Ty Dillon goes into Sunday's Daytona 500 with excitement and stability.
It was announced a few days ago that GEICO was signing on for another two seasons with Germain Racing and Ty Dillon. This comfort for Dillon allows him to focus on winning, possibly as soon as tomorrow.
22nd – Michael McDowell – No 34 Love's Travel Stops Ford
Daytona 500 appearances: 6
Best finish: 9th (2013)
Michael McDowell was another driver who made a move to a new team during the offseason.
McDowell left Leavine Family Racing for Front Row Motorsports. McDowell had two 15th-place finishes in the Daytona 500 in 2016 and 2017. He also finished fourth in the July race last year.
21st – Chris Buescher – No. 37 Kleenex Chevrolet
Daytona 500 appearances: 2
Best finish: 35th (2017)
2015 XFINITY Series Champion Chris Buescher hasn't had much luck in the Daytona 500.
In the two years that he races he had finishing positions of 39th and 35th.
If Buescher changes his strategy from the last two attempts, he may be in a position to be near the front at the end.