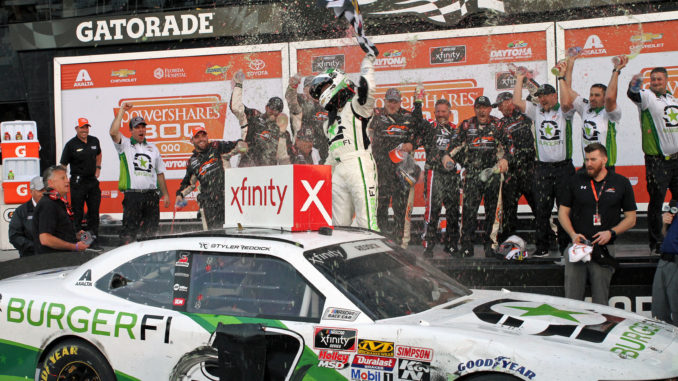 For the first time since electronic timing and scoring came to fruition in NASCAR competition, photo finish technology was needed to officially determine the winner of Saturday's race at Daytona International Speedway.
In what NASCAR is deeming the closest finish in the history of its three national series, Tyler Reddick narrowly defeated JR Motorsports teammate Elliott Sadler to win the Powershares QQQ 300 at Daytona International Speedway.
The official margin of victory is being touted as 0.000 seconds.
"It feels amazing," Reddick said in victory lane. "Just gotta thank BurgerFi for coming on board this year for these two races. Hell of a way to start the year off at JR Motorsports."
Reddick outlasted the field and survived what became a race about attrition in the closing stage of the race. A record-breaking five overtime finishes extended the race from a scheduled 120 laps and 300 miles to 143 laps and roughly 357 miles.
The win marked Reddick's second series victory. Reddick visited victory lane in a partial schedule for Chip Ganassi Racing last year at Kentucky Speedway.