Bourdais Wins St. Pete 10 Months After Horrific Injury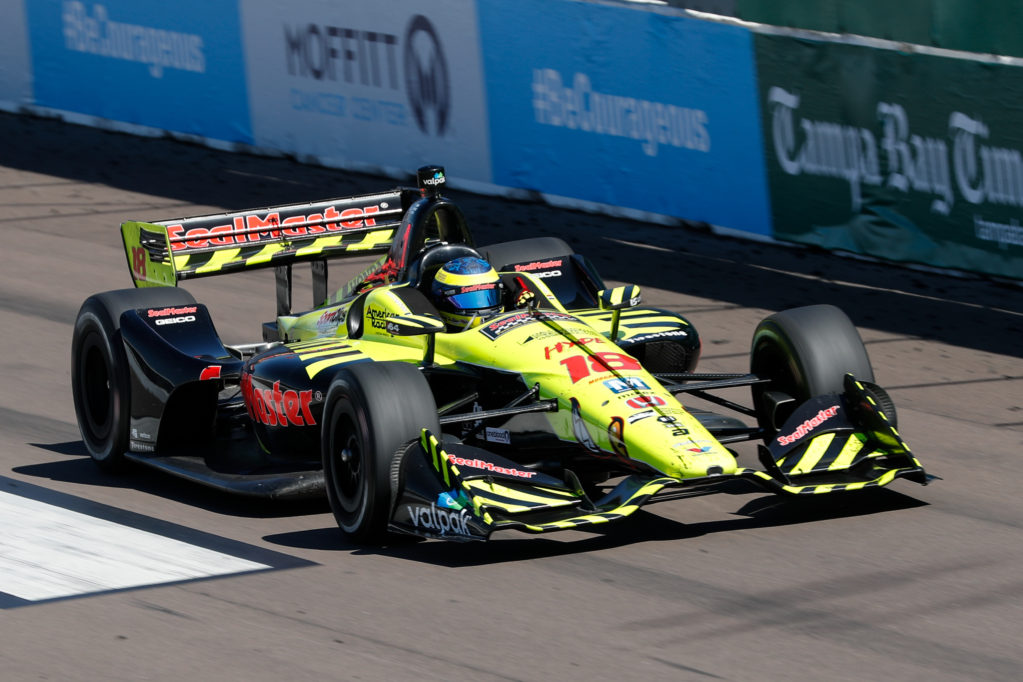 Sébastien Bourdais, driver of the No. 18 SealMaster Honda, set out to prove that his comeback was greater than his set back. He did just that on Sunday at St. Petersburg by grabbing the win at the same track he did so in 2017.
Just 10 months ago, the French driver was involved in a horrific crash qualifying for the Indianapolis 500. He was severely injured and missed almost the rest of the remaining races of the season. He came into this weekend to prove that he was fully healed and ready to race, and to defend his title as reigning race winner.
The weekend was looking pretty good for him during the first two practices where he finished in the top-10. However, something changed on Saturday and he didn't have a good practice. He ended up qualifying 14th for the Firestone Grand Prix of St. Petersburg.
On Sunday, when the green flag was dropped. he held his own and lurked around the top-10. He kept digging and towards the end of the race, a good pit strategy got him the track position he needed. Then. luck really came his way when the leader Robert Wickens and second place Alexander Rossi made contact with each other, causing Wickens to spin bringing out the caution. Bourdais was able to get by from third and lead the field to the checkered flag.
"We ended up with a bunch of other guys on the same strategy, and some of the guys offset by some but not drastically so. But the great thing I knew for us was that obviously we were not going to be exposed to yellows for the rest of the race because we just decided to shift everything forward."
Bourdais didn't get a good vantage point of the accident between Wickens and Rossi, but it wasn't a shock to the 39-year-old.
"I just tried to get a good exit of the hairpin, and all I cared about was to keep that podium. And then I saw Robert and Alex just going at it. They both wanted it really bad, and I have no idea whose fault it is or if it's just a racing thing. But when I saw both of them starting to drift going toward the apex and getting themselves in the marbles, I thought, oh, boy, and then sure enough, they both skated off, one spun, the other one recovered, and I was through, and then it went yellow, and that was that. Just a crazy day. I couldn't dream of that ending."