Brandon Lynn Set for ARCA Return with Venturini Motorsports at Talladega and Charlotte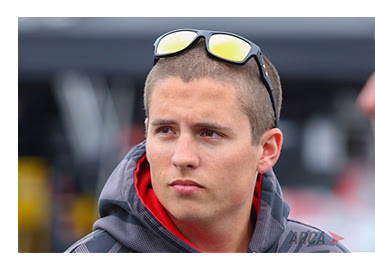 Concord, North Carolina (April 16, 2018) – Driver Brandon Lynn has signed on with Venturini Motorsports as part of a two race deal to pilot the No.55 Remodeez Toyota in upcoming ARCA Racing Series presented by Menards events at Talladega Superspeedway and Charlotte Motor Speedway.
A familiar face in the garage, Lynn, a 23-year old native of Penn Yann, NY, has made eight series starts with two top-10 finishes since making his ARCA debut back in the Spring of 2015.
"This is an awesome opportunity," said Lynn. "It's great to be back in the series and an honor to race with a team with so much prestige in ARCA. It's a great feeling knowing I'm getting in equipment capable of winning. As long as the driver is in the game we should be good off the hauler."
Almost a year to the date from his last series start at Talladega, Lynn will revisit the track in two weekscompeting in the General Tire 200, a race he nearly won in 2017.
"I'm back and looking for redemption," said Lynn who was leading last year's race coming to the checkered flag but ran out of gas after a final-lap caution forced overtime.
"Last year was painful. We drove from the back and led the last 20-laps before running out of fuel when the race went into overtime. I thought I had it – we had the car to do it. I'll be back looking to seal the deal with a strong Venturini Motorsports team."
Lynn's second and only other scheduled race with Venturini Motorsports will come in May for the running of the General Tire 150 at Charlotte Motor Speedway.
"Super excited to run Charlotte. I grew up racing Bandoleros and Legend cars in the area and at Charlotte on the small course. Running the mile and half at Charlotte is a dream come true."
The General Tire 200 at Talladega will air live on FS1 April 27 at 6:00pm EDT and the General Tire 150 from Charlotte will air live on FS1 May 24 at 9:00PM EDT.
Follow Brandon Lynn on Facebook, Twitter and Instagram at @BLynnRacing.
About Remodeez
Smart. Safe. Effective. Remodeez provides an odorless and non-toxic solution to remove – not mask – everyday odors. While most products rely on harsh chemicals and fragrance to cover up smells, Remodeez neutralizes odor using activated charcoal derived from coconut husks to absorb odor at the source. Remodeez is hypoallergenic, and toxin free. Use them in your shoes, gym bag, car, or home.
Remodeez will outsmart smell wherever smells exist. Say hello and follow us on Instagram, Facebook and Twitter.