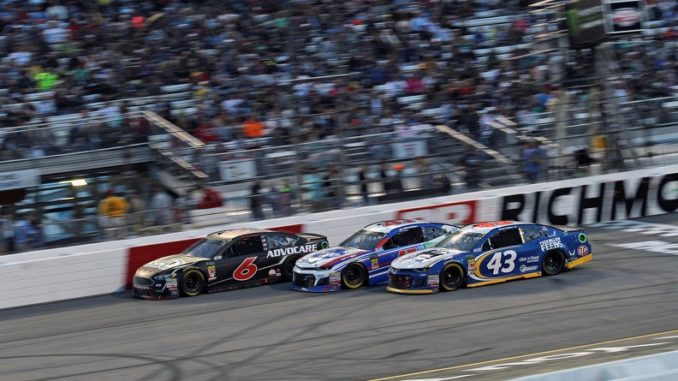 The last two weeks of NASCAR racing have been a traditional racing fan's dream. If one truly wants exciting racing, good competition, and does not care if it's "big name" drivers or not, then one had to love the two most recent weeks on the NASCAR schedule.
First of all, we had two straight weeks of short track racing. Bristol was arguably the best race of the season. There was great racing, lots of excitement and some drama. Popular young gun driver, Ryan Blaney, was very strong and dominated Stage 1 but got taken out in a crash just before the end of the stage and completely changed the complexion of the race.
Another element that played a factor in the event was the application of track bite in the bottom groove to create the possibility of multi-groove racing. An odd fact given that just a couple years ago, we had three wide racing at Bristol but Bruton Smith, after publishing a fan poll, altered the track to create single groove, freight train racing to hopefully bring back the bump and run.
The track definitely found the right recipe as we had a race that started with one groove, eventually spread to multi-grooves and saw Kyle Busch implement the infamous bump and run on Kyle Larson to score his second win in a row.
The only negative from the weekend was the story of the weather. Unseasonably cold temperatures and rain on race day caused a delay and the race had to be finished on Monday. The delay did not dampen the competition. It was great all day. Plenty of battles, side by side action, and yes… a few wrecks for those who like that sort of thing. The weather did significantly impact attendance as news outlets reported all week that it was likely going to rain out the race. Fans simply are not going to sit in the rain and cold only to be delayed. Plus, if you have ever been to Bristol, you know the track property becomes a muddy mess when there is a lot of rain. The creek that runs right in front of the truck swelled out of its banks and several souvenir trailers had to be relocated. Makes for a less than fun experience.
We followed up a great weekend of racing at Bristol with another short track at Richmond. Richmond is a track that can produce great racing but can also sometimes be a little lackluster. This past weekend, however, it was pretty good. There were 16 lead changes, lots of good racing and competition, an overtime finish, and again, some drama.
Each of the manufacturers ran well. Fords were strong early and won the first two stages, Toyotas came on strong later, and Chevrolet had one of their best showings of the year.
The defending series champion, Martin Truex Jr, sat on the pole, led the first 38 laps then relinquished the lead to the Ford of Joey Logano. Truex, however, looked to be the car to beat in the last 100 laps or so until issues on pit road cost him the lead and created a deficit he could not overcome. Kyle Busch ended up scoring his third win in a row and when taking his ceremonial bow, there seemed to be more cheers than boos. Could the tide be turning for NASCAR's bad boy?
There was a little something for everyone. What more could one ask for? Well, I'll tell you. Good Xfinity races. And, we got them.
For two weeks in a row, Cup Series drivers were not allowed to compete in the Xfinity Series and the competition was fantastic. It was great seeing Xfinity regulars up front and battling for the win. 13 lead changes among eight drivers at Bristol with Ryan Preece scoring a popular victory. Nine lead changes among six drivers at Richmond with Noah Gragson coming up just short of winning in his first career start. This was much better than hearing fans ask, "Who is going to finish second to Kyle this week?"
While I am not against Cup drivers dipping their toes in the lower series occasionally, and I understand there are monetary benefits, I must admit, I really enjoyed two straight weeks of Xfinity only drivers.
If we as race fans truly want what we claim to want. Better racing, more competition, and great storylines, we should be campaigning for more what we had these past two weeks. Also, fans constantly complain about Cup drivers in Xfinity, but then only show up when Cup drivers are racing.
So, what do you want? Fans could change the dynamic if they were packing the stands and posting positively on social media for these events. NASCAR is listening to fans more than ever. Our actions, however, do not match our talk. For this writer, I think we need more of what these past two weeks have provided. More short tracks and more opportunities to showcase the great talent we have in the Xfinity Series.
**The opinions expressed on this site are not necessarily those of the publisher, management or staff. All comments other than website related problems need to be directed to the author. (c)OnPitRoad.com. **