After Three Consecutive Wins, Kyle Busch Hoping to Maintain Momentum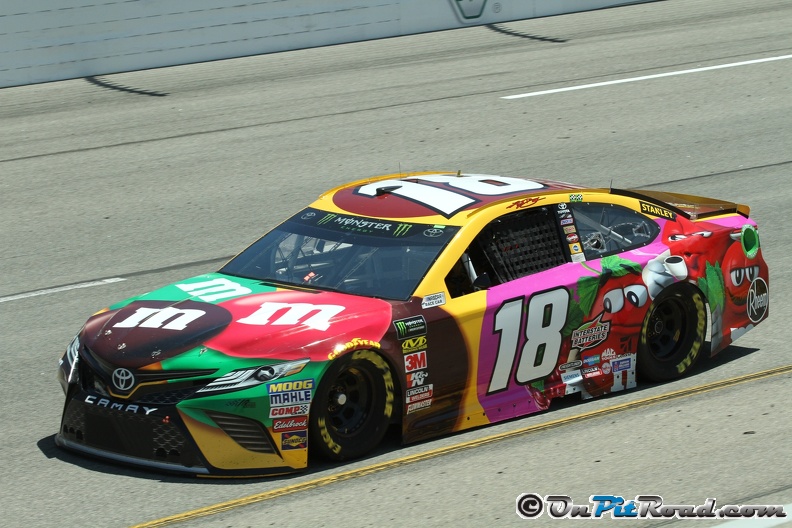 Kyle Busch scored his third consecutive win, and fifth win at Richmond Raceway, of the 2018 Monster Energy NASCAR Cup Series season Saturday night in the Toyota Owners 400.
If history is any indicator, it could mean good things for Busch. The last time Busch pulled off three in a row was in 2015 when he went on to win the series championship. To further indicate how strong he and his Joe Gibbs Racing team are, Busch came from the 32nd starting position to score the victory.
Busch was very happy to score three wins in a row and expressed confidence in his team. "It's definitely cool we've won three in a row. We did it a couple years ago and now I don't know if you can shoot for four in a row. It's hard to go to Talladega with that much of a winning streak and think that you can go to victory lane, but we're going to go there anyway and give it a shot. We'll see what we can do. Our guys are amazing. They're awesome every week and I love racing with these guys and Joe Gibbs Racing. Everybody at TRD (Toyota Racing Development) Costa Mesa, I appreciate you guys. I think this is the first Toyota to win the Toyota Owners 400 if I'm not mistaken, but if I'm not congratulations to the last guy but I'm pretty happy to be here tonight."
Many race drivers and teams are firm believers in momentum. Busch is no different and hopes he and his team are not peaking too early. Busch was asked if he had ever experienced this much momentum in his career. "No and you know I certainly would love to be doing this if this was week 10 of the playoffs we'd be talking about something pretty cool, but I hope it's not peaking too early. Obviously, this is way early in the season. We've got a long way to go. These guys are hungry and warmed up and ready to rock."
Busch will try to make it four wins in a row at the very unpredictable Talladega Superspeedway.